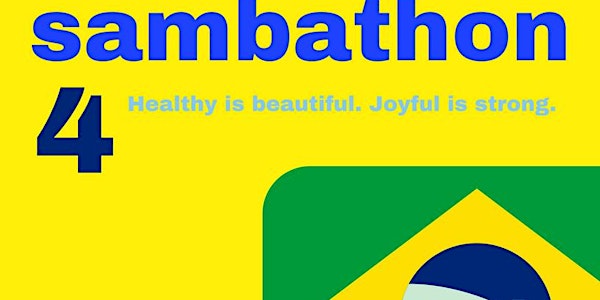 Fourth Annual Seattle SAMBAThon
When and where
Location
Seward Park 5900 Lake Washington Blvd. S Seattle, WA 98118
Description
What do you SAMBAThon 4? For health, for joy, for self-expression? Whatever your reason, SAMBAThon is sure to be a highlight of your year!
Join Dora Oliveira and Dance Brazil, along with a high-energy percussion section, to samba around the beautiful Seward Park Loop Trail, with green leaves above us and blue water beside us! Then celebrate afterwards with more music, dancing, capoeira and luscious traditional Brazilian food at an exclusive party just for SAMBAThoners!
All ages and fitness levels welcome! No dance experience required. We'll give a quick lesson to show you this year's choreography before we head out on the trail. If you feel like you want more practice, Dora offers weekly Afro-Brazilian dance classes. Contact the organizers for more information.
Your registration fee includes a limited edition Dance with Dora Sambathon 2018 T-shirt, exclusive SAMBAThon after-party, and the best workout of the year! Net proceeds from the SAMBAThon benefit Dora Oliveira's dance, music, and cultural education programs.
Be a part of the Fourth Annual Seattle SAMBAThon for Cardio, Culture, and Community!
Continue reading below for more info about the SAMBAThon, or scroll down to purchase your ticket.

What is the SAMBAThon schedule?
11:00 Check-in begins
11:00 -12:00 Warm-up, lesson

12:00 - 2:00 Samba around the loop trail, making two rest stops

2:00-4:00 Eat, drink, dance, celebrate life!

What exactly happens at the SAMBAThon?
The SAMBAThon starts near the swimming beach on the north side of Seward Park, and proceeds around the flat 2.4 mile loop trail. Before beginning, participants have the opportunity to learn some basic choreography that will move us around the park, or you can bring your own moves. Experienced sambistas will be on hand to lead the movement throughout the 'Thon, but any participant is encouraged to shake it on up to the front and lead the crowd.

After completing the course, the music and dancing usually continue. This year, for the first time ever, we will also share with you delicious homemade Brazilian food.
How physically strenuous is this event?
It's a pretty long way to samba! Your heart will beat hard and you will sweat. Please wear comfortable shoes. Listen to your body, and feel free to take a break at any time. That said, people of all fitness levels have participated in this event and fun is had by all.

I don't know how to samba!?!!
That's okay! Just come move to the amazing live percussion!
Some people like to prepare for this event by dropping in to some of Dora's classes. Those take place:
Mondays at 6:00 pm at the Union Cultural Center, 803 S. King St.
Thursdays, 6:00 pm at La Escuelita Greenlake, 7107 Woodlawn Ave NE
Fridays at 6:00 pm at Capoeira Males, 3150 Airport Way S.
You can also register for the SAMBAThon in person at those classes. For more info about classes or to find out about other workshops Dora is offering, like Dance with Dora on Facebook.
Are there ID or minimum age requirements to enter the event?
Nope. We have a wide range of ages participating in the evnt every year, from infants in strollers to elders with replaced knees!

What are my transportation/parking options for getting to and from the event?
There is some parking in the lots at Seward Park, or on side streets nearby. The #50 Metro Bus also gets you pretty close to Seward Park.

What can I bring into the event?
Bring lots of energy, flashy samba costume or comfortable clothes, and water (some bottled water will be available, but we prefer to limit waste). Small musical instruments like shakers, whistles, or bells are also fun to play while dancing. Well-behaved dogs have joined the group in the past.

How can I contact the organizer with any questions?
Please e-mail Vanessa Meraki at goateatingorchids@gmail.com for more information.

What's the refund policy?
Sorry, no refunds. This is a rain or shine event.