EVENT POSTPONED - State of the Science, Fourteenth National Clinical Conference on Cannabis Therapeutics
About this Event
Dear friends, colleagues and supporters of Patents Out of Time,
The coronavirus pandemic is a national emergency.  Our efforts are focused on controlling its spread in order to manage the outbreak.  Due to concerns for public health and safety, we are postponing The Fourteenth National Clinical Conference on Cannabis Therapeutics that was scheduled for May 28-30 at the Bethesda North Marriott Hotel and Convention Center. We are monitoring the course of the pandemic to determine a safe time and place for our conference.
This year not only marks the 25th Anniversary of Patients Out of Time, but also the 50th Anniversary of the Controlled Substances Act of 1970 that arbitrarily placed cannabis in the Schedule I (forbidden) level of control.  This year's theme, "The State of the Science." is supported by renowned faculty with a robust agenda to highlight the current state of cannabis science and clinical practice. We continue to build on our years of professional and educational expertise on cannabis.
Many roadblocks still face patients who want to try cannabis or have trouble affording this herbal remedy.  We're adding two pre-conference workshops on Growing Hemp Best Practices and Preparing Hemp for Health and Healing to support patients.  You don't want to miss our 2020 National Conference and we'll let you know the time and place as soon as we can make a commitment with confidence.
This is a time for all to recognize the interconnectedness of the human race and help each other rather than look for ways to divide us.   Please follow WHO and CDC for recommended precautions to protect yourself, family and community. We will stay in touch through our website and social media .  Our fight continues! We will soon be announcing a call to action in which you can take part in support of just cannabis laws.
https://www.who.int/emergencies/diseases/novel-coronavirus-2019
https://www.cdc.gov/coronavirus/2019-nCoV/index.html
Early bird registration is now open. Additional details will be announced as they are confirmed. Prices may change without warning.
VETERANS & FULL TIME STUDENTS receive discounted registration! For more information contact us at media@medicalcannabis.com
State of The Science, The Fourteenth National Clinical Conference on Cannabis Therapeutics. World renowned speakers, scientists & activists. For more information visit us online at www.patientsoutoftime.org
Thursday, May 28th - Workshops
Join us for two, three hour workshops, 9am-12pm & 1:30pm-4:30pm "Growing Hemp Best Practices" & "Preparing Hemp for Health and Healing" learn how to produce and refine hemp for medicinal purposes.
Friday, May 29th - Conference
Friday, May 29th - Benefit Dinner & Recognition
Saturday, May 30th - Conference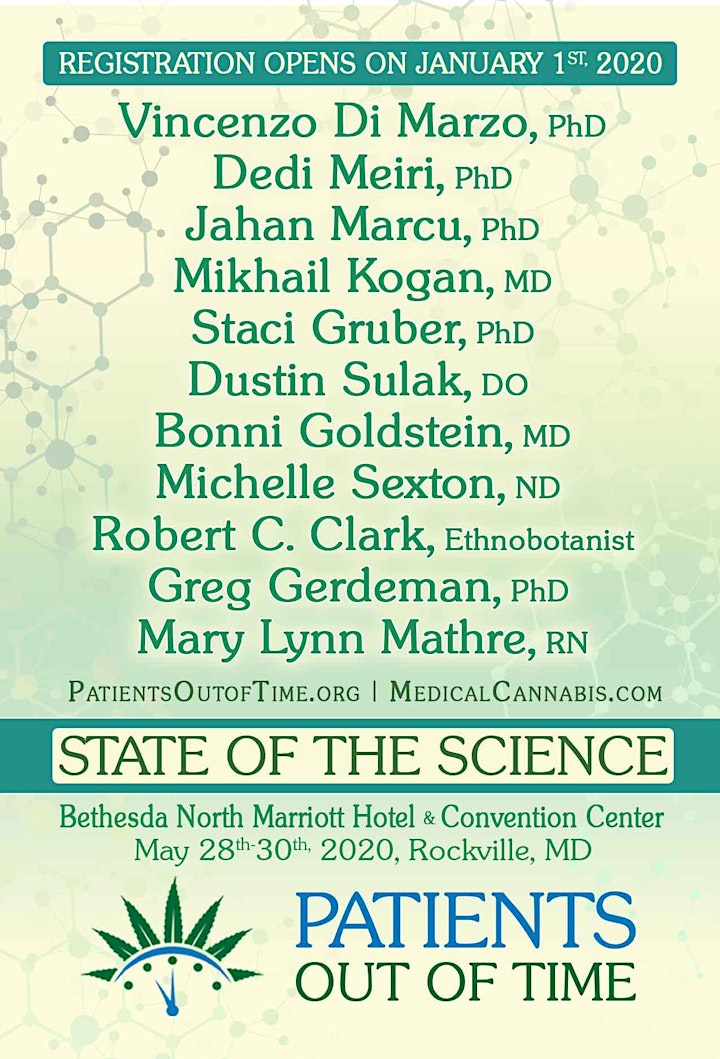 State of the Science Schedule
Friday, May 29, 2020
8:00 – 8:30AM, Opening
State of the Science Welcome and State of Opportunity Overview
STATE OF CANNABIS LAWS AND REGULATIONS: STATE OF OPPORTUNITY
8:30 – 10:10, Session 1
History of the Cannabis Prohibition in the US – Jon Gettman, PhD
Current Laws and Regulations – TBD
Minorities and Veterans – Brandon Wyatt, Esq
International laws -Michael Krawitz
10:10 – 10:30, Break
STATE OF THE SCIENCE: WHAT WE DO KNOW ABOUT THE ECS AND CANNABIS
10:30 – 11:10 AM, Session 2
Overview What do we know? Greg Gerdeman, PhD
11:10 – 11:50 AM, Session 3
Matters of MIND: Examining the Impact of Medical Cannabis – Staci Gruber, PhD
11:50 – 12:10 PM, Session 4
12:10 – 1:30 PM, Lunch
1:30 – 2:10 PM, Session 5
Cannabis and its Constituents – David (Dedi) Meiri, PhD
2:10 – 2:40 PM, Session 6
Mechanism of Action of CBD & other Cannabinoids – Bonni Goldstein, MD
2:40 – 3:00 PM, Session 7
Vaping Concerns – Jahan Marcu, PhD
3:00 – 3:20 PM, Break
3:20 – 3:40 PM, Session 8
Cannabis for Opioid Tapering in a Major Pain Management Center: Can We Predict Responders? – Michelle Sexton, ND
3:40 – 4:00 PM, Session 9
From stems sticks and leaves to Federal Lawsuit – Results of FDA PHASE II veterans / cannabis / PTSD controlled trial
4:00 – 4:40 PM, Session 10
The ECS and the Microbiome – Vincenzo Di Marzo, PhD
4:40 – 5:10 PM, Session 11
Q & A – State of the Science Faculty
6:30PM, Dinner
25th Anniversary Gala Dinner
State of the Science Schedule
Saturday, May 30, 2020
STATE OF CLINICAL PRACTICE
8:30 –8:45 AM, Welcome and Announcements
8:45 – 9:15 AM, Session 12
Overview, Clinical Practice Dustin Sulak
9:15 – 9:45 AM, Session 13
Medical Cannabis: Clinical Applications in Pediatrics Pediatrics – Patricia Frye
9:45 – 10:15 AM, Session 14
Cannabis for Chronic Pain – Deb Kimless, MD
10:15 – 10:30 AM, Break
10:30 – 11:10 AM, Session 15
Cannabis Use Among Veterans – Me Fuimanono-Poe, NP, Marion McNabb, PhD
11:10 – 11:40 AM, Session 16
Women and Cannabis – Genester Wilson-King, MD & Michelle Sexton, ND
11:40 – 12:10PM, Session 17
Cannabis Use Among the Geriatric Population: Mikhail Kogan, MD
12:10 – 1:30 PM, Lunch
Patient Panel: Alice O'Leary Randall, LPN (moderator), Coltyn Turner & Rylie Maedler (12:40 – 1:20; no credits)
1:30 – 2:00 PM, Session 18
Q & A for Clinical Practice
STATE OF CANNABIS RESEARCH: CATCH 22
2:00 – 3:10 PM, Session 19
Panel: Melanie Dreher, RN, PhD (moderator), 2017 NAS Report – William Checkley, MD, Sue Sisley, David Shurtleff, PhD
3:10 – 3:30 PM, Break
STATE OF CANNABIS EDUCATION
3:30 – 4:30 PM, Session 20
Nursing survey – Yolanda Nitti, RN, PhD
Grad student study of GWU med students, Mikhail Kogan, MD and Nick Gregorio
University programs – Leah Sera, PharmD
4:30 – 5:00 PM, Session 21
Topic TBD – Kevin Spelman, PhD