Foursquare® Birthday Party 2013

Friday, March 22, 2013 from 6:00 PM to 8:00 PM (CDT)
Event Details
Foursquare Birthday Party
Foursquare®  is turning four years old and you are invited to the birthday party. The mobile application was first introduced at the South by Southwest (SXSW) conference in Austin, TX in March 2009. Foursquare quickly became the breakout mobile application at the conference. Currently, Foursquare has over 20 million users and partnerships with Bon Appetit, Bravo, Louis Vuitton, MTV, The City of Chicago, People Magazine, Walgreens, Zagat, etc.
 Registration/Networking: 6pm-7pm
Presentations: 7pm-8pm:
Todor Krecu,  Foursquare Chicago Ambassador 
Tom Bongiorno, Bongiorno's Italian Deli & Pizzeria
Dion Antic Owner/President at ReBrand
Heather Williams and Eric Erlebacher, Be Found Online
These are photos and videos from the first birthday party:
For questions or for more information about this event, contact:
Todor Krecu
tkrecu(@)gmail.com
Foursquare Chicago Ambassador 
This foursquare Birthday Party is being hosted Chicago Web 2.0 and Social Media Marketing Group and is not affiliated with or endorsed by Foursquare Labs, Inc.
Join the Foursquare Groups on these sites: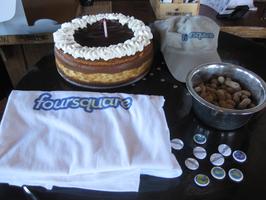 Foursquare is a location-based social networking website for mobile devices, such as smartphones. Users "check in" at venues using a mobile website, text messaging or a device-specificapplication by selecting from a list of venues the application locates nearby. Location is based on GPS hardware in the mobile device or network location provided by the application. Each check-in awards the user points and sometimes "badges".
The service was created in 2009 by Dennis Crowley and Naveen Selvadurai. Crowley had previously founded the similar project Dodgeball as his graduate thesis project in the Interactive Telecommunications Program (ITP) at New York University. Google bought Dodgeball in 2005 and shut it down in 2009, replacing it with Google Latitude. Dodgeball user interactions were based on SMS technology, rather than an application. Foursquare is the second iteration of the same idea, that people can use mobile devices to interact with their environment. As of April 2012, the company reported it had 20 million registered users. The company was expected to pass 750 million check-ins before the end of June 2011, with an average of about 3 million check-ins per day. Male and female users are equally represented and also 50 percent of users are outside the US.
Foursquare is a web and mobile application that allows registered users to post their location at a venue ("check-in") and connect with friends. Check-in requires active user selection and points are awarded at check-in. As of April 2012, there have been more than 2 billion check-ins with Foursquare. Users are encouraged to be hyper-local and hyper-specific with their check-ins—one can check into a certain floor/area of a building, or indicate a specific activity while at a venue. Users can choose to have their check-ins posted on their accounts on Twitter, Facebook, or both. A 2011 study of unfollowing behaviour on Twitter found that "respondents exhibited a distaste for automatically generated bursts of Foursquare logs." In version 1.3 of their iPhone application, foursquare enabled push-notification of friend updates, which they call "Pings". Users can also earn badges by checking in at locations with certain tags, for check-in frequency, or for other patterns such as time of check-in. The company has stated that users will be able to add their own custom badges to the site in the future.
Users can create a "To Do" list for their private use and add "Tips" to venues that other users can read, which serve as suggestions for things to do, see or eat at the location.
In addition, a history page allows users to search past their check-ins, which is broken down by month and year. A sidebar also allows them to search their check-ins by category or who they were with at the time. 
Mayorship If a user has checked-in to a venue on more days than anyone else in the past 60 days, and the check-ins are valid under foursquare's time and distance protocols, they will be crowned mayor. The user must have a profile picture in order to be crowned "Mayor" of that venue. Someone else may earn the title by checking in more times than the previous mayor. It is harder to be crowned mayor in spaces that are swarming. Even after someone has been crowned "Mayor," they must continuously check in to maintain their position as mayor. On August 26, 2010, foursquare rolled out a new feature which notifies users of the number of days left before he or she is crowned "Mayor". When a user "checks in" to a venue on foursquare via a mobile app, if she or he is within 10 check-ins of becoming the mayor, foursquare alerts the user of the days left before becoming mayor on the check-in confirmation screen.
Badges
Badges are earned by checking into various venues. Some badges can only be earned in a specific city. Foursquare has, however, changed the way they handle badges, and now when a user gains a badge, he or she has the same badges across all cities. Once a badge is earned by a user, it will remain on that user's profile indefinitely.
There are a handful of introductory badges that are earned as milestones in usage. Some badges are tied to venue "tags" and the badge earned depends on the tags applied to the venue. Other badges may be specific to a city, venue, event, or date. Some badges use identical icons, but are earned differently. There is no official foursquare badge list available from the company.
On September 23, 2010, foursquare announced that users could now earn badges for completing tasks as well as checking in. On October 22, 2010, astronaut Douglas H. Wheelock unlocked the NASA Explorer badge by checking into foursquare from the International Space Station.
Brands
Foursquare Brands allows companies to create pages of tips and allows users to "follow" the company and receive special, expert tips from them when they check-in at certain locations. Some of the companies even allow users to unlock special badges with enough check-ins. On most company's pages, their Facebook, Twitter and company website links were displayed as well as tips and lists generated by the company. According to the website, the most popular company page is MTV. MTV offers a special "GTL badge" for users who check-into the gym, a beach or tanning salon, and a Laundromat within a 7 day period. MTV has 128 tips and four different lists including: Jersey Shore Cast Hottest Club List, When I Was 17: Stars' High Schools, Jay-Z's New York and MTV's Hottest Music Video Locations. Each list includes 6-10 locations and allows users to view a list and a map of the locations on the list.
On July 25, 2012 Foursquare revealed "Promoted Updates," an app update which will create a new experience for both consumers and merchants as well as create a new revenue generation stream for the company. The new program will allow companies to issue messages to Foursquare users about deals or available products. 
Specials
"Specials" are an incentive for Foursquare users to go "check-in" at a new spot or revisit their favorite hangout. There are over 750,000 different businesses that offer "Specials" that include discounts and freebies when users check-in. Foursquare specials are intended for businesses to use to persuade new customers and regular customers to visit their venue. Some businesses now display a Foursquare sign on their door or window letting users know that there is a "Special" at that particular venue. "Specials" can include anything from a free beer for the first check-in to 10% off the bill at a restaurant. Some Foursquare users only use Foursquare for the "Specials".
Growth
Foursquare started out in 2009 with limited availability in only 100 worldwide metro areas. In January 2010, foursquare changed their location model to allow check-ins from any location worldwide. On February 21, 2011 foursquare reached 7 million users IDs. On August 8, 2011 President Barack Obama joined foursquare, with the intention that the staff at the White House would use the service to post tips from places the president has visited.
---
 Platinum Sponsor

---
Gold Sponsor

---
Silver Sponsor

Attendee List
Sort by:

Date

|

First Name

|

Last Name
When & Where

Bongiorno's Italian Deli & Pizzeria
405 North Wabash Avenue
Chicago, IL 60611


Friday, March 22, 2013 from 6:00 PM to 8:00 PM (CDT)
Add to my calendar
Organizer
Chicago Social Media Marketing Group
A discussion on Social Media Sites, Blogs, Podcasts, Online Video, etc. Social media sites allow people to share their content, opinions, insights, experiences, and perspectives. These sites offer users tools such as message boards, forums, podcasts, bookmarks, communities, wikis, weblogs etc. to share text, images, audio, and video.
Foursquare® Birthday Party 2013