Description
TriNet Presents
FOURSight '17: 4 Professional Associations, 4 Hours of Insights and Best Practices from 4 of San Diego's Top Communication Professionals.
Tips and trends to save companies and non-profits time and money.
ABOUT THE TRAINING
1/2 day session of keynotes with other advertising, PR, social and digital marketing pros. Takeaways include:
Expanding your marketing, PR and social media ROI
Understanding new communication channels
Best practices for media relations, crisis communications, and community relations
Brand differentiation through integrated marketing and digital platforms
FEATURED SPEAKERS
Representing SDD
Kevin Popovic, Founder of Ideahaus
Getting Market Ready: How Best Practices in Communications Leads to ROI
How prepared is your business to compete in an overcrowded marketplace? How prepared is your business to communicate with customers to create sales?
Many businesses have a subjective perspective of what it takes to compete today, but what if they had access to best practices, strategic trends and data points that measured their market readiness?
Join Kevin Popovic, Founder of Ideahaus, for candid conversation on communications and what it takes to get "market ready."
Attendees will learn:
A better understanding the ten channels of communications

Best practices in each, that can help provide a platform for communications.

How the different channels of communication can best work together, in a truly integrated way, to help provide a competitive advantage.
Representing PRSA
Elizabeth A. Pecsi, APR, Fellow PRSA, Director of Communications, San Diego Humane Society
Strategy Grab 'n Go
Crisis or opportunity: When it hits you have to grab 'n go. Time and timing are essential.
You can't use Google to answer: "what to do in X situation or Y event?" Moving quickly seamlessly is easier with a plan that aligns goals and leverages organizational strengths. This approach worked for San Diego Humane Society amidst the rescue of more than 180 Yorkie mix-breed dogs being kept in deplorable conditions by hoarders. It also helped SDHS raise emergency funds to accommodate the unexpected arrival of these new houseguests.
Join us to find out how you can:
Broadcast breaking news through social media channels

Raise emergency funds and in-kind support

Plan for positive experiences for guests
Representing SDX
Tony Rindsberg, Senior VP, Digital, High10 Media
Ballin' on a Budget: Maximizing Your Brand's Digital Impact on an NGO Budget
The digital space is getting more crowded and expensive, with businesses spending more than ever in 2017 on their digital content, ads, and presences. So, how do you compete on a non-Fortune 500 budget? This session will cover best practices for driving brand and message awareness via social media, content, and influencer engagement — and how to convert that awareness into results.
Takeaways
- Learn specific social media tips and tricks to maximize your brand's reach and engagement
- How to approach and get social/digital influencers and celebrities to share your content
- How to create and effective, cohesive digital strategy on a budget
- Digital and social media best practices for brands
Representing SDAMA
Indra Gardiner Bowers, Founder and CEO, i.d.e.a.
Distinguish Your NPO's Brand From A Sea Of Sameness
Most non-profits believe that a website is an opportunity to provide an endless amount of information about itself. Take a look at most non-profit websites and the depth is staggering. Do you read the scrolling pages in tiny type that explain every program an organization offers? Neither does your audience.
You could attend a different fundraising dinner every week for a year and if you didn't know the name of the organization, could you tell them apart? They're essentially all the same.
This session is designed to inspire you to think differently about your marketing and fundraising. It's time to challenge the status quo and differentiate your brand, your website, communications and events.
WHO SHOULD ATTEND?
This workshop is designed for all communication professionals, companies and non-profits. Attendees will leave the event with tools and strategies they can apply that afternoon.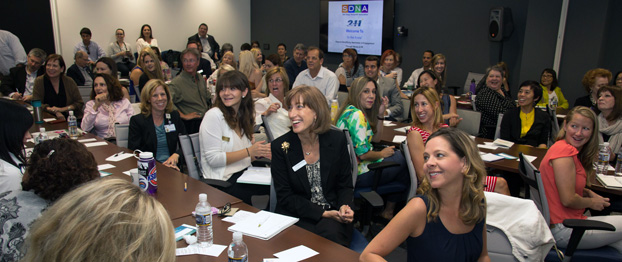 PRICING
Non-Members: $75
Members: FREE *
* (Members of any professional association of the FOURSight '17 Partners - listed below, UCSD Extension Marketing Certificate Students, or Members of the San Diego Nonprofit Association). Your organization will provide their promo code.
Registration is required. Space is limited to the first 85.
EVENT BONUS:
All registered attendees will receive a complimentary Market Ready Assessment Tool.
Assessment tool provided courtesy of Ideahaus.
FREE PARKING + REFRESHMENTS
Click the green "tickets" button to reserve your spot for this workshop. And don't wait...space is limited to the first 85 and seats fill up fast!
---
Free event tickets made possible by the generous support of TriNet and the collaboration of the following organizations: