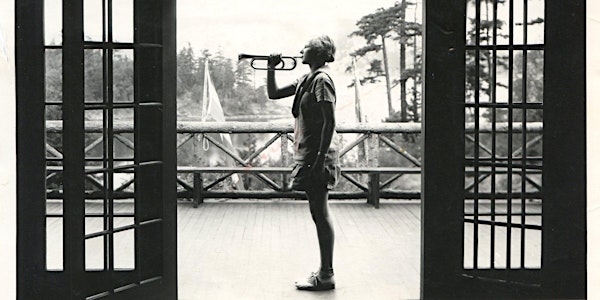 Four Winds*Westward Ho 95th Anniversary Celebration
Location
Four Winds * Westward Ho
286 Four Winds Road
P.O. Box 140
Deer Harbor, WA 98243
Refund policy
Contact the organizer to request a refund.
Eventbrite's fee is nonrefundable.
Four Winds*Westward Ho 95th Anniversary Celebration
About this event
Welcome to the information page for the Four Winds*Westward Ho 95th Anniversary Celebration. We anticipate a wonderful weekend of engagement, connection, and memories with alumni, family, and friends across the generations. We are all looking forward to a few days of fun at camp with dancing, singing and stories. Please join us for this milestone celebration.
Here is some information to help in your planning:
Dates: September 2nd-5th
Event Coordinator: Linda Sheridan email: linda@fourwindscamp.org
COVID protocols at Camp: All eligible participants and staff must have an up to date vaccination (this means 2 weeks past your last shot, plus boosted if eligible). Additional COVID Protocols may be put in place if required or advised by health authorities.
Children at Camp: All guests under 21 must be accompanied by an adult. Childcare is not available. Children under 13 will need to be accompanied by an adult to all program areas and activities.
Lodging/Prices:
$300 per person (ages 4 and up). This includes your lodging at camp in either a cabin or platform tent, meals, and all activities. You will be placed in a cabin/tent with the people you register with. Cabins and tents hold 5-8 people. Due to limited space, smaller families/groups will need to share cabins or tents. If you have another family/group you would like to bunk with please let Linda know and we will do our best to accommodate your request. We are not taking requests for specific cabins or tents.
If your family/group would like to reserve an entire cabin/tent you will need to purchase 8 tickets total, regardless of how many people are in your group. If you have questions please contact Linda Sheridan at linda@fourwindscamp.org.
$200 per person (ages 4 and up). This includes meals and all activities but NO LODGING. You will sleep off the property and be responsible for your own transportation to and from camp daily. Members of your group can use our transportation shuttles to get to/from Orcas but your group will need a private vehicle to get you to and from camp daily.
Children 3 years old and younger are free at camp and on our shuttles. Please let us know if they will be using our transportation shuttles so we can ensure space for them on the boat or van. If traveling by van shuttle you will need to provide your own car seat. If your child plans to participate in water based activities please provide their own lifejacket.
Travel: We know travel to Orcas Island can be stressful on Labor Day weekend so we are here to help. Here are some options to get to and from camp
1) $70 roundtrip boat transportation via motor boat from Skyline Marina in Anacortes straight to the Four Winds dock. Approximately 2 hours one way. Choices are...
Depart Skyline Marina at 2pm Friday and return to Skyline approx. 2pm Monday.
OR
Depart Skyline Marina 10am Saturday and return to Skyline approx. 5:30pm Monday
2) $70 roundtrip boat transportation via Carlyn from Cap Sante Marina in Anacortes. Approximately 4 hours one way. Depart Cap Sante Marina Friday at noon. Retuning to Cap Sante approx. 3:30pm on Monday.
Note: If using SEA-TAC Airport your travel time to/from Anacortes to the SEA-TAC airport will be 2-3 hours MINIMUM. Holiday traffic on I-5 will create delays. Plan accordingly!!
3) WA State Ferry walk on passenger and $15 Van shuttle ticket round trip. Walk on the WA State Ferry in Anacortes either Friday or Saturday (see WA State Ferry website for ticket prices) and our staff will pick you up from the ferry landing on Orcas in one of our camp shuttles. We will return you to the ferry landing on Monday. Child car seats are not provided on van shuttles, please bring your own. Closer to the date please let Linda Sheridan know what ferries you plan to be on.
4) Drive onto the WA State Ferry and drive to camp in your personal vehicle. You can find reservation information on the Washington State Ferries website at https://wsdot.wa.gov/travel/washington-state-ferries. We caution against this plan due to an overflow of people coming to Orcas Island for Labor Day weekend. We urge you to make a reservation ASAP if this is your plan. Prior to your sailing date, reservations are available 2 months ahead of time, 2 weeks ahead of time and 2 days ahead of time.
5) Fly to Orcas via Kenmore Air. https://kenmoreair.com There is a small airport in Eastsound on Orcas Island and sea planes can land at Deer Harbor or several other locations on Orcas. Purchase a Van shuttle ticket and our staff will come pick you up at your designated location. To schedule details for pick up and drop off please contact Linda Sheridan.
6) Private boat. If you plan to have your private boat at camp please contact Linda Sheridan for pricing and logistics.
Activities: Dock (kayaking, sailing, canoeing, SUPs etc), Arts & Crafts, Land Sports (basketball, tennis, soccer doge ball, frisbee etc.), Garden Crafts, Hay Wagon rides, Horse experience for kids (grooming horses, arena rides where horse is led by staff).
Trail Rides, Sailing on Carlyn, and Sea Kayaking are available but have limited space. We will send an email asking if you would like to sign up for these 3 specific activities.
There will also be several all-camp activities such as Flags, singing, Folk dance, and Evening Fire. Sunday we will host an adult dinner and silent auction while the children and staff have dinner, games, and movie elsewhere at camp.
Our program areas will adhere to minimum age requirements for activities on the property. Children ages 13 and younger must be accompanied by an adult at any of the activity areas.
Special Needs: If someone in your group has special needs please let Linda Sheridan know as soon as possible so we can make your stay more enjoyable. For example if someone has dietary issues, severe allergies, mobility issues, or needs an outlet at night for a CPAP machine or other medical device. If your needs suddenly change prior to the event (ie broken leg) please contact us before you arrive so we can help accommodate your needs.
Other: Closer to the event Linda Sheridan will email more detailed information about the weekend. This information will come in phases as we get closer to the event. It is necessary to have ONE group leader for the reunion coordinator to contact.
Pets are not allowed. Even if you are staying off the property we ask that you leave your dog at your rental during the day or find another option for your pooch.
If your child is under 90lbs, please bring their own lifejacket if they plan to participate in water based activities.
Car seats are not provided in our camp shuttles, please bring your own.
For those of you with young children we will have Holiday House set up as "Baby Land". This area will be reserved for changing diapers, feeding small children, breastfeeding mothers, and quiet indoor play when you and your little one need a break.
Linda Sheridan is the event coordinator please email her with any questions, with cabin mate requests, with special needs info, and/or to organize van shuttle arrangements. Her email is linda@fourwindscamp.org