| | |
| --- | --- |
| Four Decisions Workshop for Growth-Minded Family Businesses | |
Event Details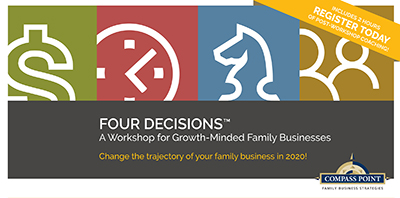 For CEOs, Entrepreneurs, and your Leadership Teams:
Rise above the mediocrity! Invest a day with your leadership team, and learn how to achieve scalable growth by implementing the Four Decisions™ around People, Strategy, Execution and Cash.
This workshop is ideal for Family Business Owners with revenue between $5M and $100M who are looking for ways to scale and grow their business. This full day of instruction and practical tools also includes:
–  (35) Question Four Decisions Mini Assessment; takes less than 5 minutes
–  (1) Four Decision Workbook
–  (1) Rock and Sand, the book by Michael Synk 
–  (2) hours of post-workshop coaching to further develop your 1-Page Plan at your location.
What you will learn to drive growth and better align your team:
STRATEGY:  Draft key elements of your strategic plan so you are positioned for topline growth with an emphasis on gross margin growth. 
BRAND PROMISE:  Build and/or review your Brand Promise and tune it for success.
CASH CONVERSION CYCLE:  Learn 5 ways to find cash in your company.
PEOPLE:  Determine if you have "The Right People in the Right Seats" and assess your team.
EXECUTION:  Learn or review the 10 Rockefeller Habits checklist to strengthen execution.
THREE DISCIPLINES:  Learn the three key execution disciplines of Priorities, Metrics and Communication Rhythms
QUARTERLY FOCUS:  Make your most critical short-term decisions to your 13-week race.

Learn how to accelerate profitable growth using the 4 Decisions.
The Four Decisions™ refer to the critical decisions that growth companies must get right to maximize their revenue, profit and time. These four decisions involve the areas of People, Strategy, Execution and Cash. This workshop will teach you tools for making the right decisions in each of these areas.
Our Cancellation Policy
There will be no refund for cancellations. We are happy to transfer your registration to another team member within your company if the original registrant is unable to attend. 
Save This Event
When & Where

Compass Point Consulting LLC
1525 Valley Center Parkway
Suite 300
Bethlehem, PA 18017


Organizer
Compass Point helps family business owners with the challenges that naturally arise when juggling family, business, and ownership issues along with their own personal goals. By implementing a family business operating system that bridges their business and personal goals, owners can build value, unlock wealth and design their next chapter. We help them build a business that can run without them.
We have expertise in leadership development, strategic planning, business finance, family business governance, succession planning, and next chapter planning. 
Meet our Team:
Tom Garrity – Managing Partner, a Gravitas Coach and Value Builder Advisor
Cheryl Doll – Senior Business Advisor and Gravitas Coach
Cheyenne Bennett  – Leadership & Talent Coach, Certified High Performance Coach, DiSC Certified