Event Information
Location
Fountain Valley Recreation Center and Sports Park
16400 Brookhurst Street
Fountain Valley, CA 92708
Refund policy
Refunds up to 1 day before event
Eventbrite's fee is nonrefundable.
The City of Fountain Valley's Kickoff to the Summer! Two stages, carnival rides, amazing food, and fireworks.
About this event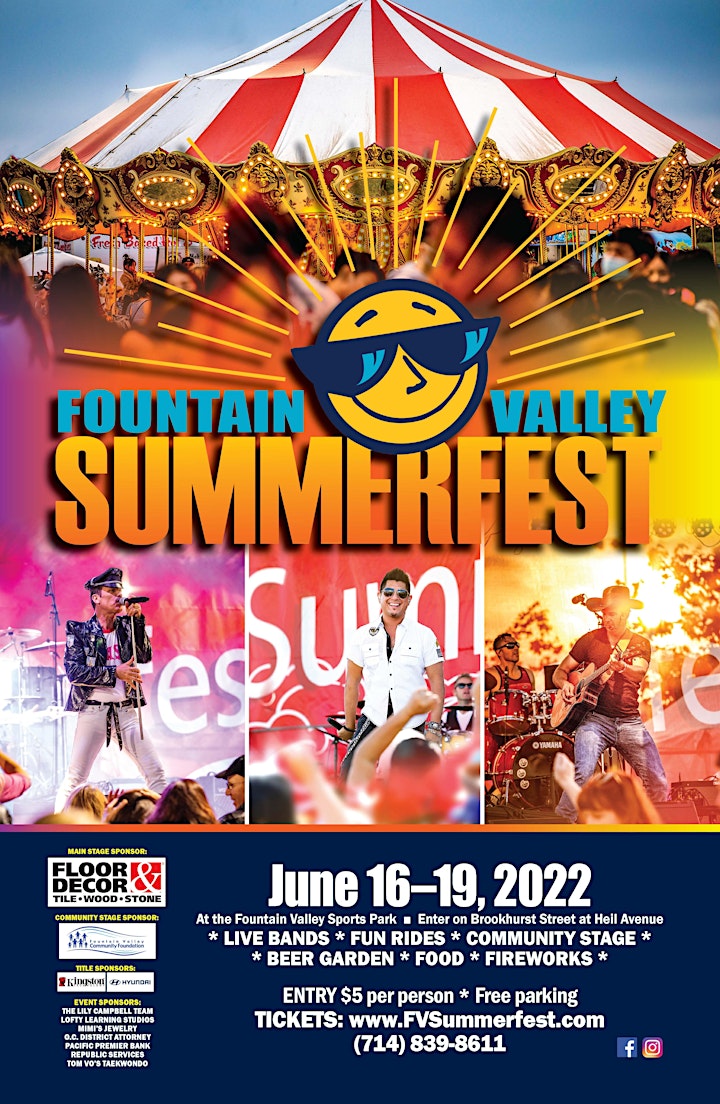 TICKETS
General Admission $5
Admission tickets are required for all attendees age 5 years and older.
MAIN STAGE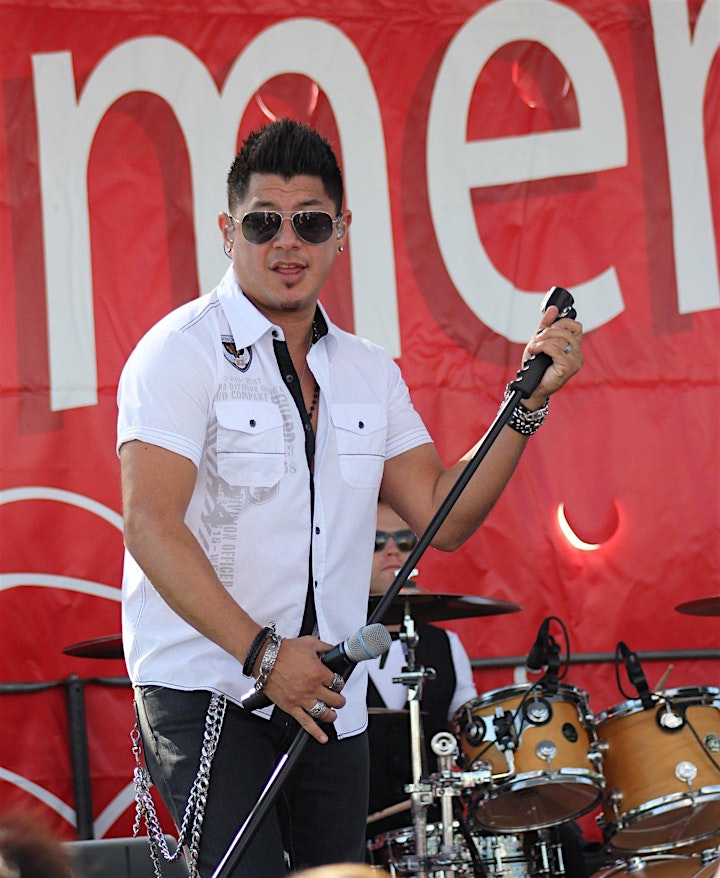 Thursday, June 16
5:30-7:00pm Aeromyth
8:00-9:30pm China Grove
Friday, June 17
5:30-8:00pm Thank U Drive Thru
9:00-11:00pm Redneck Rodeo
Saturday, June 18
3:30-5:30pm Flashback Heart Attack
6:30-8:00pm Weekend Dance Explosion
9:00-11:00pm LA Soundmachine
Sunday, June 19
12:30-2:00pm Yachty by Nature
3:00-5:00pm DSB
6:00-8:00pm Tijuana Dogs
COMMUNITY STAGE
Community Stage 2022
Thursday, June 16
6:00-6:30 FVHS Jazz Band
6:45-7:45 FVSD Middle School Choirs
8:15-8:45 FV Brass Band
Friday, June 17
6:00-6:30 FVHS Chamber Strings
7:00-8:00 MYART Showcase Troupe
8:30-9:30 Let there Be Rock Bands
Saturday, June 18
3:00-3:30 Backpfeifengesicht- Fulton Middle School Rock Band
3:45-4:30 Huntington Beach Singers Co
4:45-5:30 Kelela Rose Dance Studio
5:45-6:15 Voice(s) of FVHS- Paige Taylor
6:30-7:15 Free to Be Me - Dynamix Performance Troupe
7:45-8:45 Complex Concepts- Masuda Band
9:15-9:45 Waste of Oxygen
Sunday, June 19
1:00-1:30 Lookout Pointe
2:00-2:30 St. Simon and Jude Dolphinettes Cheer
3:00-3:30 The Voice of FVHS 2022- Madalyn Pham
4:00-4:30 Beach Cities Dance Studio
4:45-5:15 Voice(s) of FVHS- Tricia Tran
5:30-6:15 Grupo Folklórico Desafío
6:45-7:15 Bessie Q
CARNIVAL RIDES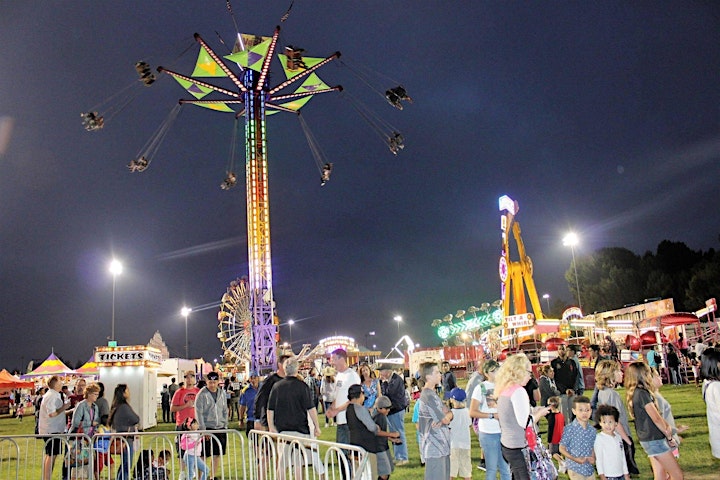 We are planning to have a minimum of 20 carnival rides on site including the Century Ferris Wheel, the Zipper, Kamikaze, Vertigo, and more. Ride tickets will be sold on site. Ticket rates are:
1 Ticket = $1.25
20 Tickets = $20
50 Tickets = $45
Unlimited Ride Wristbands are available Friday-Sunday ($40 per person/per day)
Thursday is preview night: ALL RIDES $2

FIREWORKS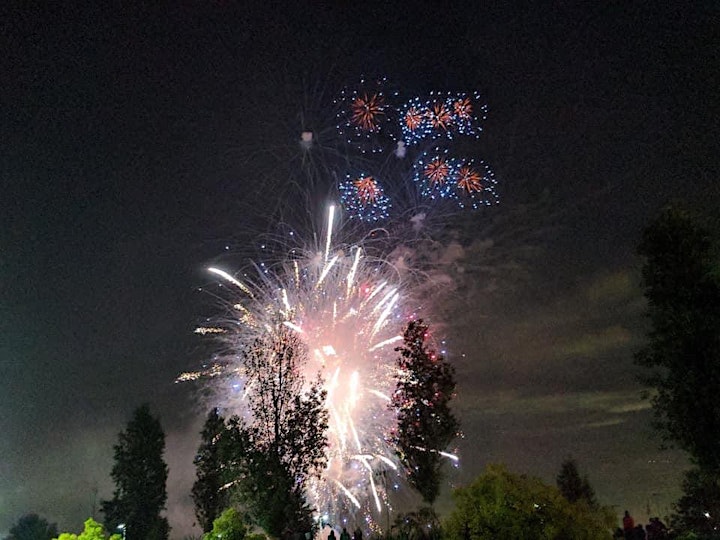 Friday, June 17th AND Saturday, June 18th
(Approximately 8:45pm)
BEER, WINE, AND COCKTAILS
Below is the 2021 menu. The 2022 offerings will be available in May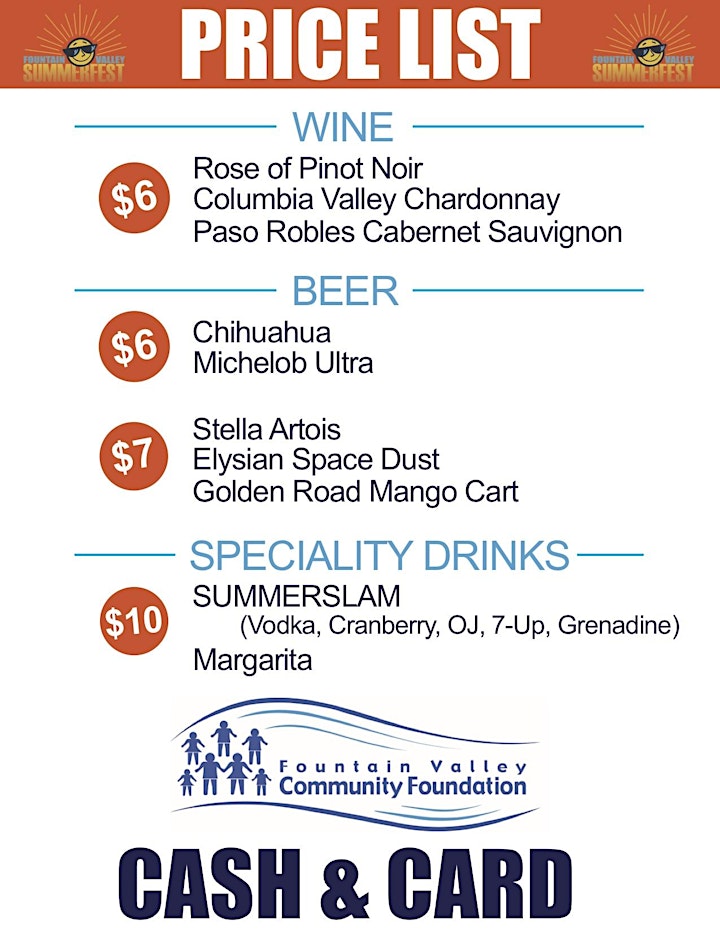 OUTSIDE FOOD/DRINK, COOLERS, WATER, BLANKETS, AND CHAIRS
No Outside Food or Drink
Coolers are not allowed
Guests may bring their own water bottles
While we do not guarantee space for every guest to lay out blankets and chairs, they are allowed.
DOGS
Summerfest continues to be a dog friendly event. All dogs must be leashed.
FREE GENERAL PARKING
Free Parking: Lots 1, 2, 4, 5, 6, and 7
$10 VIP Parking in Lot 3 and 8
VIP spots are rented first come, first serve. Click on the map below for additional details.
Event/Parking Map for Summerfest
Disabled Person Parking
Each of the parking lots at the Fountain Valley Sports Park comes with appropriately designated disabled person parking. We also provide additional disabled person parking in our VIP lot on a first come, first serve basis. There is no fee for disabled person parking in the VIP lot. Appropriate DMV identification is required. Click on the map below for additional details.
UBER/LYFT ZONE
We have a drop off zone for our event. Click on the URL below to see event map for specifics (it is located to the right of parking lot 2 on the map)
The Walker Chronicles Review of Summerfest 2021
Location
Fountain Valley Recreation Center and Sports Park
16400 Brookhurst Street
Fountain Valley, CA 92708
Refund policy
Refunds up to 1 day before event
Eventbrite's fee is nonrefundable.