Location
Fountain Valley Recreation Center and Sports Park
16400 Brookhurst Street
Fountain Valley, CA 92708
Refund policy
Contact the organizer to request a refund.
Eventbrite's fee is nonrefundable.
Fountain Valley Summerfest is back! Carnival rides, Live Music, and Food Booths
About this event
ADMISSION TICKETS WILL BE AVAILABLE AT THE GATE--$5 per person (5 years and older)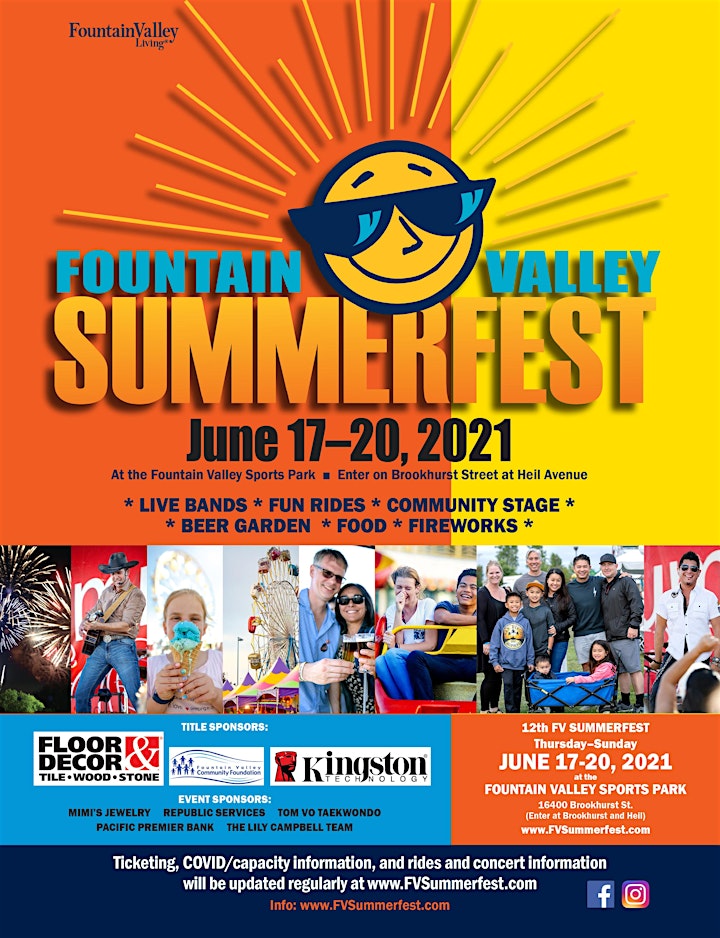 TICKETS
General Admission $5
Admission tickets are required for all attendees age 5 years and older.
As many of you know, Summerfest has been an open and free event for its entire 12 year history. Unfortunately, our expenses have increased this year as we learn to operate in a post-COVID environment. As a result, the general admission revenue will be used to help offset the costs associated with ensuring that Summerfest is a safe event for for as many families as possible.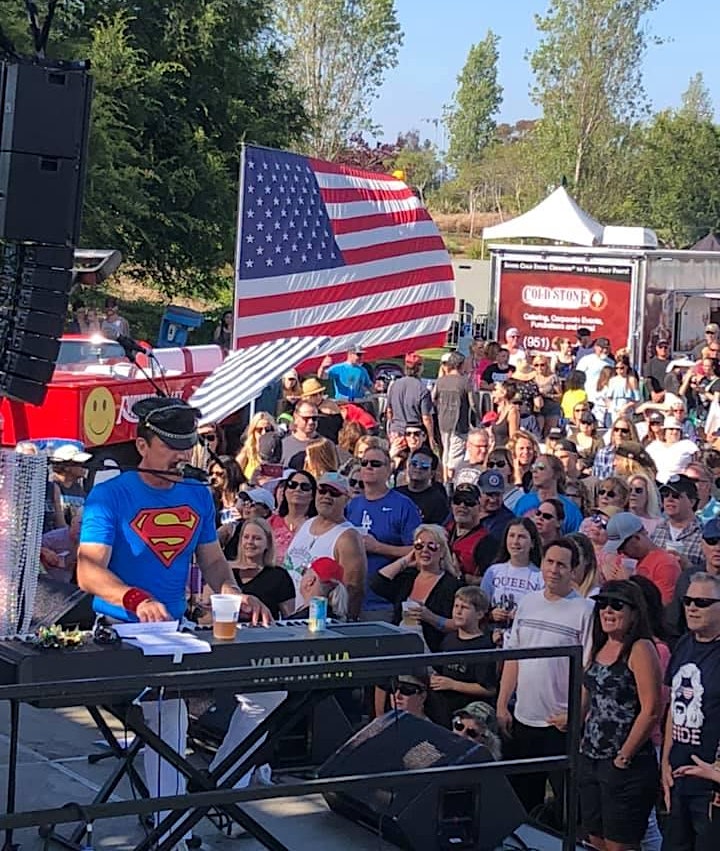 Main Stage Concerts
Thursday, June 17
5:30-7 p.m.: Chicago X (Chicago tribute)
8-9:30 p.m.: Queen Nation (Queen tribute band)
Friday, June 18
5:30-7:30 p.m.: Mark Easterday (country)
8:30-10:30 p.m.: The Trip (Cover band)
Saturday June 19
3-5 p.m.: The Hodads (Beach Boys/Buffet sounds)
6-7:30 p.m.: Eagles/Ronstadt Tribute
8:45-9 p.m.: Fireworks show
9-11 p.m.: Urgent—LA (Foreigner tribute)
Sunday, June 20
Noon-2 p.m.: My Generation (British rock)
3-5 p.m.: DSB (Journey tribute)
6-8 p.m.: Tijuana Dogs (Cover Band)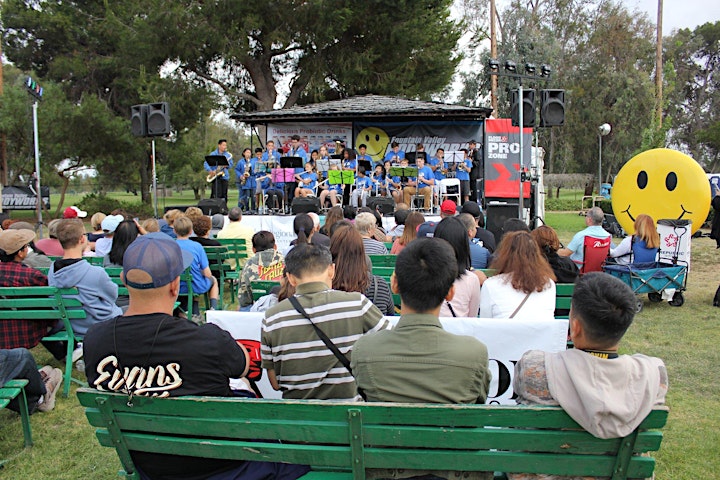 Community Stage Entertainment
Thursday, June 17
6:00-6:30 Huntington Beach Singers Company
6:45-7:15 St Simon and Jude Dolphinette Cheer Squad
7:30-8:00 FVHS Chamber Strings
8:30-9:30 Fountain of Life Church Band
Friday, June 18
6:00-6:30 FVHS Jazz Band
7:00-8:00 Free to Be Me - Dynamix Performance Troupe
8:00-8:45 Voice(s) of FVHS-Tricia Tran and Friends; Paige Taylor
9:15-10:00 Cruise Control
Saturday, June 19
3:00-4:00 Lookout Point
4:00-5:00 Kelela Rose Dance Studio
5:00-6:00 Michael Keith, Vocalist
6:00-7:00 Beach Cities Dance Studio
7:00-8:00 MYART's Showcase Troupe
8:30-9:30 Complex Concepts
Sunday, June 20
1:00-2:00 Let There Be Rock School Bands
2:00-3:00 Tiffany Dennis, Vocalist
3:00-4:00 Free to Be Me- Vocal Performance Singers
4:00-4:45 Grupo Folklorico Explorando Mexico
5:15-5:45 Wish for Dystopia
6:15-7:15 Orion and the Big Dippers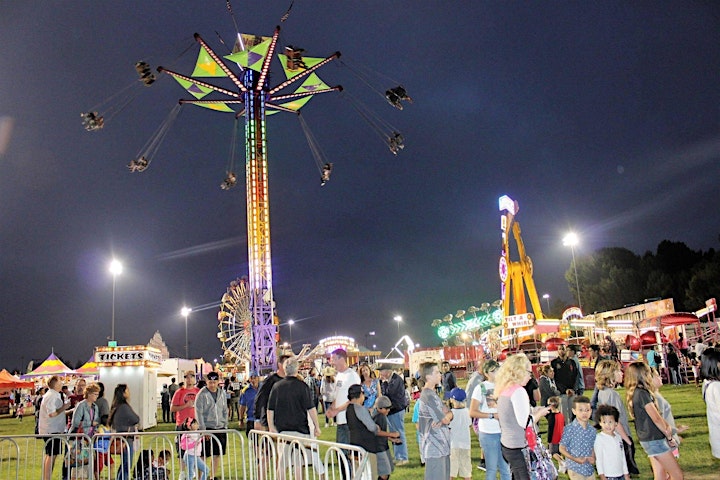 Carnival Rides
THURSDAY PREVIEW NIGHT: ALL RIDES $2
We are planning to have a minimum of 20 carnival rides on site including the Century Ferris Wheel, the Zipper, Kamikaze, Vertigo, and more. Ride tickets will be sold on site. Ticket rates are:
1 Ticket = $1.25
20 Tickets = $20
31 Tickets = $25
Unlimited Ride Wristbands are available Friday-Sunday ($35 per person)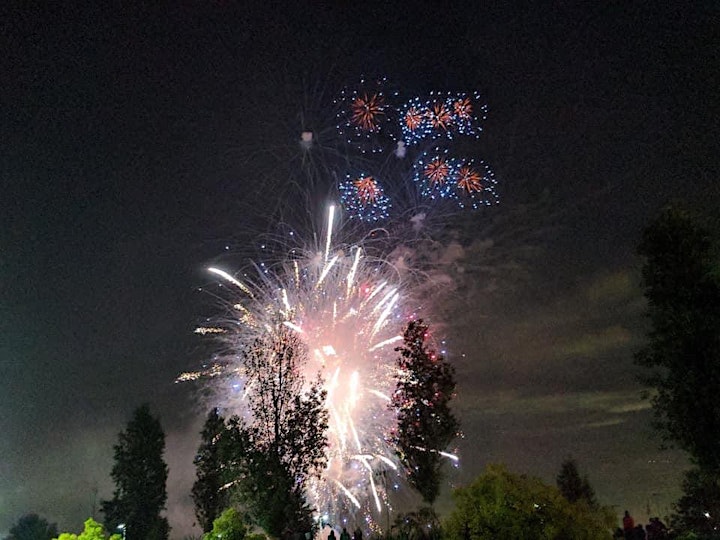 FIREWORKS
Saturday, June 19th
8:45pm
Beer, Wine, and Cocktails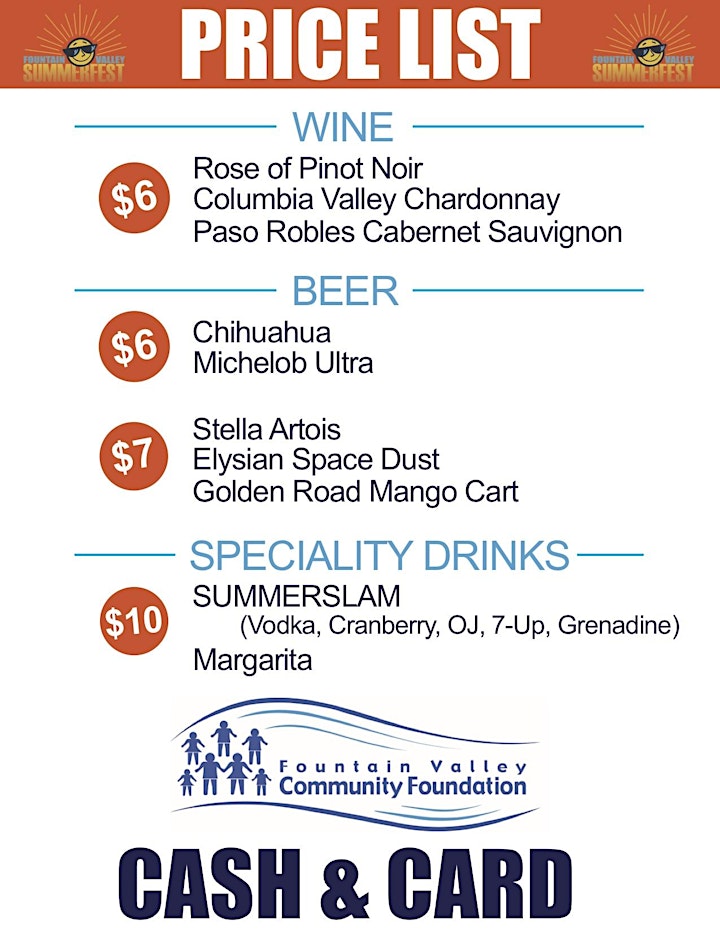 Outside Food, Coolers, Water, Blankets and Chairs
No Outside Food or Drink
Coolers are not allowed
Guests may bring their own water bottles
While we do not guarantee space for every guest to lay out blankets and chairs, they are allowed.
Dogs
Summerfest continues to be a dog friendly event. All dogs must be leashed.
PARKING
Free General Parking/$10 VIP Lot
As many of you know, we typically charge $5 for general parking and $10 for our two VIP lots. This year we eliminated the general parking fee because we are charging for general admission. All general parking will be FREE. VIP parking will continue to be $10. Those spots are rented first come, first serve. Click on the map below for additional details.
Event/Parking Map for Summerfest
Handicap Parking
Handicap Parking: Each of the parking lots at the Fountain Valley Sports Park comes with appropriately designated handicap parking. We also provide additional handicap parking in our VIP lot on a first come, first serve basis. There is no fee for handicap parking in the VIP lot. Appropriate DMV identification is required. Click on the map below for additional details.
Uber/Lyft Zone
We have a drop off zone for our event. Click on the URL below to see event map for specifics (it is located to the right of parking lot 2 on the map)
COVID PROTOCOLS
Summerfest will be offered in compliance with all state, county, and city guidelines. As of June 15, 2021, state guidelines for COVID have been lifted. As a result face masks are no longer required.