Description
An exhibition known for its vibrant energy, focus on daring emerging art, and disregard for convention, Fountain Art Fair will take over the historic 69th Armory on March 9-11, representing today's most cutting-edge independent galleries and artists.
Contemporary art gurus Artlog will kick off an unforgettable celebration at Fountain's Public Opening Night Reception, Friday March 9 from 7-11pm, guest DJ'd by New York legend Fab 5 Freddy. On Saturday Fountain extends its hours until 11pm for a Saturday night party curated by our nonprofit partner Art for Progress!
Site-specific installations and other surprises will abound at Fountain, including a sprawling 200-foot collaborative street art installation and a special series of performance art. For respite from the art fair frenzy, attendees can head to Fountain's Looseworld Lounge, where Pernod Absinthe will hydrate the crowd while Looseworld, a multi-media creative agency, sets the scene with special video projects.
Visit FountainArtFair.com for details!
Join Fountain on Facebook and Twitter.
Fountain Art Fair New York at the 69th Regiment Armory
March 9–11, 2012 | 68 Lexington Avenue at 25th Street
Hours & Special Events:
Friday 3/9
VIP & Press Preview: 1pm–7pm
Artlog presents Public Opening Reception: 7pm-11pm
Saturday 3/10
General public hours: 1pm–7pm
Art For Progress Saturday Party: 7pm–11pm
Sunday 3/11
General public hours: 1pm–7pm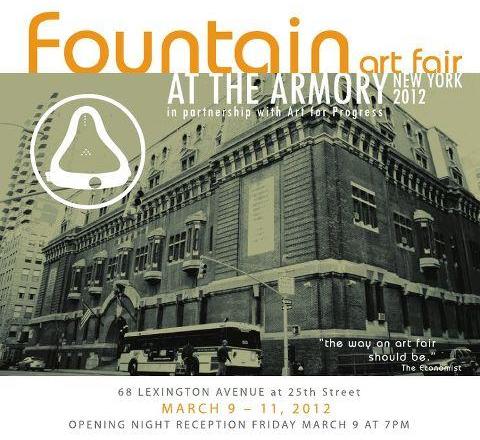 Organizer of Fountain Art Fair NY 2012
Founded in 2006, Fountain Art Fair has received critical acclaim for its unique art fair model and genuine dedication to the artists and galleries who share in its vision and ideology. Celebrated as the first of a new influential generation of alternative fairs, Fountain is reinterpreting the concept of the art fair experience and paving a new path to the future in today's market.