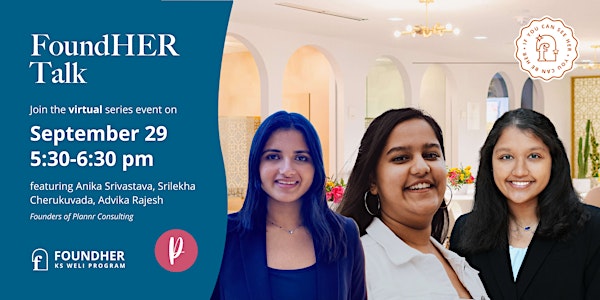 FoundHER Talk - Ask Her Anything with Plannr Consulting!
Each month the FoundHER Program empowers and equips a courageous, creative women-identifying founder, who will change the world.
About this event
The team behind Plannr Consulting will share their story and obstacles they have overcome as female founders. Plannr Consulting is a youth-led international 501(c)3 non-profit organization striving to enhance student health by offering free personalized sessions, spreading mental health awareness through impactful campaigns, and building an open community platform.
FoundHER Talks are hosted by FoundHERs, members of the FoundHER Cohort. FoundHER talks create a safe space for discussion on what it's like to start your own venture. Any questions related to entrepreneurship are welcome. This is a great event to attend if you're interested in creating a company and don't know where to start. See her, be her, ask her anything. Sign up today!
Join us here: https://utexas.zoom.us/j/7807799066