Description
Event Agenda:
11:00am - 11:15am: Registration and Networking
11:15am - 12:00: Urban Farming
12:00 - 1:00pm: Meet and Greet with the guest speaker
There are a couple of things you can live without in your life, food isn't one of them. Entrepreneurship is the art of solving problems sustainably and arguably one of the biggest problem we are facing now is food security and how to co-exist sustainably with our environment… Enter HAVVA Agrotech.
HAVVA Agrotech is a startup invested in by Cradle Fund that has the vision of building ecosystems for healthier living. Started by Philip Loo, with the initial aim to sustainably produce healthy food for their own consumption. It has then grown and evolved to be a social enterprise that is working hard to enable every home to sustainably produce self-sufficient, fresh and healthy food globally.
In the 10th Episode of the Inspire Series Mr Phillip Loo will be joining us to share their entrepreneurial journey in the Urban Farming space and what they envision the future of food production to be like in the future.
We will find out:
What is Urban Farming?

Why Urban Farming?
What are the challenges in this industry?

What are the opportunities?
What are the major entrepreneurial lessons learnt during this venture?
Entrepreneurship is multidisciplinary in nature and as entrepreneurs we look for insights and lessons from what other entrepreneurs in various fields and industries have gone through and experienced so we can apply what we have learned in our own ventures. It is with that mind that we welcome you to gain insight, learn lessons and get inspired by what HAVVA Agrotech is doing.
See you all there.
===================================================
Philip Loo is a Computer Science graduate from Swinburne University of Technology. After graduation, he built his first start up IT company in 1996. He has 20 years of experience in the IT industry. He has diverse experience in IT solutions.
He also built an internet online business in 2000 and was the co­founder of everyday.com.my. He exited from Livingsocial Ltd in 2013. Everyday.com.my started as 5 person company and grew to more than 200 people team in 3 years with close to 4million revenue a month.
Philip Loo was introduced to aquaponics systems in 2015 and become very interested in it. This led him to Taiwan to learn about aquaponics and permaculture. Driven by his passion for farming, he has invested time and money in research and development of aeroponics, vertical farming, aquaponics, urban permaculture, black soldier fly cultivation and urban farming.
He mastermind the first ever vertical aquaponic urban farm in Pulau Tikus, Georgetown. He went on to mastermind the first commercial HAVVA farm where fresh, healthy and nontoxic vegetables and fish is serve from farm to table.
He is very passionate about sustainable urban farming for self­sufficiency to bring quality, fresh and healthy food to every urban household. When every home is able to grow their own food, he believes that we will be able to free up the use of agriculture land and improve our green eco system collectively.
He is committed to continually innovate, design and build effective planting system for healthy living. He hopes that with advanced and efficient planting systems for home and commercial, he will interrupt and redefines modern farming. He believes sustainable farming should be practiced without toxic residual and no pollution. When his dream comes true, everyone will enjoy fresh, healthy and nontoxic food at reasonable price.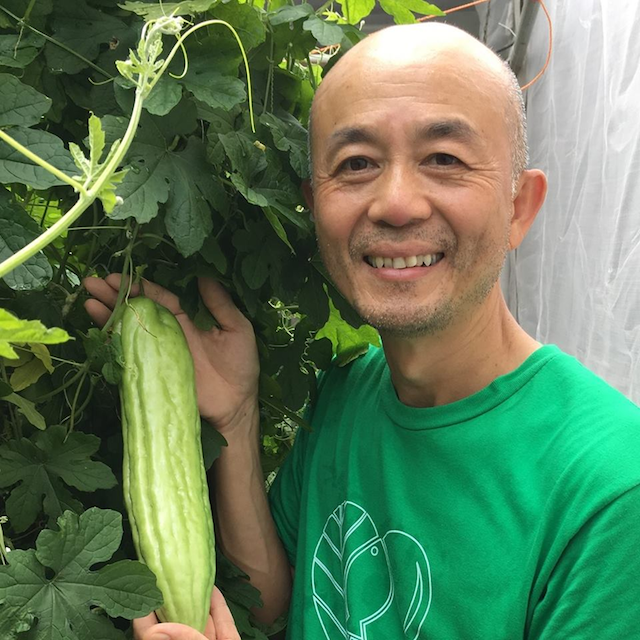 Powered by: