Description

Alpha Loft's Founders Series gives attendees the opportunity to learn from the experience of others. Each event will feature three startup founders who've been on the startup journey. You'll hear about their journey through the craziness that is founding a startup, including how they worked through obstacles, what milestones they achieved, how they caught their big break, and lessons learned along the way. The Alpha Loft team will moderate the conversation and then open things up for questions from the audience.
Meet the Founders

Ian Grant, of Peter T Paul Entrepreneurship Center (UNH ECenter)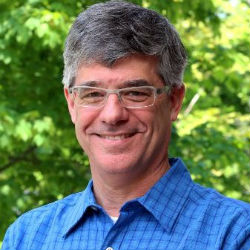 Ian Grant brings a wealth of entrepreneurial and innovation experience to his role as director of the recently established Peter T. Paul Entrepreneurship Center at the University of New Hampshire.
Ian co-founded/founded three companies (bootstrapped and venture backed), all of which were acquired, and led innovation projects within large Fortune 500 corporate environments. He has experience in multiple leadership roles including CEO, COO, VP of marketing, business development, and sales (trenches and managing), and from work in a variety of industries.
Ian's start-up companies included VillageGenie.com (acquired by Lee Hecht Harrison/Adecco), Hotchili Technology, and PlanetResume.com/MTS-Group (both merged with Careershop.com and acquired by Personnel Group of America). In addition, he was involved with the early stage company Pure Barnyard Lawn & Garden Products (Cockadoodle-DOO brand) as COO and head of marketing. In 2001 Boston Business Journal to selected Ian from more than 300 nominees for its "Top 40 Under 40" award. He graduated with a BA in Government from St. Lawrence University.
Joe McEachern, of QA Cafe & Cloudshark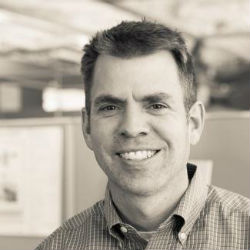 Joe's interest in computers dates back to the days of the TI-99/4A and other home computers. In college at Tufts he majored in Electrical Engineering and started dabbling in computer programming. In the early 90s, Joe worked for a couple of technology companies, including Cabletron. In 1993 while working there, Joe learned about the UNH IOL and after learning more started working at the IOL and entered the computer science department at UNH.
Through exposure to IOL consortium member companies and an IOL sponsored trip to Interop in 1996, Joe landed at Ipsilon Networks in Silicon Valley as a QA Engineer. This initial start up experience planted the seed for a future in testing technology and the drive to create a business. Joe worked for a few more technology companies gaining experience before creating QA Cafe in 2001. At QA Cafe, Joe created CDRouter to showcase one approach to test automation. The product caught on quickly with some early key customers.
Over the last decade, Joe has continued to develop QA Cafe's products and grow the company. Today, QA Cafe is the leader in CPE functional test. Along the way, other products have been created including CloudShark. QA Cafe has remained a small company over the years, now with 13 employees. Joe believes it size has been one of its key strengths allowing it to adapt rapidly to any market changes. The future outlook at QA Cafe remains bright with the constant evolution of networking technology.
Kevin Short, of Setem Technologies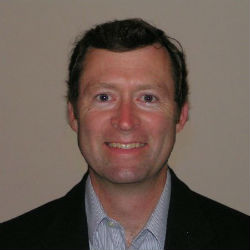 Kevin Short is a UNH Professor of Mathematics, has founded or co-founded two companies, and is a Grammy Award winner. In addition to his role as a professor, Kevin is founding co-director of the Integrated Applied Mathematics Ph.D. Program and the Center for Dynamics Research at UNH.
In 1999 he founded a spin-out company called Chaoticom (later renamed Groove Mobile), which launched the market for music downloads to cellphones in Europe and the United States, and created and ran the Sprint Music Store in the U.S. The company lives on as part of OnMobile Live.
In 2008 after returning to UNH, he won a Grammy Award as part of the restoration team that produced the album, The Live Wire, which was a restoration of a 50-year old wire recording of a live concert by Woody Guthrie.
In 2012, Kevin co-founded Setem Technologies, which is focused on using mathematical signal separation techniques to improve hearing aids and speech recognition in noisy environments. The company is an angel and corporate backed company that has identified a number of potential applications for its innovative technology. The company, and his previous company have patents in source signal separation, music synthesis, secure communication, and more.
In 2015 he was selected for induction into the National Academy of Inventors.
Schedule

5:30 PM - Grab a cold beverage/snack, and chat with others
6:00 PM – Introductions and Panel Discussion
7:30 PM – Conclude
Location & Parking

Alpha Loft is now located at 21 Madbury Road, Durham, NH. Attendees can enter through the entrance closest to the Pettee Brook parking lot (see the image below) and follow the signs to the event.

Attendees may park along Madbury Road, Pettee Brook Lane, and Main Street. Parking is metered until 6:00 PM and is strictly enforced. The first hour is free in many lots, HOWEVER, please make sure a ticket is displayed in your vehicle before leaving.

For additional parking guidelines, please visit the UNH Parking website.