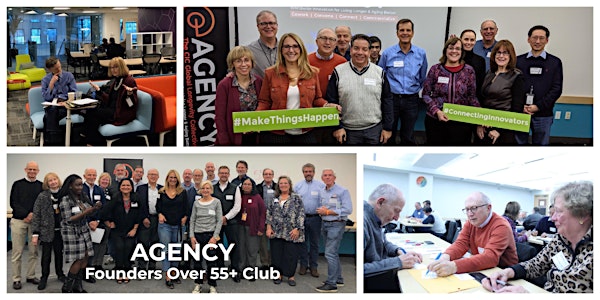 Founders Over 55+: Plan Your Exit Strategy as you Build your Startup
Are you launching or running a new startup? Plan now to optimize your exit, no matter how far away that might seem
About this event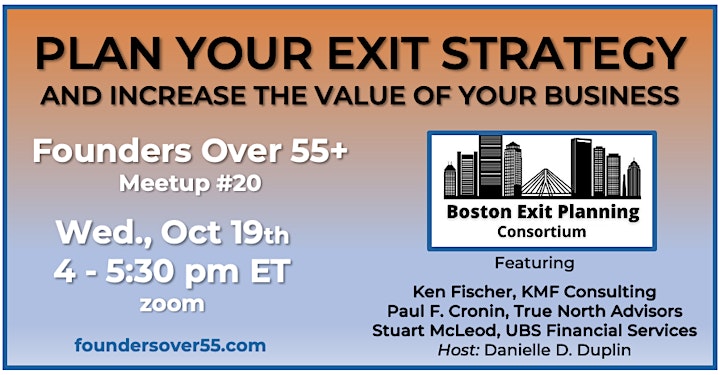 Hello, Founders Over 55+ . . . and all of you who are becoming entrepreneurs later in life! ~
What's the best time for founders to start planning for their business exit? The answer might surprise you . . . some aspects should begin on Day One.
The decisions you make about your business structure, records management, financing, et. al can have implications when the time comes to transition your company. You can avoid many of the obstacles preventing a smooth exit by taking the right steps early in the life cycle of your startup, and making structural changes along the way as your business grows.
At our next Founders Over 55+ meeting on October 19th, 4 pm ET, we will:
identify the 3 most common types of exits,
learn what considerations apply to each,
discuss why and how to prepare to avoid problems later, and
highlight the preservation of assets and retirement planning issues you should consider leading up to and following an exit.
You'll hear examples and guidance that will give you the confidence to take actions now that will improve your business valuations and position you for the best possible outcomes consistent with your personal aspirations and business goals.
We're excited to have this session led by experts from the Boston Exit Planning Consortium:
Don't miss this lively Meetup #20! You'll have plenty of time for your questions and breakouts with fellow F55+ community members, and you'll leave chock-full of new contacts and ideas. All ages, stages, sectors, and backgrounds are welcomed . . . newcomers too :)
Tune in on Wed. Oct 19th, 4 – 5:30 pm ET
We look forward to zooming with you,
The F55+ Steering Committee:
Danielle D. Duplin, Jerry Wolosenko, Mary Cronin, Doug Dickson, Ramesh Advani
>>> We want to hear from YOU !! <<<
BONUS: We're launching "F55+ Member Spotlight", a new "Pitch/Ask" component of our events! This is an opportunity for you to share what you are working on and seek help from the F55+ community. Apply here to speak at an upcoming F55+ meetup!
About the Founders Over 55+ Collective
The Founders Over 55+ Collective is a collegial community of entrepreneurs who start and run thriving businesses later in life. We are first-time founders and experienced company owners where our age is an advantage.  Together, F55+ members share best practices for success, celebrate each others' professional and personal journeys, and champion an age-friendly business ecosystem. F55+ is an inclusive member-led club that welcomes entrepreneurs of ALL ages, stages, and backgrounds.
Join the F55+ Collective to share ideas, raise issues, and connect with peers who are puzzling over key questions like:
What motivates founders over 55? . . . is it all about the money? the life-purpose? the intellectual, creative and social engagement? mutual learning with the next generation(s)?
What drives the success of our ventures? . . . is it lifelong experience and wisdom? renewed curiosity? blending the old with the new?
What resources are most valuable/needed? . . . access to capital, markets, and partners? alternative sources of funding for encore founders who don't "fit" the typical VC profile? tips for engaging multi-generational teams?
What are the practical challenges and best-practices? . . . balancing a healthy lifestyle with the rigorous demands of running a successful business in today's hyper-competitive climate? balancing accumulated wealth with the risk of starting something new? getting visibility in the ecosystem? strategies to combat ageism bias ??
The F55+ Collective is an initiative of AGENCY: Worldwide Innovation for Living Longer and Aging Better. AGENCY is equal parts coworking at CIC, programming, and an international community of innovators to make the aging journey better for all. Send us a note at helloagency@cic.com to get involved!