Founders Over 55+: Fireside Chat with Rick Terrien, author Ageless Startup
A field guide to launching a startup where your age is an asset!
About this event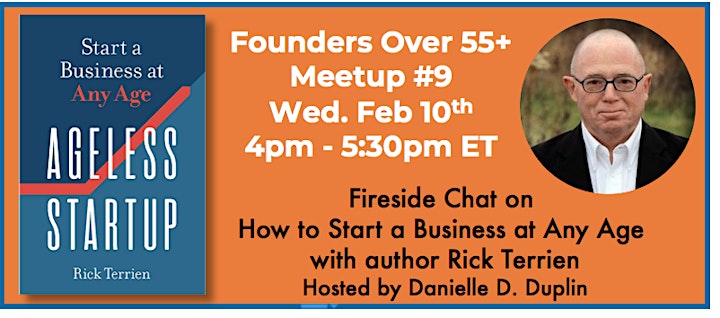 Hello, Founders Over 55! and everyone else who is considering becoming a founder as their encore career ~
We invite you to learn from Rick Terrien, an award-winning entrepreneur and author of "Ageless Startup: How to Start a Business at Any Age".
Join us for a fabulous Fireside Chat to discuss Rick's 'field guide' that helps you bridge from employee to entrepreneur, or from empty-nester to business-owner.
"There has never been a better time to start your own business, but taking that leap of faith can seem like a daunting risk rather than an exciting new venture. But here's the truth: Your community needs you. The world needs you. You have time to make a difference, and you have the experience, resilience, and drive to make it. "
We'll discuss Rick's advice on how you can and go from being an employee to an entrepreneur, or from an empty-nester to a business-owner:
"Make a smooth transition from working for someone else to working for yourself
Minimize your risk and maximize your value
Set a pace that's right for you and your business
Find the customers that will keep coming back
Create a business system that keeps you on track and comfortable
Build your exit strategy into your launch
Tackle obstacles with an open mind"
Here's where you can find Rick's book, Ageless Startup, to prep for the session: Independent Bookstores, Amazon.com, Barnes and Noble, and on audible
Speakers
Rick Terrien, learned the lessons of entrepreneurship very early while selling newspapers car-to-car at stoplights. He hasn't stopped creating new business opportunities since.
He was awarded the United States Small Business New Product of the Year by the National Society of Professional Engineers. He has been recognized by Fast Company as one of their Fast 50, now called the World's 50 Most Innovative Companies. As an innovator, inventor, and business developer with nine U.S. and foreign patents in industrial fluid recycling, his designs have recovered tens of millions of gallons of oil worldwide that were previously lost as wastewater. He is currently helping to launch and lead one of the most innovative regional food organizations in the world.
Rick was recognized as a Purpose Prize Fellow in 2015, awarded yearly by AARP in support of "Making a Difference is Ageless".
Hosted by Danielle D. Duplin, cofounder, AGENCY: Worldwide Innovation for Living Longer and Aging Better; and producer, ecosystem builder, and coach.
Don't miss this session!
Expect a lively discussion, with plenty of time for your questions and breakouts so you can get to know fellow Founders Over 55 community members and meet potential collaborators for your company! All ages, stages, and backgrounds are welcomed . . .
We look forward to zooming with you,
The F55+ Steering Committee:
Danielle D. Duplin, Jerry Wolonsenko, Mary Cronin, Doug Dickson, Paul D. Michaels

About the Founders Over 55+ Club
The Founders Over 55+ Club is a collegial community of company founders in their encore careers. We start and build thriving businesses where our age and lifelong experiences are an asset. We share best practices for success, celebrate each other's professional and personal journeys, and champion an age-friendly business ecosystem. F55+ is an inclusive member-led club that welcomes entrepreneurs of ALL ages, stages, and backgrounds.
Join the F55+ Club to share ideas, raise issues, and connect with peers who are puzzling over key questions like:
What motivates founders over 55? . . . is it all about the money? the life-purpose? the intellectual, creative and social engagement? mutual learning with the next generation(s)?
What drives the success of our ventures? . . . is it lifelong experience and wisdom? renewed curiosity? blending the old with the new?
What resources are most valuable/needed? . . . access to capital, markets, and partners? alternative sources of funding for encore founders who don't "fit" the typical VC profile? tips for engaging multi-generational teams?
What are the practical challenges and best-practices? . . . balancing a healthy lifestyle with the rigorous demands of running a successful business in today's hyper-competitive climate? balancing accumulated wealth with the risk of starting something new? getting visibility in the ecosystem? strategies to combat ageism bias ??
The F55+ Club is an initiative of AGENCY: Worldwide Innovation for Living Longer and Aging Better. AGENCY is equal parts coworking at CIC, programming, and an international community of innovators to make the aging journey better for all. Send us a note at helloagency@cic.com to get involved!
With Gratitude to our Program Partners