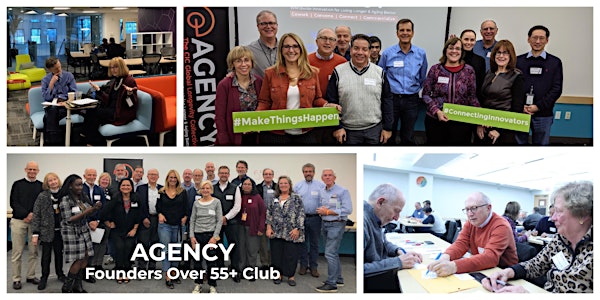 Founders Over 55+: Community Conversations "State of the 50+ Entrepreneur"
An interactive session with fellow F55+ members to debrief the event "State of the 50+ Entrepreneur" by AARP & Federal Reserve Bank of NY
About this event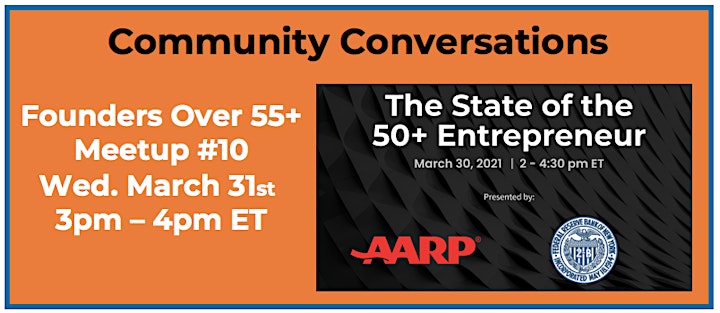 Hello, Founders Over 55! and everyone else who is considering entrepreneurship as their encore career ~
We're trying something new here ... a 'virtual watch party' followed by an F55+ community feedback session!
We're thrilled to see AARP, the Federal Reserve Bank of New York, and Public Private Strategies tackle the pressing challenges faced by 50+ entrepreneurs by examining what it will take to rebuild a stronger and more equitable business ecosystem for all of us as the world emerges from the global pandemic.
We encourage you to participate in their free event on Tues., March 30th, 2pm - 4:30pm ET (more info and registration here)
Then, join us to add your voice to the conversation the next afternoon, on Wed., March 31st, 3pm - 4pm ET, as we debrief together on:
what we learned,
the implications and opportunities, and
what we can do as an F55+ community to support each other in our entrepreneurship journeys.
Expect a lively discussion, with plenty of time for your input and breakouts so you can get to know fellow Founders Over 55 community members and meet potential collaborators for your company ~ ~ All ages, stages, and backgrounds are welcomed!
We look forward to zooming with you,
The F55+ Steering Committee:
Danielle D. Duplin, Jerry Wolonsenko, Mary Cronin, Doug Dickson, Paul D. Michaels
About the 'virtual watch-party- event "State of the 50+ Entrepreneur" on Tues. March 30th, 2:30-4pm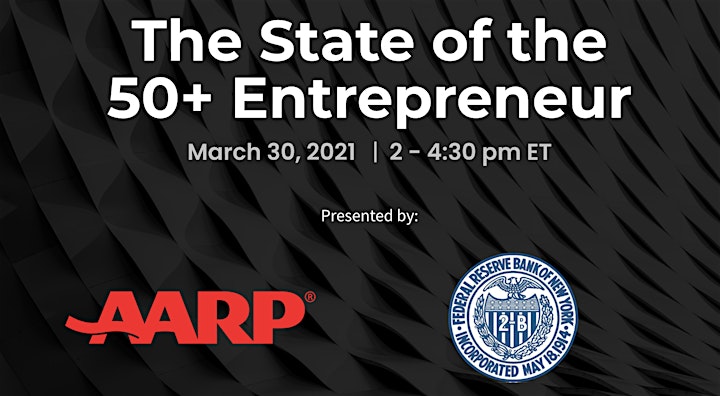 AARP and the New York Fed will present new research on how the nation's 50+ Entrepreneurs have fared over the last year. You'll hear from thought leaders, policymakers, and age 50+ entrepreneurs about what needs to be done to build a more equitable economy and support small businesses.
The COVID-19 pandemic has underscored both the importance and vulnerability of America's small businesses. We know older entrepreneurs make up a critical segment of the small business community. This event will explore the impact of COVID-19 on older entrepreneurs and particularly those of color who face additional challenges and barriers that may limit their success. As Americans work to pull through the past year's crises, we'll examine the need to support older entrepreneurs so that they can rebuild and recover.
Agenda Highlights:
SETTING THE STAGE: The State of the 50+ Entrepreneur
PIVOTING TO MEET THE CHALLENGES OF THE TIMES: The Role Small Business Plays in Building Financial Resilience for the 50+
WHAT'S HAPPENING ON THE GROUND: The 50+ Entrepreneur Perspective
BUILDING EQUITY WITHIN THE 50+ ENTREPRENEUR COMMUNITY
Visit the full event website and registration here: https://www.publicprivatestrategies.com/State-of-the-50-Entrepreneur

About the Founders Over 55+ Club
The Founders Over 55+ Club is a collegial community of company founders in their encore careers. We start and build thriving businesses where our age and lifelong experiences are an asset. We share best practices for success, celebrate each other's professional and personal journeys, and champion an age-friendly business ecosystem. F55+ is an inclusive member-led club that welcomes entrepreneurs of ALL ages, stages, and backgrounds.
Join the F55+ Club to share ideas, raise issues, and connect with peers who are puzzling over key questions like:
What motivates founders over 55? . . . is it all about the money? the life-purpose? the intellectual, creative and social engagement? mutual learning with the next generation(s)?
What drives the success of our ventures? . . . is it lifelong experience and wisdom? renewed curiosity? blending the old with the new?
What resources are most valuable/needed? . . . access to capital, markets, and partners? alternative sources of funding for encore founders who don't "fit" the typical VC profile? tips for engaging multi-generational teams?
What are the practical challenges and best-practices? . . . balancing a healthy lifestyle with the rigorous demands of running a successful business in today's hyper-competitive climate? balancing accumulated wealth with the risk of starting something new? getting visibility in the ecosystem? strategies to combat ageism bias ??
The F55+ Club is an initiative of AGENCY: Worldwide Innovation for Living Longer and Aging Better. AGENCY is equal parts coworking at CIC, programming, and an international community of innovators to make the aging journey better for all. Send us a note at helloagency@cic.com to get involved!
With Gratitude to our Program Partners