Tips & Strategies from Debi Kleiman, Executive Director, Center for Entrepreneurship at Babson, and author of best-seller book First Pitch
About this event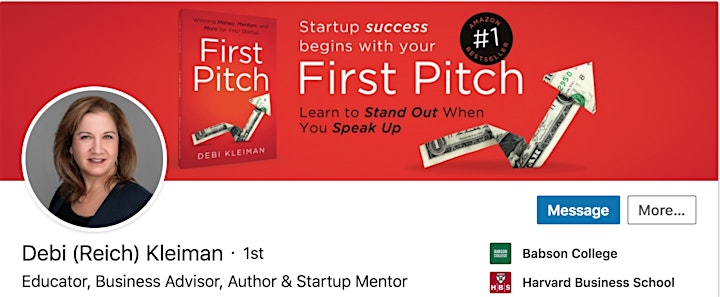 Hello, Encore Entrepreneurs! You're super passionate about your new startup and you're out there hustling to find collaborators, investors, and customers . . . but is your message resonating with your audiences and getting the results you expect?
Join us to learn how to win money, mentors, and more with proven techniques that have worked for hundreds of startups. Meet Debi Kleiman, expert mentor, and marketer, who will share her tips and strategies from her new book First Pitch to help you build strategic relationships and deliver a pitch that is concise, compelling, and clear. You will:
Discover what works and what doesn't to bring your startup to life for your audience.
Use the 4H Framework to create a flow for your presentation that engages listeners and creates an emotional connection.
Master all-important relationship building tactics that can get you the resources you need to get to the next step.
Expect a lively discussion, with plenty of time for your questions and breakouts so you can get to know the Founders Over 55 community and meet potential collaborators! All ages, stages, and backgrounds are welcomed . . .
We look forward to zooming with you,
F55+ Steering Committee: Danielle, Jerry, Mary, Doug
Speakers
Debi Kleiman, Executive Director, Arthur M. Blank Center for Entrepreneurship, Babson College. Debi is an award-winning marketer, teacher, startup advisor, mentor, and angel investor, with over fifteen years of experience working with and coaching startups of all kinds. She is the Executive Director of the Arthur M. Blank Center for Entrepreneurship at Babson College, the #1 school in the nation for entrepreneurship. A marketer at heart, she previously spent a decade leading initiatives in brand development and innovation at Coca-Cola, Welch's, and Procter & Gamble.
Hosted by Danielle D. Duplin, cofounder, AGENCY: Worldwide Innovation for Living Longer and Aging Better

About the Founders Over 55+ Club
The Founders Over 55+ Club is a collegial community of company founders in their encore careers. We start and build thriving businesses where our age and lifelong experiences are an asset. We share best practices for success, celebrate each others professional and personal journeys, and champion an age-friendly business ecosystem. F55+ is an inclusive member-led club that welcomes entrepreneurs of ALL ages, stages, and backgrounds.
Join the F55+ Club to share ideas, raise issues, and connect with peers who are puzzling over key questions like:
What motivates founders over 55? . . . is it all about the money? the life-purpose? the intellectual, creative and social engagement? mutual learning with the next generation(s)?
What drives the success of our ventures? . . . is it lifelong experience and wisdom? renewed curiosity? blending the old with the new?
What resources are most valuable/needed? . . . access to capital, markets, and partners? alternative sources of funding for encore founders who don't "fit" the typical VC profile? tips for engaging multi-generational teams?
What are the practical challenges and best-practices? . . . balancing a healthy lifestyle with the rigorous demands of running a successful business in today's hyper-competitive climate? balancing accumulated wealth with the risk of starting something new? getting visibility in the ecosystem? strategies to combat ageism bias ??
The F55+ Club is an initiative of AGENCY: Worldwide Innovation for Living Longer and Aging Better. AGENCY is equal parts coworking at CIC, programming, and an international community of innovators to make the aging journey better for all. Send us a note at helloagency@cic.com to get involved!