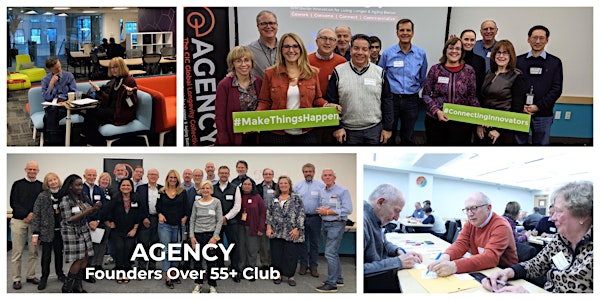 Founders Over 55+: A Framework for Startup Stages and Founder's Focus
An essential guide for F55+ founders to set expectations and focus attention on the top priorities at each stage of their startup!
About this event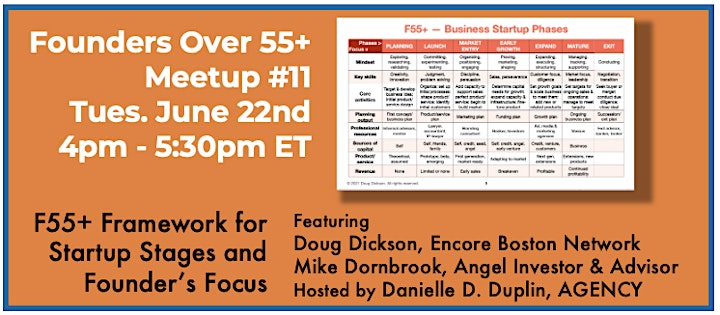 Hello, Founders Over 55! and everyone else who is considering becoming an entrepreneur as their next career path ~
If you're feeling overwhelmed by the sheer number of things you have to do to launch and build your startup, we're here to help! We're excited to share a signature F55+ framework as an essential guide for your journey as an entrepreneur . . . Join us on Tuesday, June 22nd, 4 pm – 5:30 pm ET to learn more!
We'll cover the typical business Startup Stages (i.e., Planning, Launch, Market Entry, Early Growth, Expansion, Maturity, Exit/Sustain) and discuss the key Priorities that you as the founder should focus your attention on (i.e., your Mindset, Key Skills, Core Activities, Planning Output, Professional Resources, Sources of Capital, Product/Service, Revenue).
Our strategic objectives for developing this framework for the F55+ Community include:
A handy reference to help each member set their own expectations and gauge their progress through each stage of their business
A common vocabulary and understanding among our members to facilitate collaboration with each other and with stakeholders and service providers
A roadmap to inform our F55+ program content and value-added activities throughout the year to enrich our collective experience and deepen the impact
We'll be joined by seasoned entrepreneur and startup advisor, Mike Dornbrook, to share his anecdotes from having started (& folded or sold) several companies, as well as his insights from mentoring many other founders. We'll discuss some of the surprising ways businesses have launched, and you'll hear how successful founders have had to flex along the way to grow their companies.
Speakers
Michael Dornbrook, is a Member, Board of Directors at Modulate, Otherside Entertainment, and at CoUrbanize. Mike is an MIT alum, the successful founder of four companies, and spent the latter part of his career contributing to the success of the iconic music company: Harmonix Music creators of "Guitar Hero" and "Rockband". Over the past 10 years, he has been intensely involved in the Boston entrepreneurial world including board roles at Project 11, Converge Venture Partners, and Common Angels, and is a highly respected, active angel investor who has funded many startups in Greater Boston.
Hosted by Doug Dickson, Board Chair, Encore Boston Network, and Danielle D. Duplin, cofounder, AGENCY: Worldwide Innovation for Living Longer and Aging Better; and producer, ecosystem builder, and coach.
Don't miss this session!
Expect a lively discussion, with plenty of time for your questions and breakouts so you can get to know fellow Founders Over 55 community members and meet potential collaborators for your company ~ All ages, stages, and backgrounds are welcomed . . .
We look forward to zooming with you,
The F55+ Steering Committee:
Danielle D. Duplin, Jerry Wolosenko, Mary Cronin, Doug Dickson, Paul D. Michaels

About the Founders Over 55+ Club
The Founders Over 55+ Club is a collegial community of company founders in their encore careers. We start and build thriving businesses where our age and lifelong experiences are an asset. We share best practices for success, celebrate each other's professional and personal journeys, and champion an age-friendly business ecosystem. F55+ is an inclusive member-led club that welcomes entrepreneurs of ALL ages, stages, and backgrounds.
Join the F55+ Club to share ideas, raise issues, and connect with peers who are puzzling over key questions like:
What motivates founders over 55? . . . is it all about the money? the life-purpose? the intellectual, creative and social engagement? mutual learning with the next generation(s)?
What drives the success of our ventures? . . . is it lifelong experience and wisdom? renewed curiosity? blending the old with the new?
What resources are most valuable/needed? . . . access to capital, markets, and partners? alternative sources of funding for encore founders who don't "fit" the typical VC profile? tips for engaging multi-generational teams?
What are the practical challenges and best-practices? . . . balancing a healthy lifestyle with the rigorous demands of running a successful business in today's hyper-competitive climate? balancing accumulated wealth with the risk of starting something new? getting visibility in the ecosystem? strategies to combat ageism bias ??
The F55+ Club is an initiative of AGENCY: Worldwide Innovation for Living Longer and Aging Better. AGENCY is equal parts coworking at CIC, programming, and an international community of innovators to make the aging journey better for all. Send us a note at helloagency@cic.com to get involved!
With Gratitude to our Program Partners