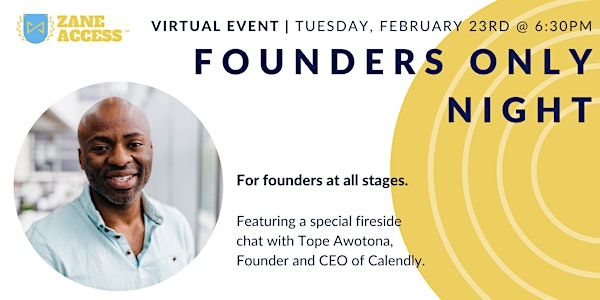 Founders Only Night
Join Zane Access for Founders Only Night!
About this event
Zane Access's Founders Only Night is brought to you by Zane Venture Fund and welcomes founders of all stages!
Featuring a special fireside chat with Tope Awotona, Founder and CEO of Calendly.
Tope Awotona is a Nigerian-American entrepreneur and the founder and CEO of Calendly, a simple and beautiful scheduling tool that takes the back and forth out of meetings so everyone can accomplish more. Calendly serves over 30 million customers across the globe, is used by the majority of Fortune 500 companies and nearly all companies in the SaaS 1000, and helps its customers schedule over 6 million meetings per month.
Join us to hear Tope share in his own words the journey to Calendly's recent $3 billion valuation!
Hear from the partnership team at Zane Venture Fund.
Shila Nieves Burney, General Partner at Zane Venture Fund
Stefanie Diaz, Partner at Zane Venture Fund
Sig Mosley, Venture Partner at Zane Venture Fund
Learn about the April 2021 launch of Zane Access's Cohort 2 and see capital raise success stories from Cohort 1.
Cora and Stefan Miller, Co-Founders of Young King Hair Care
Delphine Carter, Founder and CEO of Boulo Solutions
Anna Hamilton, Managing Director at Zane Access
Register for FREE today!