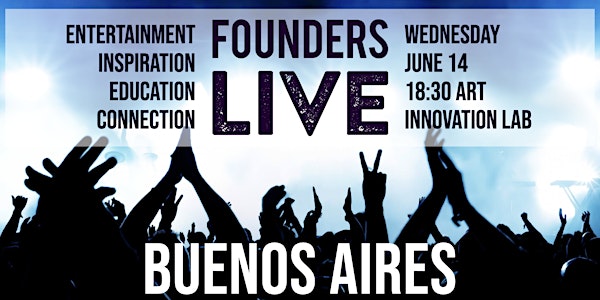 Founders Live Buenos Aires
Es una comunidad global que le provee a los emprendedores modernos la oportunidad de ganar reconocimiento, oportunidades y contactos.
Date and time
Wednesday, June 14 · 6:30 - 9:30pm -03
Location
Innovation Lab Buenos Aires by Facebook & La Maquinita Co. 4866 Avenida Coronel Niceto Vega Palermo, CABA C1414 Argentina
About this event
FOUNDERS LIVE EN BUENOS AIRES
Acompañanos a una competencia alrededor del mundo donde 5 emprendimientos , con sólo 99 segundos para pitchear sus ideas y describir su propuesta de valor frente al público. Después de las exposiciones y las preguntas, todos votarán por el ganador, quien no solo recibirá los premios y el reconocimiento de la gente, sino la oportunidad de hablar aún mas sobre su producto o servicio. Así que sumate con tus amigos, compartí la experiencia, conoce el ecosistema emprendedor y votá por el proximo "gran emprendimiento" de Argentina.
ABRI TU CUENTA FOUNDERS LIVE GRATUITA
También nos podés encontrar en Instagram
PREMIOS:
Para el ganador
LA MAQUINITA brinda 50 créditos para su espacio de co-working.
TANOIRA CASSANGE ABOGADOS brinda 5 horas de asesoramiento.
FOUNDERSCFO brinda la implementación de Quickbooks .
CONECTAPPS bonifica el setup y los primeros 3 meses de abono de la integración entre Quickbooks y AFIP.
VALENTINA LISEGANG brida 3 sesiones de coaching ejecutivo y de liderazgo.
Para todos los participantes
USD 5,000 en créditos de AMAZON AWS HOSTING
USD 3,000 en créditos de GOOGLE CLOUD.
BOXFUL Free Trial hasta 200 operaciones gratis.
Interesados en pitchear? por favor contactarse con Sergio de la Zerda o bien completá el siguiente formulario de aplicación
CONTACTO:
founderslivebuenosaires@gmail.com
+54 11 5843-3927
AGENDA:
6.30 pm: Apertura DJ Set .
6.45 pm: Pitch interno con Incubadora Flypyme.
7:30 pm: Comienzan los Pitcheos Pblicos
8:30 pm: Networking / Dj Set
Nos complace presentar a Flypyme, una destacada incubadora de empresas que se une al próximo evento.
"En Flypyme, entendemos el valor y el potencial que cada proyecto emprendedor tiene para cambiar el mundo, y estamos comprometidos a brindarles el apoyo necesario para que se desarrollen y crezcan. Nuestro enfoque se centra en proporcionar no solo asesoramiento y orientación experta, sino también la oportunidad única de obtener financiamiento para tu proyecto".
About the organizer
Founders Live - Founders Live is a community created to inspire, educate and entertain around the world. As a place where world-class entrepreneurs are made, Founders Live inspires creative innovators through fun live events as well as a globally connected community where great content and social interactions can be found each day.