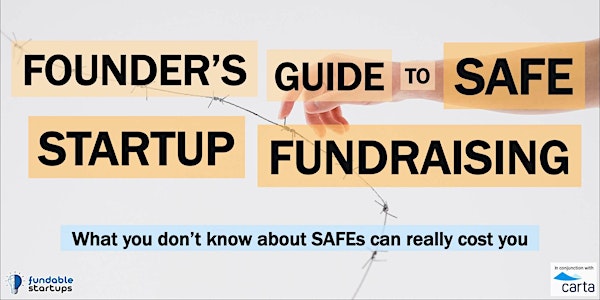 Founder's Guide to SAFE Startup Fundraising - Presented by Carta
What you don't know about SAFEs can really cost you
About this event
Silicon Valley founders have embraced startup fundraising with a Simple Agreement for Future Equity (SAFE). However, most entrepreneurs and many attorneys lack the detailed understanding to make the best decisions when raising startup funds using a SAFE. Many founders gloss over critical SAFE details resulting in unexpectedly high dilution, loss of control, and reduced employee payouts.
Join Fundable Startups and Carta as we cover critical SAFE details including:
• How SAFEs Fit Into a Funding Strategy
• The rationale for and types of SAFEs
• Problems with Pre-Money & Post-Money SAFEs
• The Carta SAFE
• Making SAFEs simple and safe
Fundable Startups provides coaching, training, and tools that helps founders build healthy, fundable companies. As a published author and a CEO, CTO or Tech VP of 5 startups with 3 exits, Sam Wong leads Fundable Startups in creating premium, deep-dive, visual training and tools to help founders with great execution.
Carta helps companies and investors manage their cap tables, valuations, investments, and equity plans. Carta provides valuable startup tools including a free SAFE calculator and the Carta SAFE template.