Event Information
Location
Paul Merage School of Business
4293 Pereira Drive
Irvine, CA 92617
Description
It's time for ANTrepreneur Center's ANNUAL pitch competition: Founders' Frenzy!
Founders' Frenzy is our "March Madness" style pitch competition where 64 teams of entrepreneurs go head-to-head in a series of 6 challenges, testing their business idea and utilizing their ANTrepreneur skills for a chance to win prizes! This is open to ALL college students in the southern California area!

INTERESTED IN COMPETING? Read on!
Schedule:
1) Founders Frenzy Kickoff // April 6th @ Merage Auditorium // 5:30-8 PM
-Triple Bottom Line & 30 Second Pitch: All 64 teams will go head to head with a triple bottom line pitch, where they will pitch on how their venture will benefit their customers, the planet, and build profit. Only 32 will move forward to the 30 second pitch. Only 16 teams will move forward.

2) Social Media Madness // April 6th 8:30pm until April 11th, 4:30 PM on Ideator
- 16 teams will try to get as many "hearts" and comments on their idea in Ideator (more info will be sent to these teams for instructions). Only 8 teams will move forward.
3) 1 Million Cups Pitch // April 12 @ UCI Applied Innovation (The Beach) // 8-9 AM
- 8 teams will prepare a 3-4 minute pitch to the 1 Million Cups crowd and receive 3-4 minutes of feedback. The audience will vote on the top 4 teams that will move forward.

4) Customer Pitch // April 17th @ Beall Conference Room // 6-8 PM
- In this event, the top 4 teams will put their product/service to a test and present a sales pitch to potential customers. Teams will be scored to identify who will compete for 1st and 2nd place, and who will compete for 3rd and 4th place.

5) Founders Frenzy Finale // April 21st @ Beall Center // 6-8 PM
- Investor Pitch: For this final round, the same 4 teams will do a "Shark Tank" style pitch to a panel of judges. Businesses will pitch for 5 minutes and receive 5-10 minutes of Q&A.
INTERESTED IN COMPETING?
Fill out this form.
Have any comments, questions, or concerns? Please visit www.antrepreneur.uci.edu/ff2017 or email us at antrepreneur@uci.edu.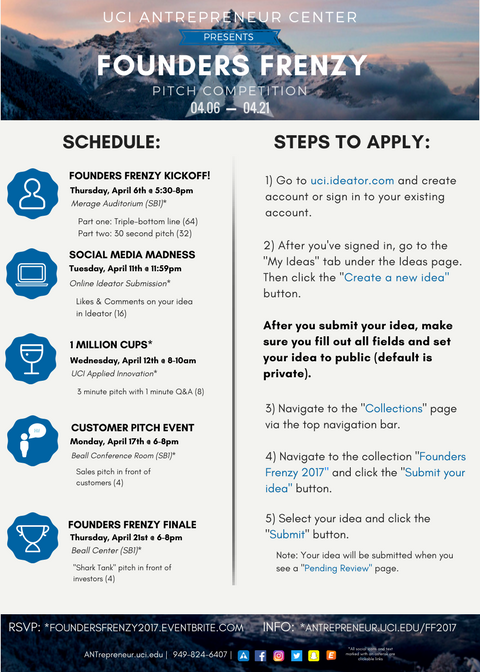 Date and Time
Location
Paul Merage School of Business
4293 Pereira Drive
Irvine, CA 92617