Description
Join us as we celebrate our Visionary, Apostle David Harrison Founder of Kingdom living Ministries International and the Chief Prelate of S.E.A.L.E.D International Fellowship on Saturday, August 10, 2019 at 4pm sharp.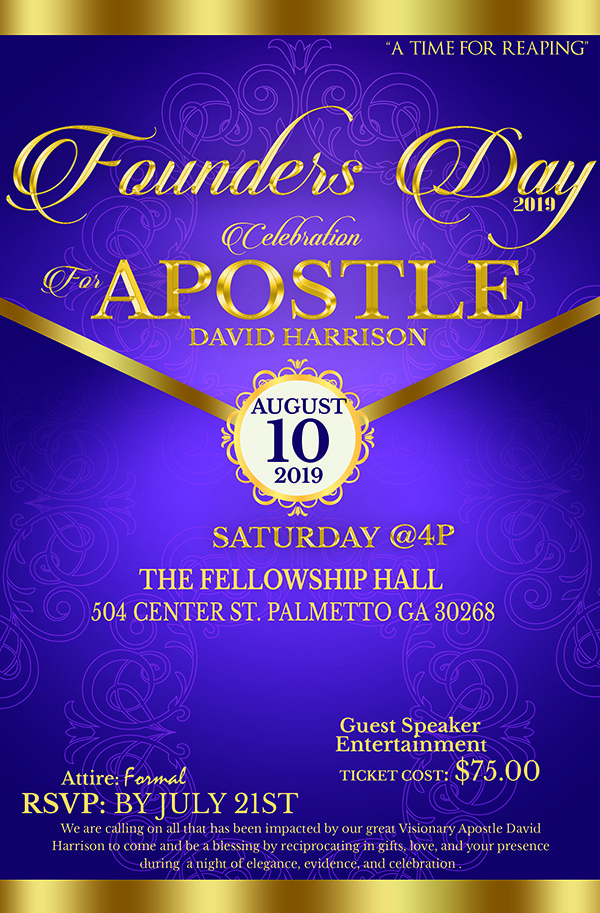 This will be a day to celebrate and honor Apostle David Harrison and show our appreciation for his dedication, consistant endeavors, and commitment to all while Advancing the Kingdom of God. Apostle's tireless devotion to the people of God has been felt all over the states and country but we know charity starts at home. We want all in attendance to help us celebrate Apostle David Harrison's birthday in presence and presents as well, so all monitary gifts are welcome as he is not on salary!
We will laugh,dance, and be entertained as we fellowship and enjoy a delicious and beautiful meal in our banquet Fellowship Hall at TheK. Valet parking will be available to all in attendance free of charge. (please tip after)
Our Founders Day Gala Saturday August 10th @ 4pm is a formal attire affair, so ladies wear your most beautiful gown and gentlemen wear your best suit for an evening of opulence and elegance.
SEATING IS LIMITED

Pease note that this event is private and by invitation only
Thank you to all as we look forward to a night of memories,laughter,tears, and praise...
TheK Team