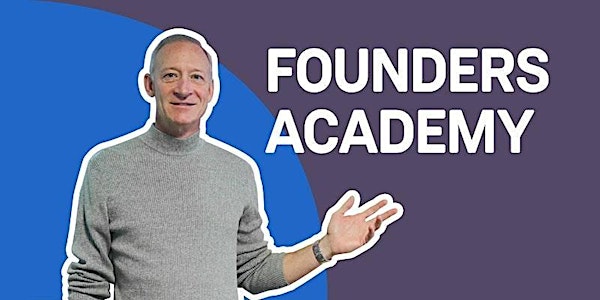 Founders Academy Essentials
Starting a startup is easy. Building a great company is not.
When and where
Location
Capital Factory 701 Brazos Austin, TX 78701
About this event
Amongst all the excitement of running a startup is a lot of hard work and stressful decisions. Founders Academy Essentials is a 3-day lunch-n-learn curriculum designed specifically for driven entrepreneurs that are passionate about their business potential!
Whether you're working on your MVP and preparing for launch or already generating revenue, you will be exposed to fundamental insights and tools to help dramatically increase your odds of success.
What To Expect
Program Dates – October 25-27th
11:15AM (prepare to begin); 11:30AM – 1:00PM (lectures).
*This event is in-person and online event. The live stream of the event can be seen here: https://www.youtube.com/c/CapitalFactory
*Attendees have the option to attend in person at Capital Factory Austin. Be sure to register for the "In Person" ticket to claim your spot!
Day 1:
Developing Your Idea
Elevator Pitch Secrets
Sizing your Market
Day 2:
Business Development Secrets & Strategic Partnerships
Setting the Stage for a Future Acquisition Exit
Founder & Early Employee Compensation
Day 3:
How Much Should You Raise & When?
Seed Funding Vehicles and Terms
Fundraising Issues, Hints & Tips
Please plan to attend at least 2 sessions when registering.
About the Instructor
Gordon Daugherty is a best-selling author, seasoned business executive, entrepreneur, startup advisor and investor. A proud native Texan, Gordon grew up in a small town and graduated from Baylor University with a computer science degree. He spent the first ten years of his career in brand-name companies such as IBM and Compaq and then progressively gravitated towards early-stage and high-growth companies. Gordon spent eight years in the videoconferencing industry, including four years as president of an Israeli-based company that grew from $5 million to $36 million in a short few years and went public on the Euronext Stock Market.
Gordon oversaw most company functions while serving in executive capacities, but his primary focus was on strategy, marketing, sales, business development, and M&A. He was a senior executive for Austin-based NetQoS, which grew rapidly to more than $55 million in revenue before being acquired by CA Technologies for $200 million, and he was a founding advisor for digital advertising pioneer MediaMind, which reached $65 million in revenue and a NASDAQ IPO in 2010.
Gordon has vast experience with early-stage fundraising from both sides of the table. As a venture fund manager and angel investor, he has made more than 200 investments. He has also helped raise more than $80 million in growth and venture capital as a company executive, fund manager, board director, and active advisor. Fundraising is the focus of the first book he authored, titled "Startup Success: Funding the Early Stages of Your Venture".
Through his content creation practice, Shockwave Innovations, and as co-founder and president of Austin's Capital Factory, Gordon now spends 100 percent of his time educating, advising, and investing in tech startups. He serves on the board of directors for several Austin-based technology companies and is a managing director at SoftMatch, a corporate innovation advisory firm.
Over the years, Gordon has given personal advice to several hundred entrepreneurs, and more than 1,000 startup founders have completed his Founders Academy boot camp. He has published more than 150 startup advice articles and is the producer of a video library with 50 streaming titles of educational content for startup founders.
What are Startup Founder's saying about Founders Academy?
"Founders Academy is a must! Gordon unlocked new value in concepts I thought I was already familiar with."
"I'd recommend Founders Academy to other startup founders because of critical early alarms about easy to overlook things."
"I wish we had done this a year ago."
"I could not have been more pleased with how clearly Gordon explained things."
"The way you convey the material is great and the examples you give makes things clear."
"Fantastic. The camp really provides a complete view of the components necessary to build your business. The additional personal stories you interjected really validate your message."
"I didn't know anything about starting a company before joining Capitol Factory, and this workshop has probably taught me the most."
"If you are thinking about becoming a founder this is an up-close and personal intro from the trenches. If you've been around the block a few times, you'll still learn something. A founder can't hear this stuff enough."
"I wish I could have done this years ago because my first venture with VC's did not go well. You don't know what you don't know and the startup landscape is hard to navigate."
Thanks to our sponsors...