Description
Entre, Down to Dash, Sharebert, and Start It Up are teaming up to bring NYC Founders together for a fun night of education and networking.
Agend:

6:00- 6:45 pm - Meet & Greet
6:45- 7:45 pm - Speaker Address + Q&A
7:45- 9:00 pm - Networking

Talks:
Advice for bootstrapping startups - Jordan Levy
Most important lessons I've learned in more than a decade of entrepreneurship - Richard Lorenzen
Web Development Strategy for Fast-Growing Startups - Nico Hodel
The Power of Networking and Persistence - Sama Jashnani
Listening to your customers to fuel growth - Taylor Vecchio

Speakers:
Richard Lorenzen - CEO of Fifth Avenue Brands
Richard Lorenzen is the founder and CEO of Fifth Avenue Brands, a public relations firm in New York focusing on technology, finance, and policy. He is a keynote speaker on millennials in entrepreneurship and foreign policy. Richard is also a member of the foreign policy NGO, Concordia, and Young Professionals in Foreign Policy. He has been featured in Forbes, CNBC, Fox News, Inc Magazine, Entrepreneur, AdWeek and has delivered a TEDx talk on empowering youth.
Taylor Vecchio - Founder and Executive Director at Voices Advance
Taylor Vecchio is a progressive educator, trainer, and consultant. After years of designing and launching high-quality youth-focused programs for CUNY, Groundwork and Harlem RBI, Taylor branched out and founded her own consulting company. Voices Advance provides comprehensive program design, dynamic professional development, and enrichment courses to non-profits, schools, museums and government agencies. Taylor also designs workshops, trainings, and curriculum for history focused museums and galleries. She holds a BA in Anthropology from UMASS-Boston and an MA in Social Studies Education from CUNY-City College. To find out more about consulting services or Anthropology Arts & Splat Lab enrichment courses visit VoicesAdvance.com .
Nico Hodel is Co-Founder and CTO of Start It Up NYC
Nico Hodel is Co-Founder and CTO of Start It Up NYC, a media network site and up-and-coming accelerator that features New York startups and offers them web development, video production, and digital marketing services.
A full-stack web developer and programmatic marketing specialist, Nico led early front-end development, and programmer recruitment efforts at real estate tech startup Livewith before selling his equity to start his own dev shop. Nico ran development efforts at his former company Valence Digital for over 4 years, overseeing a 12 person marketing and development team, working on projects in the Angular, React, and React Native frameworks. After working on web dev projects in the tech, finance, and legal fields with clients around the world Nico took on an advisory role at the company to build Start It Up NYC, where he now works full time as CTO. When he's not on his computer or at a tech or startup event, you'll find Nico surfing in his native Honolulu, or playing tennis in Brooklyn.
Sama Jashnani CEO of DownToDash(DTD)
Sama Jashnani is the marketing whiz behind DownToDash (DTD), an app to make quality activity buddies. She is also a TEDx speaker and was recently featured on Entrepreneur magazine's TV show 'Entrepreneur Elevator Pitch' Season 3. She has been featured in popular publications like Forbes, Inc. Magazine and HuffPost and also writes for them sometimes. She has previously co- Founded an e-commerce jewelry company and has worked with global marketing firm.
Sama also received a full scholarship to study her masters in Marketing & Strategy at Warwick Business School. While at college, Sama also co-founded a social enterprise that helped rural women in India provide home salon services that enabled them to become financially secure.
LinkedIn - https://www.linkedin.com/in/sama-jashnani-0905b685/
Jordan Levy - Executive Director CapSource
Jordan is a Forbes 30 Under 30 that has started two EdTech companies that help higher-ed programs bridge the skills gap through experiential learning. His method is to integrate real companies into the education process through hands-on collaborations that expose learners to new circumstances with real stakeholders, challenges, and outcomes. His company CapSource is a marketplace where educators can find companies interested in collaborating with their students through project-based learning engagements. In CapSource's '17-'18 pilot year, they leveraged 40+ host company partners to provide in-depth learning experiences to 1,000+ students at 13 universities around the globe. Jordan's first company, Real Time Cases, has raised over $6M in private funding and has reinvented the case study method for the 21stcentury. During his tenure there, he built the product and sales team and helped the company reach over 30,000 students at 200+ universities through their original content and platform.

Host and Moderator:

Michael Marra- Founder of ME Group and CEO of Entre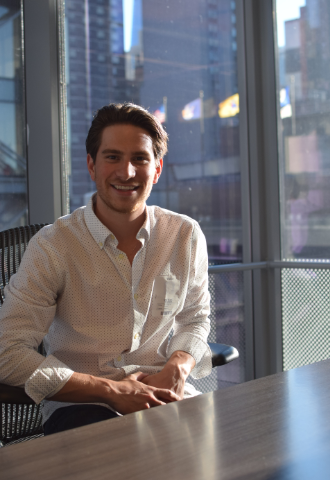 Michael is the Founder of ME Group and CEO of Entre. As a former civil engineer and real estate investor, Michael is now focused on connecting and helping entrepreneurs. His app and network Entre allows entrepreneurs to easily connect, learn, and build business all in one place.
---
SPONSORS
Entre is the fastest growing community for entrepreneurs, artists, creators, and innovators. We welcome entrepreneurs of all types, start-ups of all sizes, industries and stages to join us in finding the inspiration, resources and friends that will make them successful.
DownToDash is a millennial focused app that connects people in the same location based on what they are down to do, whether it's workouts, sports, movies or other activities. Users can post specific plans, for example, play Tennis on Thursday at 5 pm at McCarren Park and other users can join.
Sharebert makes shopping fun. Users win prizes and earn rewards just by browsing Sharebert's inventory of over 100M high-end brands & products.
Start It Up is a media network site that provides a platform for the most game-changing startups in NYC to break through the noise, and share how they're shaping our future.