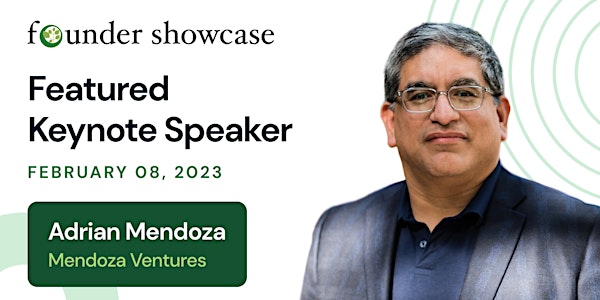 Founder Showcase, featuring Adrian Mendoza
Since 2009, the Founder Showcase is the premier global pitch event featuring some of the world' fastest growing pre-seed startups.
Date and time
Wednesday, February 8 · 10am - 12pm PST
About this event
The Founder Showcase is Silicon Valley's leading international startup pitch event, helping pre-seed startups learn, launch, and connect to investors.
At this interactive online event, you can watch presentations from promising pre-seed startups from across the globe, hear an inspiring talk from a keynote speaker and learn from world-leading venture capitalists and entrepreneurs. In addition, there are several networking sessions to connect with the hundreds of international founders, investors, advisors, and executives in attendance.
If you want to pitch at this event then submit your pitch here! Deadline to apply to pitch is Sunday January 22nd at Midnight PST.
Previous Founder Showcase companies have raised over $3 billion in funding. A short list of companies that did one of their first public pitches on the Founder Showcase stage includes Udemy, Turo (formerly Relay Rides), Thumbtack, Realty Mogul, Kaggle, and many more. Learn more at FounderShowcase.com.
The Founder Showcase is pleased to have Adrian Mendoza, General Partner at Mendoza Ventures, as our featured Keynote Speaker.
Born in Long Angeles to parents who immigrated from Mexico. Adrian moved to Boston for Graduate School at Harvard. He has spent the last 20 years leading technology teams and building products for financial services and fintech.
Since founding five years ago, Mendoza Ventures has raised two funds, had one successful exit, and expanded their investments from Boston to Silicon Valley. Mendoza Ventures pilot Fund I is in the top Quartile of seed stage firms and the firm is currently raising its third fund, a 100M Series A to C growth venture fund.
In 2022, Axios magazine listed Adrian as one of the five most influential people in Boston and the Boston Business Journal honored him as one of the 50 Movement Makers making change in Boston. He is also a regular contributor to CNBC on the state of Venture capital in the US.
Learn more at mendozaventures.com
Who Should Attend?
Angel and early-stage investors looking to invest in startups
Alumni, mentors, and friends of the Founder Institute
Anyone interested in launching a technology company
Anyone interested in learning about the innovative companies coming out of Founder Institute and beyond
See more Online Startup Events, or for more information about the investors, incubators, and accelerators in Silicon Valley, see our list of Startup Resources.