Description
Join us as we celebrate diversity in Chicago tech entrepreneurship!
This event will feature brief lightening talks from founders of local startups, selfie booth, and prize giveaways.
There will also be delicious food and beverages for your to enjoy as you connect with local tech founders, teams, and other tech influencers.
Did we mention you'll be supporting a good cause in your community? Learn more below and register online now to attend this event.
Want to present your business idea and win? Sign up on the pitch submission page.
---
Keynote by Amanda Spann, Tech Publicist & App Entrepreneur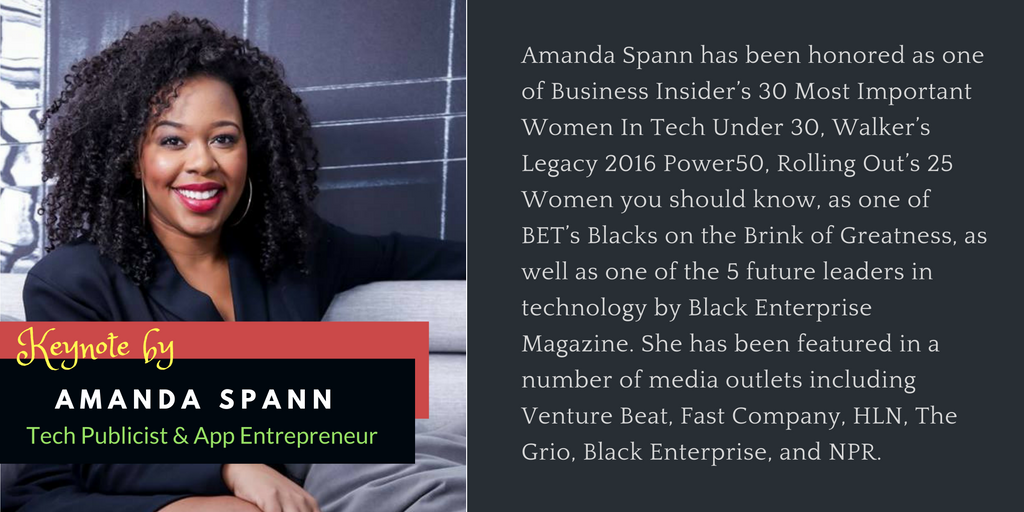 ---
Expected Audience
In addition to being interested in supporting black tech and other tech diversity groups, the expected audience is made up of:
Tech founders
Tech investors
Tech professionals
Local tech influencers
Tech enthusiasts
Media
---
TICKET OPTIONS
Early Bird ($10) - Get these discounted tickets before they are gone! Limited amount available, then its full price.
General Admission ($20) - General admission gets one (1) guest in the door and enjoying the night's festivities.
Bring a Friend ($30) - Save 25% on general admission when you bring a friend! Grants admission for two (2) attendees.
Same Day/Door Registration ($30) -Late registration online or at the door
Volunteer - Attend the event free when you volunteer for a short shift.
---
Supporting a good cause in your community!
A percentage of all proceeds from this event will be used towards obtaining permant office space. Permanent office space is needed for classroom, lab, and incubator. Please consider donating even if you can't attend the event. Our goal is to introduce and support 300 skilled black tech professionals and 50 tech startups with black founders into the Chicago tech ecosystem by 2021. If you are interested in donating to this goal. please do so at checkout or contact Dominic Liddell.
---
Special thanks to our venue and food sponsor, Capital One. Other sponsors include Tech While Black and Highrise CRM.
Also thanks to our participating community partners Atkco, Inc., Queens Brunch, and ABI.Chicago, and 10fwd Tech Collaborative.
Contact Dominic Liddell to discuss becoming a sponsor or community partner.