Description
Founder Factory is Philly Startup Leaders annual, full-day conference that aims to unleash the potential of Philadelphia entrepreneurs.
This year we are bringing together 300 startup founders, mentors, investors, students, government groups, and community partners for a collaborative and engaging day of learning, inspiration and network building. Leave with actionable advice you can apply to your startup right away!
Our speakers include experienced Founders, CEO's and early-stage startup employees who have helped build successful companies (locally and nationally) and the content is curated for startup leaders of all stages. A few of this year's speakers include Todd Carmichael (La Colombe), Josh Kopelman (First Round Capital), Amy Nelson (Venture for America), David Cohen (Techstars) and Lucy Grayson Deland (Paperless Post).
Founder Factory tickets also include a light breakfast, lunch and happy hour (+ 2 complimentary drink tickets and happy hour prices until 7pm)! Come get inspired by collaborating with your peers and hearing first hand from amazing startup leaders.

Check out our full speaker lineup!...
---
ECOSYSTEM BUILDING
IT TAKES A VILLAGE! HEAR FROM NATIONAL LEADERS ON HOW THEY BUILD SUCCESSFUL ECOSYSTEMS
Francisco Garcia, Director, Business Development, Innovation & Technology, City of Philadelphia's Chamber of Commerce
Shelly Bell, Founder, Black Girl Ventures
Todd Outten, Principal Architect, Comcast
Corinne Warnshuis, Executive Director, Girl Develop It



BUILDING THE NEXT GENERATION OF ENTREPRENEURS | Amy Nelson, CEO, Venture for America

BUILDING A STARTUP BEYOND RAISING CAPITAL
David Brown, Founder & Co-CEO, Techstars
Ebony Lee, Sr. VP of Strategic Development, Comcast NBC Universal
---
HOMEGROWN
PHILLY PHILLY! HEAR WHY THESE LEADERS CHOSE TO START.STAY.GROW. IN PHILADELPHIA
LIVE PHILLY WHO? PODCAST RECORDING
Josh Kopelman, Founder & Partner, First Round Capital
Kevin Chemidlin, Host of the Philly Who? Podcast
Gretchen Roede, President & CEO, Broadpath
Bill Marvin, President & CEO, InstaMed
Catherine Cook Connelly, Co-Founder & VP of Brand Strategy, The Meet Group
Andre Golsorkhi, Founder & CEO, Sidecar
---
ACCESS TO CAPITAL
SHOW ME THE MONEY! LEARN TOP STRATEGIES FOR RAISING CAPITAL
Brett Topche, Founder & Managing Director, Red & Blue Ventures
Holly Flanagan, Managing Director, Gabriel Investments
Chad Stender, Director of Investments & Operations, SeventySix Capital
Lolita Taub, Principal and Director of Strategic Initiatives, Backstage Capital
---
WELLNESS & TECHNOLOGY
TAKE A MOMENT! PRIORITIZE YOUR PHYSICAL + MENTAL WELL-BEING
Jasmine Bailey, Founder, Vitality Meditation

MENTAL HEALTH IS PERSONAL
Christopher Molaro, Founder & CEO, NeuroFlow
---
FOUNDER REAL TALK
BE INSPIRED! LEARN HOW TO USE STORYTELLING TO COMMUNICATE YOUR ENTREPRENEURIAL JOURNEY TO OTHERS
THE POWER OF STORYTELLING | Todd Carmichael, Founder & CEO, La Colombe
SCALING YOUR COMPANY (AND YOURSELF!) | Lucy Grayson Deland, COO, Paperless Post
STITCH: LESSONS FROM A $60M EXIT 10 YEARS IN THE MAKING | Bob Moore, Chairman of Stitch and Founder & CEO, Crossbeam
---
INSIDE THE PSL ACCELERATOR
HEAR FROM PSL ACCELERATOR ALUMNI & MEET THE 2019 COHORT
Bruce Marable, Founder & CEO, Employee Cycle
Carolyn Horner and Eve Ackerley, Co-Founders, Jenzy
Mark Switaj, Founder & CEO, Roundtrip
Danish Dhamani, Founder & CEO, Orai
---
NEW! Are you a first-time entrepreneur looking for best practices and advice to take your business from idea to reality? Check out Founders 101! This program will be hosted in the first week of December and is the lead up to Founder Factory.
---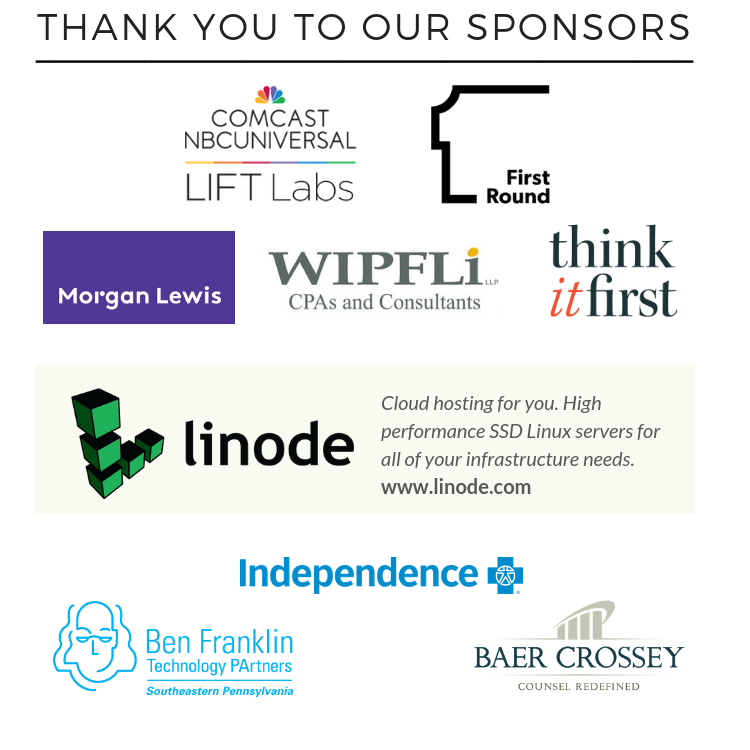 Comcast NBCUniversal LIFT Labs
First Round Capital
Morgan, Lewis & Bockius LLP
Wipfli
Think It First
Linode
Independence Blue Cross
Ben Franklin Technology Partners of Southeastern Pennsylvania
Baer Crossey McDemus


Friends of Founder Factory 2018
Cohen Partners, LLC
In Between Rivers
Darren Burton Photography
Vitality Meditation
Hootboard
Dineable
La Colombe
Topos Teas
REC Philly
1776
Lyft

Sponsorship opportunities for Founder Factory 2018

and other impactful PSL events and programs can be requested by emailing

The PSL Team at engage@phillystartupleaders.org.
---
If you are interested in the Philadelphia startup ecosystem and would like to receive invitations to more events like this, visit phillystartupleaders.org/join to join our community.