Description
N

atural

B

uilding:
R

ockin'

P

reparation for a

B

arn

R

aising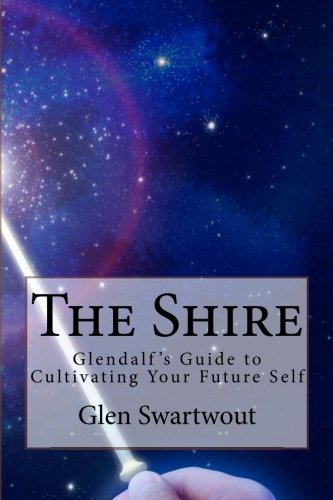 Laying secure groundwork for any project or process in life is the key to building sustainable systems. This weekend's celebration of Healing the Aina will focus on building lava rock foundations, digging root cellars in pahoehoe, working with local rock and mortar, and saving the precious Puna soil.
Emphasizing appropriate use of natural, local and recycled building materials, we will work with the various forms of local basalt from cinder to blue rock, we will work on soil conservation, utilization and building, and we we work on applications for sustainable harvesting and use of ohia in die-back, as well as its strong and prolific cousin waiwi. Hands on experience will be on preparation of actual sites for a barn, a kitchen and an Elvish treehouse.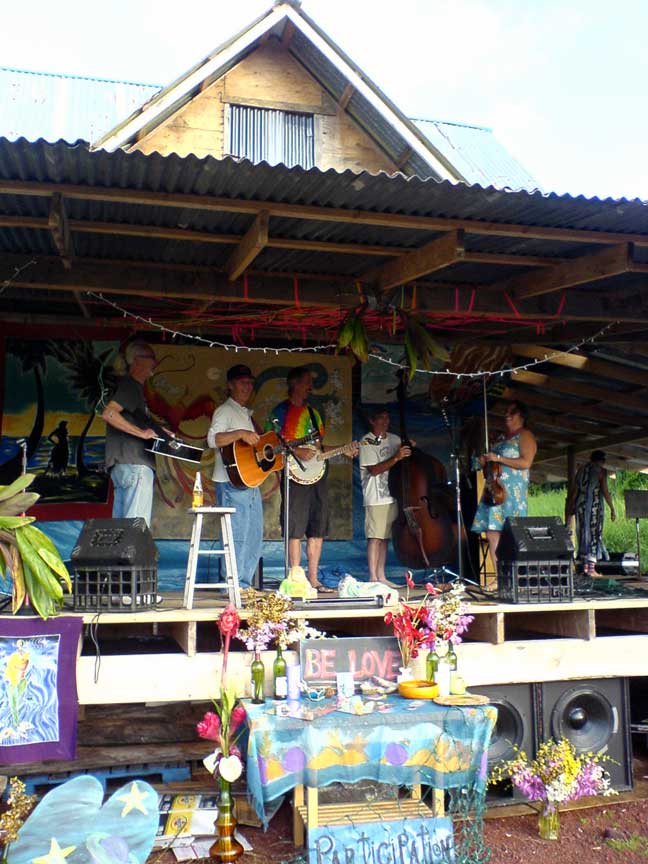 Weather, participation and interest levels permitting, we will also clear a path for a new roadway needed so that the existing road can be dedicated to staff, delivery and emergency use during larger private and agricultural events such as large weddings and agricultural festivals. The proposed alignment will utilize the historic roadbed from the narrow guage railroad as well as old logging roads used to harvest the Ohia posts that still hold up the tunnels of the Trans-continental railway through the Rocky Mountains.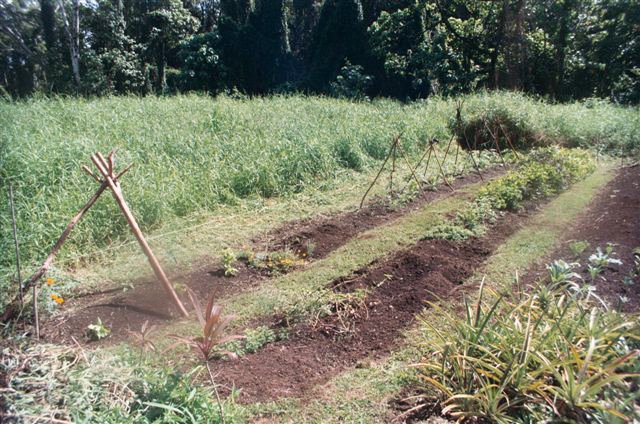 The upper garden in the image here was started by George Harrison's gardener, whom we know as Sandalwood Man. This garden has several beds of 50 feet by 4 feet each, and room to dig and build many more. If we have the manpower, we can build a waiwi fence around it to keep the feral pigs out, and then we can resurrect this garden space to grow more food for your next visit!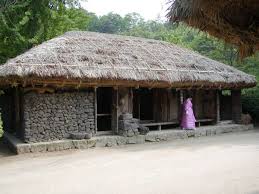 Whatever we don't finish this weekend, which clearly will include many things on a mile-long plantation, we will be able to work on at our next weekend near the full moon agrarian cultural gathering. Plan to bring your tools to help heal the aina and restore the gardens of Middle Earth, and also bring your acoustic musical instruments for Kanikapila at February's Pickin' in Pahoa agricultural festival as the next installment of Permafest.
What is Permafest?
The motto of the Kingdom of Hawaii is Ua Mau ke Ea o ka Aina i ka pono.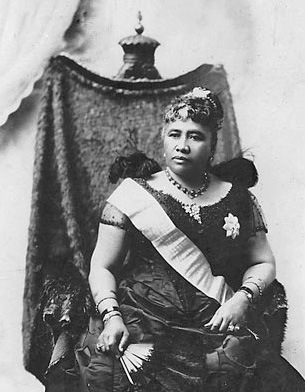 It means "The Life of the Land is Perpetuated in Righteousness." It is said to have been first uttered by Queen Ke'opuolaniin 1825 while receiving the sacrament of baptism.
Permafest is the Permanent Agricultural Festival of the seasons, cycles and sustainable symmetry of our Agrarian Culture. Periodic Feasts and Festivals with the music of the spheres, balanced with Fasting and Fortitude for the endless sojourn. Planting and harvesting, sewing and reaping... there is a time for every thing under Heaven.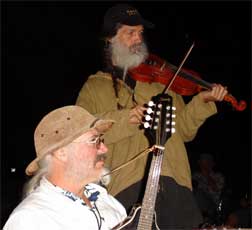 Permafest was named by a rather Elvish hobbit with the unusual name of Boston. This hobbit is one who is on walk about on his own journy, but he is one who is always here in our hearts as well as his own. Boston grew up between Boston (the city) and London, as his mother was American, but was married to lead guitarist Denny Laine, who played in Paul McCartney's band Wings, as well as Moody Blues. Boston planted more than a few trees in the upper Elvish Food Forest orchard, so he will undoubtedly return one season to enjoy the fruits of his labor.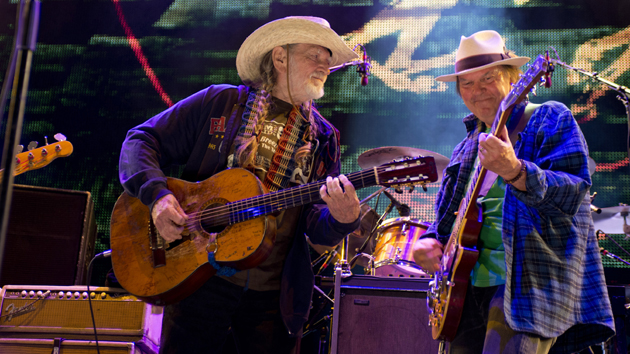 We hear through the grape vine that musicians like Neil Young, Santana and Willie Nelson would like to play on this Island if we can get The Shire up and running as a venue. Carlos Santana was the first act to perform at the Maui Arts & Cultural Center's outdoor amphitheater. Willie Nelson and Neil Young are co-founders of Farm Aid that has raised over $15 million to help farms. We brought in hundreds of thousands of dollars of additional tourist business to our local economy when we hosted Rebirth for the non-profit Ka Pilina, the regional affiliate of Burning Man. Imagine what a major outdoor recreational facility at The Shire will do for our local economy... Who needs more geothermal when what we have now is already killing our rainforests for miles around from industrial solvents being injected into the heart of the Aina?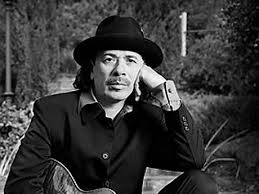 Please let us know who you would like to nominate, who has the interest, time, energy, skills, connections and other resources to participate effectively on a community board for The Shire to help facilitate our process. With your help, we can make this dream a reality, and upgrade the culture of our Healing Island of Hawaii. These artists are playing on Maui and Oahu in support of their non-profit causes, but there is no venue on the Big Island that can serve their needs and ours. If we build it, they will come... And by helping to build the foundations, you can play an important role in this community adventure.
In the mean-time, be sure to come to our Middle-Earth style agricultural rock festival for hands on learning: Pele's harvest is ripe! It's a good thing Hobbits are part Dwarvish... so bring your rock pick and your guitar pick, and prepare to rock on, friends, because there will be some Pickin' in Pahoa around full moon time!