Foundations of Social Media and Grass Roots Marketing, Presented by Martin Brossman and Anora McGaha - January 23rd 6-9pm

Monday, January 23, 2012 from 6:00 PM to 9:00 PM (EST)
Event Details
How to use social media and free resources to market your business and build stronger relationships with your customers.
Special Discount for Inside919 Members !
Based on 4 years of results in Social Media and Grass Roots Marketing for the Small and Micro Business, this 3hr intensive delivers!
Cost is $95.00 and $120.00 at the door - limited space.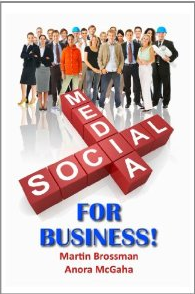 The content comes with access to free videos on key topics, and an e-book copy of our latest book 250 page Social Media book. You will also get to ask follow-up questions during a live web-based meeting two weeks after the class.
Taught in a business coaching style, we will be sure to cover the content, and address your questions and issues in the class. Anora and Martin have been producing results together for 4 years and Martin has been generating powerful business results through coaching for 17 years.
We will also be offering a series of additional classes, as well as team coaching so you can start at the level you're at, and continue growing your results. 
The class investment is $95.00 - $120.00 at the door, limited space.

You will get:

- 3 hours of power packed perspective and direction on your social media
- The 250 page ebook version of our latest book
- Real case studies of success (ROI) to cement the value of focused social media
- Follow web based meeting for questions on 1/30/2011 at 6 - 6:30PM
- Two instructors - for both the in-person and web followup.
- Discount for next classes, team coaching or individual coaching
If you are a member of Linking the Triangle or Inside919, please email Anora for a discount code for the class:  anoramcgaha@gmail.com
About the presenters and developers:
Martin Brossman

Martin Brossman is a leading authority on social media and online marketing based in Raleigh, NC and Washington, DC. He is a business coach, trainer and author devoted to creating fulfilling lives for his clients through measurable business results. Martin offers a comprehensive coaching platform, integrating sales and business coaching with social media marketing consultation. He teaches classes on business-building topics at community college Small Business Centers and Chambers of Commerce and gives customized trainings for businesses and associations. His latest book co-written with Anora McGaha is Social Media for Business and the book prior to that is Linking Into Sales with Greg Hyer. Martin is available for keynote addresses, workshops,  trainings and one-on-one Social Media Coaching.
Phone: (919) 847-4757 Email: Martin@CoachingSupport.com
Social Media: http://www.pronetworkingonline.com
LinkedIn: http://www.Linkedin.com/in/MartinBrossman
Blog: http://www.ncsmallbusinesstraining.com/blog
Twitter: http://www.twitter.com/martinbrossman
Facebook Profile: http://www.facebook.com/martinbrossman
Facebook Page: http://www.facebook.com/martinwbrossman
inSide919: http://www.inside919.ning.com/profile/MartinBrossman
Slide Share: http://www.slideshare.net/martinbrossman
YouTube: http://www.youtube.com/user/martinbrossman
Flikr: http://www.flickr.com/photos/martinbrossman
Blogtalk Radio: http://www.blogtalkradio.com/martinbrossman
Amazon: http://www.amazon.com/-/e/B004GFHBM0
Ezine: http://ezinearticles.com/?expert=Martin_Brossman  
Anora McGaha
Anora McGaha is a social media manager and Internet researcher with a foundation in writing, corporate communications and business analysis. She currently is an independent consultant providing Internet publicity, social media and online marketing consulting and management services for local business owners independently and through Carolina Web Consultants, on the team with Martin Brossman.
Anora began learning about the Internet in 1994 when she was hired as a financial consultant for a micro Internet service provider in Cincinnati. The view of the Internet, with the possibility of virtual global villages, and time- and distance-dissolving technology was awesome. For most of the next decade, Anora worked as a business analyst and then a marketing communications specialist in a software company.
In April 2008 Anora began working the equivalent of three shifts online. She started with blogging locally, then created an international blog for a multi-lingual author; took on a multi-lingual and multinational digital asset review for an international firm; did a national brand launch with guerilla marketing campaign; built communities in ning.com, on Facebook and LinkedIn; and was hired to research, design and implement custom interactive marketing programs focused on social media. Anora has fifteen years of corporate experience as an analyst, and five in marketing communications before she started her own business.
Anora consults and co-teaches workshops and classes as an Associate with Martin Brossman and Associates; a Social media and Internet Marketing Strategist with Carolina Web Consultants; and she is Creative Director of her own business, ClearSight Creative Resources. Anora is a community builder and former trustee of inSide919.com. Her work is published in four anthologies. AnoraMcGaha.com
Have questions about Foundations of Social Media and Grass Roots Marketing, Presented by Martin Brossman and Anora McGaha - January 23rd 6-9pm?
Contact by Martin Brossman
When & Where

Center for Excellence
3803-B Computer Drive
Suite 106
Raleigh, NC 27605


Monday, January 23, 2012 from 6:00 PM to 9:00 PM (EST)
Add to my calendar
Organizer
Local Networking, Workshops & Classes
Martin, a success coach, speaker, trainer and author, has been mastering the art of networking in the Triangle since 1982 (www.coachingsupport.com). He has originated numerous successful in-person and on-line networking groups which have facilitated meaningful business connections among members.
Martin is a leading authority on social media and online marketing. He is a dynamic trainer known for his insight and humor. A member of the National Speakers Bureau, Martin is a popular speaker on social media topics.  He teaches at North Carolina community college Small Business Centers throughout the state. (http://www.ncsmallbusinesstraining.com/)

Martin's computer skills have powered his keen ability to create and teach crucial new Internet communications, such as blogging, podcasting and on-line networking. His own podcast show can be heard at (www.InquireOnLine.info).
He offers consulting on how to generate profitable alliances by maximizing face-to-face and on-line presence and managing "the conversation of you" on the Web (www.ProNetworkingOnLine.com ) . 
See all of Martin's connections at www.MartinBrossmanAndAssocaites.com .