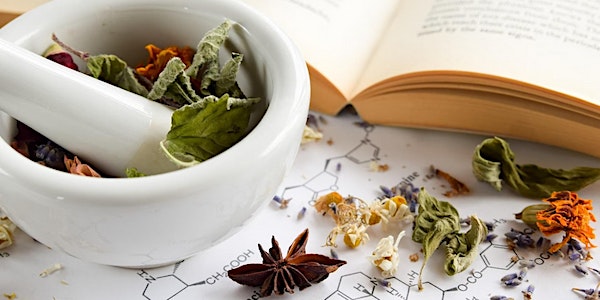 Foundations of Herbalism - Herbs & Nutrition for the Nervous System
Herbal medicine is the art and science of using medicinal plants. Get your start on a powerful herbal practice!
When and where
Location
Smile Herb Shop 4908 Berwyn Rd College Park, MD 20740
Refund Policy
Contact the organizer to request a refund.
About this event
Saturday, November 5th: 10 am-12:30 pm; 1:30-3:30 pm
***Note: Students may attend class in person OR online ***
Herbs and Nutrition for the Nervous System
The true Body-Mind connection is most evident in the Nervous System. If we are what we eat, do we not become what we think? A well-functioning nervous system creates a calm mind. Herbal tonics, adaptogens, relaxants, and nervines have often paved the way for a 'relaxed constitution' and good night's sleep. This month we will explore such specific herbal actions and corresponding herbs for the nervous system herbs, used for soothing anxiety, insomnia, headaches, and the blues.
`10am-12:30 pm: Herbal Actions for the Nervous System
This month's module will look at herbal actions to balance the Nervous System. We'll define the classic qualities of nervine and sedative herbs such as Valerian, Hops, California Poppy, & Scullcap, and we'll put together an 'Emotional First Aid Kit' for depression, anxiety & insomnia using St John, Kava, Mugwort, Lemon Balm, Passionflower as well as specific herbal blends and supplements.
1:30-3:30 pm: Nutrition & Supplements for the Nervous System
This afternoon begins with overview of Nervous System physiology and the physiological connection between the nervous and digestive systems, including an overview of the enteric nervous system. We will delve into specific nutrition strategies that address healthy function, including dietary intake and the role of specific macro and micronutrients and supportive supplements including the B Vitamins, Alpha Lipoic Acid, antioxidants, and others.
Wednesday follow-up webinar, November 16th, 7-8:30 pm: Herbal Adaptogens
We will then delve into the concept of herbal adaptogens reviewing such herbs as Holy Basil, Rhodiola, Astragalus, and Ginseng and think about the concept of self-care with tips for resilience. We'll also look at the conditions of headaches and migraines and specific herbs for them.
Join the Mid-Atlantic School of Herbalism!
midatlantischoolofherbalism@gmail.com
Intrigued by herbs? Come join us at the Mid-Atlantic School of Herbalism and explore the many benefits of herbal plant medicine. The herbalists at the Mid-Atlantic School of Herbalism (MASH) have a combined experience of working with plant medicine of more than 100 years and we are passionate about sharing the wonders of herbal medicine with our students.
This certification course is currently taught both in person and online via Zoom and can be joined at any time during the year. It is run in executive format, with one (1) Saturday a month,10 am-12:30 pm, 1:30-3:30 pm (except August) with a follow-up 1 ½ hour webinar and study group after the weekend classes (on the 2nd Wed evening after the Saturday class at 7-8:30 pm). Assignments and study between classes are required for certification. Classes are recorded so they can be made up if missed. The one-year program runs for 11 months and can be joined at any time during the year as classes are taught on a revolving basis. Monthly Saturday and evening classes must be attended or made up and monthly assignments completed for the Foundations of Herbalism Certificate.
The cost for the Foundations of Herbalism (FOH) certificate: $199/month x 11 or $2,189 in total.