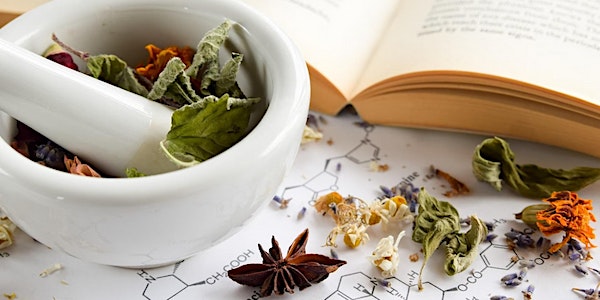 Foundations of Herbalism - Herbs & Nutrition for Male Reproductive Health
Herbal medicine is the art and science of using medicinal plants. Get your start on a powerful herbal practice!
Refund Policy
Contact the organizer to request a refund.
About this event
Herbs and Nutrition for the Male Reproductive & Urinary Systems
Saturday, February 4th: 10am-12:30 pm; 1:30-3:30 pm
Sunday, February 5th: 1-3 pm
Follow-up webinar on February 15, 7 pm :Herbs for the Lymphatic System and Skin
Men of all ages are the focus of Saturday & Sunday's classes as we focus on herbs to nurture the Male Reproductive system such as Saw Palmetto, Damiana & Nettle Root. We'll be going over conditions such as benign prostatic hypertrophy (BPH), prostatitis, low libido and general male tonics to boost energy and endurance.
`Saturday, 2/4: 10am-12:30 pm: Male Reproductive System, Tonics for Young Men
This class focuses on both Western herbal & TCM approaches to men's health, exploring fertility issues, prostatitis as well as formulation of longevity tonics. The materia medica will cover herbs such as Panax Ginseng, Damiana, Sarsaparilla, Yohimbe and Tribulus, classically used to boost energy and tonify the male reproductive system.
Saturday, 2/4: 1:30-3:30 pm: Male Reproductive System, Tonics for Mature Men
This afternoon class is an overview of Western herbal approaches for conditions often seen in older men such as benign prostatic hypertrophy and libido issues. We will focus on nutritional and herbal rejuvenation with therapeutic recipes such as pumpkin seed pesto & Eleuthero and Withania stamina snack balls. The herbal materia medica will cover Withania, Saw Palmetto, Nettle Leaf and Root and other herbs that contain steroidal saponins as well as foods that support a healthy reproductive system.
Sunday, 2/5: 1-3 pm Herbs and Nutrition for the Urinary System
In accordance with classic Western Herbalism, which links the kidneys with the reproductive system, this class will cover common urinary conditions for both sexes including urinary infections, interstitial cystitis. kidney stones, and lowered kidney function. Beginning with an introduction to the urinary system, herbal actions, and herb profiles for these systems will be examined, including such favorites as Cranberry, Uva Ursi, Marshmallow, Corn Silk, Juniper, Gravel Root, & Hydrangea.
Wednesday follow-up webinar, February 15th, 7 pm: Herbs for the Lymphatic System and Skin
In this webinar, we'll focus on herbs for lymphatic system & skin, which are often closely linked with the urinary system & a key body defense. We seem to forget that our skin is our largest organ and often needs tending, particularly in the winter months! It protects us from hot & cold, chemicals, light and micro-organisms, so let's treat it well! Classic alterative and lymphatic herbs to assist in elimination will be covered, as well as blends for skin issues such as psoriasis, eczema, and acne.
Join the Mid-Atlantic School of Herbalism!
midatlantischoolofherbalism@gmail.com
Intrigued by herbs? Come join us at the Mid-Atlantic School of Herbalism and explore the many benefits of herbal plant medicine. The herbalists at the Mid-Atlantic School of Herbalism (MASH) have a combined experience of working with plant medicine of more than 100 years and we are passionate about sharing the wonders of herbal medicine with our students.
This certification course is currently taught online via Zoom and can be joined at any time during the year. It is run in executive format, with one (1) Saturday a month,10 am-12:30 pm, 1:30-3:30 pm & some Sunday's 1-3 pm (except August) with a follow-up 1 ½ hour webinar and study group after the weekend classes (on the 2nd Wed evening after the Saturday class at 7-8:30 pm). Assignments and study between classes are required for certification. Classes are recorded so they can be made up if missed. The one-year program runs for 11 months and can be joined at any time during the year as classes are taught on a revolving basis. Monthly Saturday and evening classes must be attended or made up and monthly assignments completed for the Foundations of Herbalism Certificate.
The cost for Foundations of Herbalism (FOH) Certificate: $199/month x 11 or $2,189 in total.