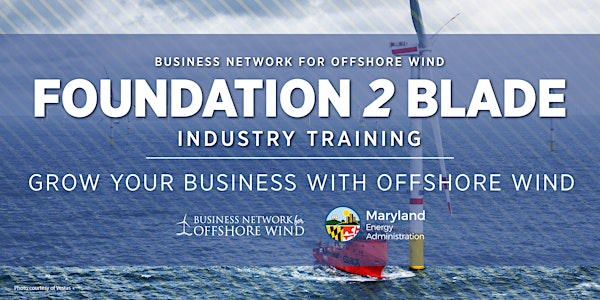 Foundation 2 Blade Industry Training for Maryland
Foundation 2 Blade is a training program for individuals who want to learn how to take advantage of business opportunities in offshore wind.
When and where
Location
Greater Salisbury Committee 200 W Main St Salisbury, MD 21801
Refund Policy
Contact the organizer to request a refund.
Eventbrite's fee is nonrefundable.
About this event
SOLD OUT - Please contact Sam Salustro (sam@offshorewindus.org) to be placed on a waiting list, or to first learn about future deliveries.
Foundation 2 Blade Training Dates:
March 16-18, 2022
9:00 a.m.– 4:00 p.m. EST
Greater Salisbury Committee
200 W. Main Street Salisbury, MD 21801
Registration Cost:
Network member: $100
Non-member: $150
Both registration costs are discounted from the standard $2,500 registration cost
Your health and well-being are the Network's number on priority. Read about health and safety standards for all Network events and trainings
Join the Business Network for Offshore Wind for a Foundation 2 Blade training program sponsored by the Maryland Energy Administration. The training takes place over three days in-person in Salisbury, Maryland. This training is for Maryland businesses only.
Foundation 2 Blade is a comprehensive training program with a singular purpose: to help companies identify where they fit into the growing offshore wind supply chain and create more opportunities to capitalize on prospective leads.
The Value of Your Investment
Foundation 2 Blade greatly reduces your research and onboarding costs, connects you with industry experts, and offers you several avenues to successfully enter the market. Here are some of the other benefits you will receive:
Complete overview of the OSW industry, including structure and operations
Expert 1:1 consulting time with industry experts, including developers, Tier 1 suppliers, and Network policy experts
Industry round-table: come prepared with your questions and we will connect you with experts in the industry to give you the answers you need
B2B matchmaking: we will help connect you with the right businesses
16 hours of in-person instruction
250-page textbook that offers clear, updated information
Hours of video tutorials
An overview of "who's who" in the industry
The training course features six modules that demystify the supply chain, spur innovation, and present a market entry path for a company. The six modules of are:
Offshore Wind Overview
Offshore Wind Siting & Permitting
Construction & Installation
Operations & Maintenance
How to Get Involved
If you cannot make the March training, email Sam Salustro (Sam@offshorewindus.org), Director for Coalitions & Strategic Partnerships, to learn about upcoming trainings for Maryland businesses.
COVID-19 Health & Safety Guidelines
What to Expect at Business Network Events
At this time the Business Network is planning to have this event in person and reserve the right to move to a virtual event 7 days prior without advanced notice
The Business Network for Offshore Wind is firmly committed to the health and safety of our attendees, exhibitors, and sponsors – your health and well-being is our number one priority.
The Network has put the following COVID-19 health and safety standards in place that strictly adheres to guidelines mandated by the Centers for Disease Control (CDC) to ensure a safe and successful industry events. Please take the time to review our guidelines.
Health & Safety Standards for Business Network Events
What all attendees, exhibitors, and sponsors need to know about our events:
Business Network events will adhere to CDC, state, and city mandates as well as follows any additional recommendations by these institutions or the Network. Therefore new requirements may be in place upon arrival at the event.
All attendees, exhibitors, and sponsors must show proof of vaccination or a negative COVID-19 test 48 hours prior to the event (electronic proof is acceptable). Accepted proof of vaccination includes the following options:
• A physical vaccination card.
• A picture of your vaccination card.
• A digital vaccination card.
• Face masks are mandatory at all times unless drinking or eating.
• Face masks will be available for attendees.
• Name badges must be worn at all times.
• Sanitizers will be provided for attendees.
• All staff present at events from the Business Network for Offshore Wind are vaccinated.
The Business Network for Offshore Wind Events Terms and Conditions
LIABILITY WAIVER & RELEASE: In consideration of being allowed to register for, and participate in the event, you hereby warrant and represent that you are age 18 or above and freely waive, release from liability, assume all risks, and covenant not to sue Business Network for Offshore Wind ("Business Network") or its members, employees, board members, agents, vendors, or volunteers for any expense, loss, damage, personal injury, including loss of life, illness, including but not limited to COVID-19,disability, property damage, or property theft or actions of any kind that you may hereafter suffer or sustain before, during, or after the event, unless said expense, loss, damage, personal injury, including loss of life, illness, disability, property damage or property theft or actions of any kind is caused by the sole, gross negligence of Business Network. This Liability Waiver and Release is specifically binding upon your heirs and assigns and is knowingly given.
PHOTO RELEASE: I agree to grant to Business Network and its authorized representatives permission to record on photography film and/or video (including digitally or electronically), pictures of my participation. I further agree that any or all of the material photographed may be used, in any form, as part of any future publications, brochure, or other printed materials used to promote Business Network, and further that such use shall be without payment of fees, royalties, special credit or other compensation.
CHANGES, CANCELLATION, & REFUND POLICY:
Please contact registration@offshorewindus.org to initiate your cancellation and refund.
Attendee refunds will be processed on a sliding scale according to how close to the event cancelation is requested as illustrated in the table below. Cancellation refund is calculated based on the date we receive your request at registration@offshorewindus.org
45 Days or more prior to the Event
100% Refund plus a 15% service fee.
44 Days or less prior to the Event
50% Refund plus a 15% service fee.
Two weeks or less prior to the Event
No refund
The Network shall consider issuing a full refund, to any member or non-member attendee who tests positive for COVID-19 within 48 hours of the event and provides documentation of such positive test.
EVENT POLICY: By registering for the event, you agree not to host receptions, client events, significant gatherings of event attendees, or host training sessions that conflict with the official event schedule as posted on the event website or program agenda. To host an event as described above you must be a Platinum level sponsor and must be done with the prior written approval of the Business Network. Contact Lori Rugh at lori@offshorewindus.org for such approvals.
The right to eject any registrant/participant from the event without prior notice or refund if behavior is illegal, offensive, dangerous or disruptive in any manner is at the sole and absolute discretion of the Business Network. This includes harassment on any level to attendees or event workers. As this is a professional event, appropriate behavior is expected at all times, including at side events and receptions. No one under the age of 18 is allowed inside the convention center.
Attendees can contact Registration@offshorewindus.org to edit, transfer, or cancel registrations.
CANCELLATIONS OR TERMINATIONS: In the event that the premises where a live event is to be held shall, in the sole determination of the Network, become unfit or unavailable for occupancy, or shall be substantially interfered with by reason of picketing, strike, embargo, injunction, act of war, act of terrorism, act of God, fire or state of emergency declared by a government agency, by reason of any other occurrence beyond the control of the Network, the Network may postpone or cancel the event In case the Network for any reason determines to postpone or cancel the event the attendee waives all claims the attendee might have against the Network for damages or expenses and agrees to accept in complete satisfaction and discharge of all claims against the Network a refund of all amounts paid by the attendee to the Network in accordance with this.
AGREEMENT NO GUARANTEE OF RESULTS: The Network does not warrant or guarantee any particular results of the attendance or exhibition, nor does it guarantee a particular number of attendees.
If you need further assistance with your registration please email registration@offshorewindus.org.