FOUND, les girls les boys & Oceana celebrate World Oceans Month
FOUND, les girls les boys & Oceana invite you to join us at #the100kinitiative pop-up in celebration of World Oceans Month
About this event
In celebration of World Oceans Month, we're bringing to life a pop-up that immerses you in a larger-than-life installation, art-meets-fashion experience supporting #the100kinitiative - an effort to reduce single-use plastics and help protect marine life benefitting the world's largest ocean advocacy group, Oceana.
#The100kinitiative pop-up features a massive, one-of-a-kind interpretation of the Great Wave of Kanagawa in New York's iconic Starrett-Lehigh building by world-renowned artist Amit Greenberg, showcasing the true impact of plastic in our ocean.
Come discover an exclusive assortment of swim by les girls les boys, a fashion brand committed to inspiring sustainable change amongst the industry, alongside limited-edition sparkling water by FOUND and Naeco's resuable straws - all with a portion of proceeds benefitting #the100kinitiative supporting Oceana through July 3rd.
On Thursday June 20th from 7-9pm, come meet artist Amit Greenberg as he unveils the installation with music by percussionist Fernando Velez. Please rsvp to worldocean@lesgirlslesboys.com to reserve your spot!
Follow us @lesgirlslesboys and @drinkFOUND on social to learn more.
#The100kinitiative Pop-Up by les girls les boys x FOUND
June 18th through July 3rd
601 West 26th Street (entrance on 27th Street and 11th Avenue)
Open Daily, 12-7pm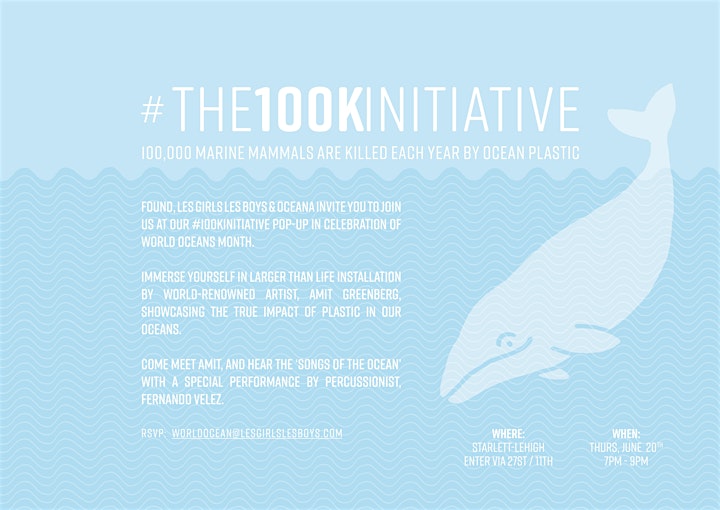 Organizer of FOUND, les girls les boys & Oceana celebrate World Oceans Month