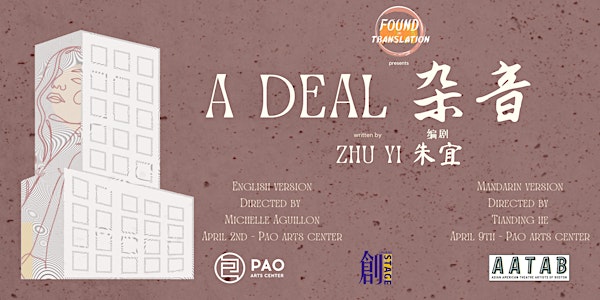 Multiple dates
Found in Translation: A Deal 杂音
A DEAL is a dark comedy that follows a Chinese family's home buying journey in New York under the backdrop of a China-US economic crisis.
Date and time
April 2, 2022 · 7pm - April 9, 2022 · 9pm EDT
Location
Pao Arts Center 99 Albany Street Boston, MA 02111
Refund Policy
Contact the organizer to request a refund.
Eventbrite's fee is nonrefundable.
About this event
A Deal by Zhu Yi
April 2nd - English, Directed by Michelle Aguillon
April 9th - Mandarin, Directed by Tianding He
A young actress from China brands herself as an orphan and human rights victim to enter the mainstream theater scene in America and to obtain her immigration status, while her parents smuggle one million dollars in cash from Shanghai to buy her an apartment in Manhattan.
A Deal is a dark comedy that follows a Chinese family's home buying journey in New York under the backdrop of a China-US economic crisis. Originally taking place in the winter of 2015, it still resonates today. It explores: Chinese versus American values; the importance of family versus the individual; notions of what constitutes truth and in whose eyes; and the immigrant's dilemma—to remain voluntarily ghettoized or to assimilate.
《杂音》讲述了刚从哥伦比亚大学表演专业毕业的的中国姑娘李苏,梦想在舞台上发光发热,渴望在美国获得成功,可即便拥有名校文凭的她也面临着找不到工作的危机。为了获得关注,李苏不惜将自己伪造成人权受害者。与此同时,李苏的父母筹集了百万美金从上海飞往纽约,想为女儿买一套房,让她更有底气地在美国社会立足,融入精英阶层。这趟美国之旅却导致女儿孤身留美,父母凄惨归国……朱宜敏锐地捕捉到经济波动下人们的焦灼不安,借以极具中国特色的"买房"行为作为故事契机,用黑色幽默的戏谑笔法呈现出东西方意识形态在当代的碰撞。
COVID-19 Protocol:
In accordance with other performance venues in the City of Boston, Pao Arts Center's will continue to require proof of vaccinations for entry into any performance or scheduled public program (drop – in gallery visits are exempt). Masks will continue to be required for entry into Pao Arts Center.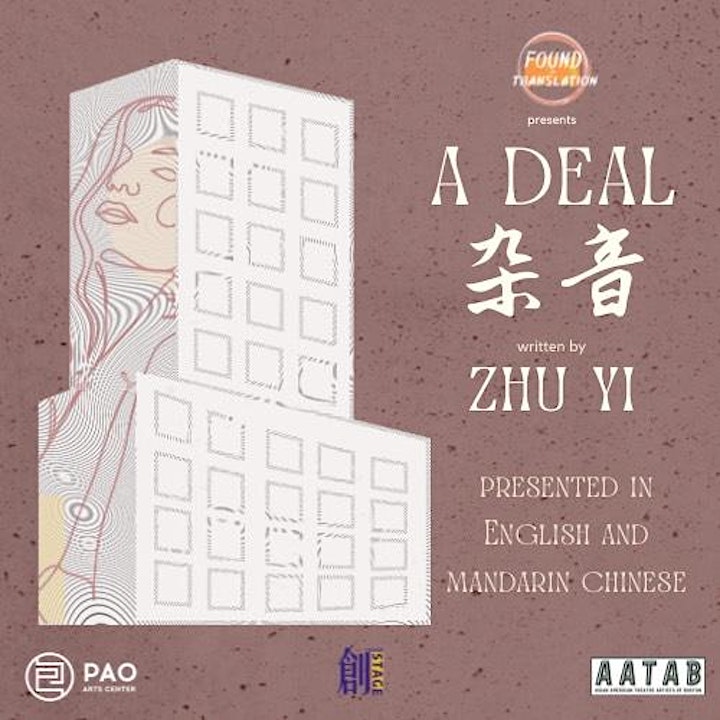 About Found in Translation
"Found in Translation" is a play-reading and community workshop series through Winter 2021 to Spring 2022 that amplifies the power and complexities of being multilingual, immigrants, or identifying as AAPI in Greater Boston.
The series and events range from the Vietnamese Buddhist afterlife, the American entertainment industry, and a haunted tavern in Taiwan, we hope to connect the AAPI community through conversations about race, language, identity, and our experiences when it comes to relating to our birth country or immigration timeline.
About the Partners:
Chuang Stage - CHUANG Stage is the Mandarin-English bilingual, bicultural theater company in Boston, MA that cultivates boundary-breaking stories that bridge the world.
AATAB - Asian American Theatre Artists of Boston is a social collective that empowers and connects Pan-Asian theatre artists in the Greater Boston area.
Pao Arts Center - Pao Arts Center is Boston Chinatown's first community-based arts center. Their mission is to celebrate and strengthen the Asian Pacific Islander (API) community through access to culturally relevant art, education, and creative programs.
This project is made possible by a Live Arts Boston grant from the Boston Foundation.
About the Artists
ZHU YI (she/her) is an award-winning playwright, based in NYC, born and raised in Shanghai, China. MFA in Playwriting, Columbia University. She received the First Prize at 2015 World Sinophone Drama Competition, and Shanghai Drama Valley's 2015 Outstanding Playwright of the Year Award. She is an alumni of Ensemble Studio Theatre's Obie Award-winning playwrights group Youngblood, 2012-2013 Emerging Artist Fellow at New York Theatre Workshop, a member of the Royal Court Theatre's International Playwrights Programme, Ma-Yi Writers Lab, Clubbed Thumb Theater's writers group, and Dramatists Guild of America.
Tianding He is a New York-based director, producer, curator, scholar and puppeteer originally from China. She is the founding artistic director of B·O·N·D International Virtual Performance Festival. Recent directing credits include immersive theatre: The White Night (Margo Feiden Gallery), South Node of the Moon, Me, You, He & She (Dixon Place), Invisible Days (UNFIX Festival). She also produced the Off-Broadway show, The Romantic Misadventures of Ah Q (Theatre Row). Her two master's degrees are from Tisch school of Arts in NYU and Hunter College, while she is pursuing a PhD at UCI and UCSD.
About the organizer
Through arts, culture, and education, the Pao Arts Center brings together community members across generations to reclaim a critical piece of Chinatown history and to create healthy families and vibrant communities. In partnership with Bunker Hill Community College, BCNC opened the Pao Arts Center in 2017 to be Chinatown's first community-based arts center and Boston's newly dedicated Asian American and Asian immigrant cultural space.
The Pao Arts Center sits on a historically significant piece of land, Parcel 24, where hundreds of Chinatown residents were displaced in the 1960s in order to build a highway on ramp. The reclamation of this land as a place to celebrate and explore Asian culture represents a powerful shift towards community oriented development in the face of rapid change.