Sales Have Ended
Ticket sales have ended
You can still join the event through the Facebook Broadcast link, which will be posted at the time of the event on: https://www.facebook.com/fotodemic/
Sales Have Ended
Ticket sales have ended
You can still join the event through the Facebook Broadcast link, which will be posted at the time of the event on: https://www.facebook.com/fotodemic/
Catherine Leroy: Woman at War - a panel discussion focused on the life and legacy of a pioneering photographer.
About this event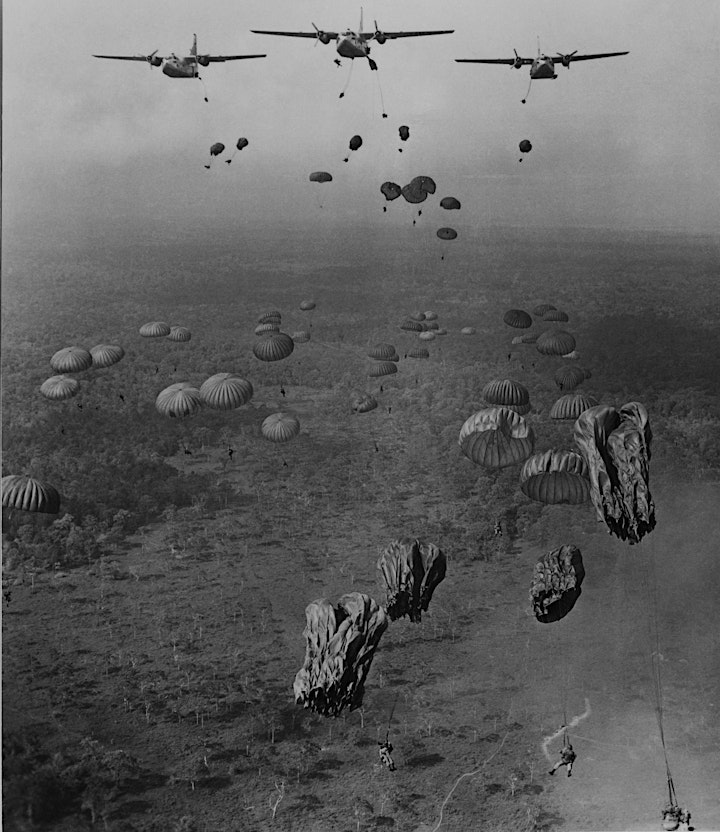 Image © Dotation Catherine Leroy
FOTODEMIC is hosting its third Town Hall, Catherine Leroy: Woman at War, on Friday, April 30th, 2021, at 1:00 pm EST, with an array of extraordinary panelists focusing on the life and legacy of Catherine Leroy, a pioneering photographer. Leroy was only 21 years old when she left her native France to cover the Vietnam War with only $150 and a single Leica camera. She became the first woman and non-military photographer to parachute into combat with United States and, when captured by North Vietnamese forces, she turned her experience into a cover story for Life magazine.
Despite having been awarded both the George Polk and Robert Capa awards for her photography, Leroy's contributions have remained largely unknown. Town Hall #003 Catherine Leroy: Woman at War will examine Leroy's trailblazing career and its influence on the role of women in photography today, fifteen years since her passing.
The Town Hall on April 30th marks the anniversary of the end of the Vietnam War, a conflict during which many photographers distinguished themselves by resisting official government narratives to expose the darker realities of the war.
The discussion, moderated by Fred Ritchin, president of the Catherine Leroy Fund, will include guest speakers an award winning photographer Lynsey Addario, Elizabeth Becker, author of the recent book, You Don't Belong Here, profiling Leroy and two other women journalists who covered the Vietnam War, Mary Cronk Farrell, author of the forthcoming biography for young adults, Close-up on War, Jacques Menasche, director of "Cathy at War," and Christine Spengler, a photographer who worked alongside Leroy.
Catherine Leroy: Woman at War, is a collaboration between FOTODEMIC and the Catherine Leroy Fund (Dotation Catherine Leroy).
Suggested donation is $10 with profits going to FOTODEMIC's programs and Dotation Catherine Leroy
Registration will include a link, "Cathy at War" a film directed by Jacques Menasche *
Please register to secure your spot.
*Available for 72 hours after the panel discussion.

Speakers:
Lynsey Addario is an American photojournalist who has been covering conflict, humanitarian crises, and women's issues around the Middle East and Africa on assignment for The New York Times, National Geographic Magazine, and Time Magazine for almost two decades. Since September 11, 2001, Addario has covered conflicts in Afghanistan, Iraq, Libya, Lebanon, Darfur, South Sudan, Somalia, the Democratic Republic of Congo, Yemen, and Syria. She recently began working in the United States covering immigration, maternal mortality, and climate change. In March 2011, she was kidnapped in Libya with three other journalists, all on assignment for The New York Times while covering the fighting between dictator Moammar Gadhafi's troops and rebel forces. They were all released a week later. Addario is the recipient of numerous awards, including a MacArthur fellowship, a Pulitzer prize, The Overseas Press Club's Olivier Rebbot Award, and two Emmy nominations. She holds three Honorary Doctorate Degrees for her professional accomplishments.
Elizabeth Becker
Elizabeth Becker is the author of the recently published You Don't Belong Here, How Three Women Rewrote the Story of War, about the story and work of French photographer Catherine Leroy, US journalist Frances FitzGerald and New Zeland/Australian war correspondent Kate Webb. Becker began her career as a war correspondent for the Washington Post in Cambodia. She has been the Senior Foreign Editor for National Public Radio and a New York Times correspondent covering national security, economics and foreign policy. She has won accolades from the Overseas Press Club, DuPont Columbia Awards and was part of the Times team that won the Pulitzer Prize for Public Service for coverage of 9/11. She is the author of When the War was Over: Cambodia and the Khmer Rouge Revolution, the classic history that has been in print for 35 years; and Overbooked: The Exploding Business of Travel and Tourism, an expose of the travel industry that was an Amazon book of the year.
Mary Cronk Farrell
Mary Cronk Farrell is an award-winning author and former journalist with a passion for stories about little-known women facing great adversity with courage. Both her fiction and non-fiction titles are based on true historical events and based on thorough research. Honors include the EUREKA! Children's Book Award for Excellence in Nonfiction from the California Reading Association, Nomination for the Washington State Book Award, Bulletin of the Center for Children's Books Blue Ribbon and the SPUR Award for Best Juvenile Fiction about the American West.
Jacques Menasche
Jacques Menasche is an award-winning writer, editor, and filmmaker. Born in Baltimore, Maryland, he began his career as a clerk at The New York Times, and has since produced reportage, books, and documentaries from around the world, covering the attacks on 9/11, the war in Afghanistan, the modernization of China, and the Palestinian/Israeli conflict, among other important stories. His writing has appeared in the New York Daily News, ESPN The Magazine, Vanity Fair, Fader, and Columbia Journalism Review in the US, The Independent in the UK, Polka in France, and Italy's Corriere dela Sera. In 2007, "Brothers of Kabul," his television documentary about heroin addiction in Afghanistan, produced with photographer Stephen Dupont, received Australia's Walkley Award for Best Television News Feature. In 2011, his documentary about a first-grade class near Ground Zero, "The Class of 9/11," led off PBS NewsHour's 10th anniversary coverage. In 2016 he completed "Cathy at War," a documentary feature about Catherine Leroy, the greatest female photographer of the Vietnam War. A graduate of the Columbia University School of Journalism, he teaches at the International Center of Photography in New York.
Christine Spengler
Christine Spengler (born 1945 in Alsace, France, raised in Madrid), self-taught in photography, is one of only a few renowned female war photographers of the 20th Century. Since 1970, she has photographed and reported on conflicts, focusing on the victims of war. She worked freelance as a photographer for Sipa-Press, AP and Corbis-Sygma, while she documented wars in Chad, Northern Ireland, Vietnam, Cambodia, Lebanon, Western Sahara, Kurdistan, Nicaragua, Salvador, Kosovo, Afghanistan, and Iraq, among others. Her work has appeared in news publications worldwide, including Paris-Match, Life, Time magazine, Newsweek, El País, The New York Times, and Le Monde.
Christine Splengler has won several prizes for her work as a reporter, in particular the SCAM Prize for her report on women in the war in 1998; and the Femme de l'Année Prize in Brussels in 2002. She was honored with a one-person exhibition in 2003 at the Visa pour l'image international festival of photojournalism, in Perpignan, France and had a major retrospective at la Maison européenne de la photographie (MEP) in Paris, France in 2016.
Moderator:
Fred Ritchin
Fred Ritchin is Dean Emeritus of the International Center of Photography and formerly professor of Photography and Imaging at New York University. Ritchin served as picture editor of the New York Times Magazine and co-founded PixelPress, an experimental online publication. He created the first multimedia version of the New York Times, and the online project "Bosnia: Uncertain Paths to Peace" nominated by the Times for a Pulitzer Prize. His books include After Photography and Bending the Frame: Photojournalism, Documentary, and the Citizen. He has curated many exhibitions, including An Uncertain Grace: The Photographs of Sebastião Salgado and has received the NPPA John Long Ethics Award. He recently launched thefifthcorner.org a resource for photographers.
photo credit: Maria Cherdantseva
FOTODEMIC is an online publication established in response to the coronavirus pandemic that has profoundly altered normal life on a global scale. By exploring different visual strategies, our aim is to raise questions about present-day events, reflect on an uncertain future, and bring us closer in a time of isolation.
FOTODEMIC is founded by Fred Ritchin and a group of graduates from the International Center of Photography in New York.