Description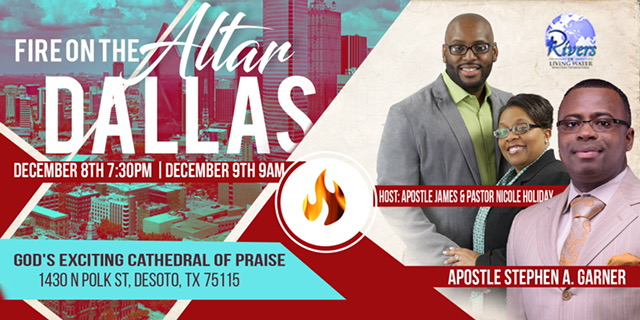 FIRE ON THE ALTAR 2K17
Leviticus 6:12-13 KJV
12 And the fire upon the altar shall be burning in it; it shall not be put out: and the priest shall burn wood on it every morning, and lay the burnt offering in order upon it; and he shall burn thereon the fat of the peace offerings. 13 The fire shall ever be burning upon the altar; it shall never go out.
The work of intercession throughout the ages has always yielded a tremendous harvest. The Church as in times past has once again come to a critical time and the welfare of nations and generations are weighing in the balances. Global instability is at an all time high and we are faced with threats the like of which we have never seen. The demand for houses of prayer couldn't be greater. The good news is that God is breathing on us and a fresh anointing for intercession is active in the earth.
Fire On The Altar is a personal response I have given to the Lord. I believe it's meeting like this that alter the plans of history and set the stage for the King of Glory to descend upon or cities, regions and nations. Make plans to join us and be a part of this movement of God.
What you can expect?
Vibrant praise and worship. Teachings on the subject of intercession and a time of praying for the manifestation of Gods power. We will also be conducting prayer exercises to help strengthen you in your mandate to pray.
How many sessions will there be?
We will gather on Friday night 7:30pm and Saturday morning at 9am for a minimum of 3 sessions.
I look forward to fellowshipping with you and ministering the Word of God during our time together.
Apostle Stephen A. Garner
For More information email: rolwdallas@gmail.com
Hotel Accommodations: Group Rate Available $99 breakfast included
Holiday Inn & Suites
1310 E Wintergreen Rd, Desoto, TX. 75115
972-224-3100