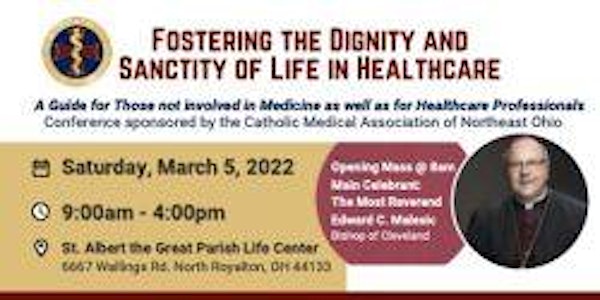 Fostering the Dignity & Sanctity of Life in Healthcare
How to apply Church teaching on life's sanctity & dignity to the practical care of patients by family members and healthcare professionals.
About this event
Our Guild is sponsoring a conference entitled "Fostering the Dignity and Sanctity of Life in Healthcare – A Guide for Those not involved in Medicine as well as for Healthcare Professionals" scheduled for March 5, 2022. The venue will be at St. Albert the Great Church's Parish Life Center in North Royalton, OH (suburb of Cleveland). The event will also be open to virtual attendees. The conference will begin with an opening Mass celebrated by The Most Reverend Edward C. Malesic, Bishop of Cleveland. An interdisciplinary group of speakers will address relevant issues from the perspectives of medical, bioethical and theological experts.
Many lay people have very limited understanding of medical issues, including bioethical challenges, beginning of life and end of life issues that need to be presented clearly to help them make appropriate medical choices for themselves and their families. Healthcare professionals also need to be further educated on such issues.
Organizer of Fostering the Dignity & Sanctity of Life in Healthcare
Our Mission
Dedicate ourselves as a group of Catholic doctors, nurses and healthcare professionals, to help one another to grow in faith and prayer, maintain ethical integrity, and provide excellent health care, in accordance with the teachings of the Church.
Provide a voice of evangelization both locally and nationally, that represents faithful Catholics in the medical community.
Create and organize educational, medical and bioethical resources and events; advocates for members, the Church, and the medical profession in public forums.
Create outreach, to local Catholic clergy, religious and laity, as well as to the community generally, that provides resources, education and guidance on healthcare ethics and policy.
Promote meaningful support and instruction to medical students and others, as they grow in the Faith, and as medical professionals. We are committed to handing on a Catholic and Hippocratic approach to medicine.