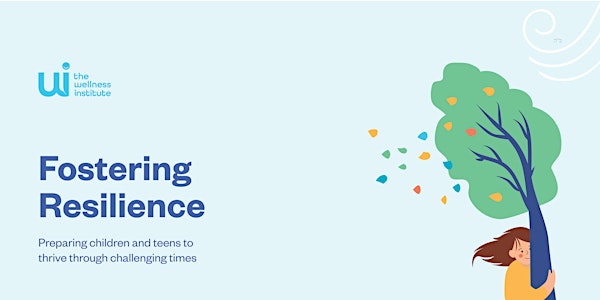 Fostering Resilience
Preparing kids to thrive through good and challenging times. With Dr. Kenneth Ginsburg MD
Refund Policy
Contact the organizer to request a refund.
Eventbrite's fee is nonrefundable.
About this event
Challenges are inevitable but resilience skills are not.
Join us on Wednesday, November 16th, 8:00 PM - 9:30 PM EST with Dr. Kenneth Ginsburg, to learn how to cultivate life-essential resilience skills in your children.
Learn practical insights on how to give your children the skills they need to succeed even in life's toughest times. Gain the day-to-day parent tools needed to facilitate resilience in your children.
For questions and scholarships, email info@wellnessinstitute.org
Produced by the Wellness Institute, a division of the Rohr Jewish Learning Institute (JLI)
If you or someone you know is thinking about suicide, call or text the new three-digit, 24-hour hotline of the US Government and National Suicide Prevention Lifeline at 988* to be connected to a trained suicide crisis counselor.
*988 is the new initiative of the US government's mental health emergency hotline. It will connect you with 1-800-273-TALK (1-800-273-8255) / (Text "HOME" To 741741) and you will be connected to a trained suicide crisis counselor.
About Dr. Kenneth Ginsburg MD
Kenneth R. Ginsburg MD, MSEd, is a Professor of Pediatrics at Children's Hospital of Philadelphia and the Perelman School of Medicine at the University of Pennsylvania. He practices social adolescent medicine — medicine with special attention to prevention and the recognition that social context and stressors impact both physical and emotional health. The theme that ties together his clinical practice, teaching, research and advocacy efforts is that of building on the strength of teenagers by fostering their internal resilience.
Dr. Ginsburg is the Co-Director of the Center for Parent and Teen Communication, which promotes the health, character and well-being of adolescents through education, research and advocacy. He developed the teen-centered method, which helps youth to generate, prioritize and explain their own proposed solutions to social problems and to teach clinicians how to better serve them. In addition to his research publications, he also has five parenting books including, Building Resilience in Children and Teens: Giving Kids Roots and Wings, Raising Kids to Thrive: Balancing Love with Expectations and Protection with Trust, and Letting Go with Love and Confidence, all published by the American Academy of Pediatrics (AAP). He is also the author of Reaching Teens: Strength-Based Communication Strategies to Build Resilience and Support Healthy Adolescent Development, a comprehensive multimedia toolkit published by the AAP.
Dr. Ginsburg lectures widely to national and international parent and professional audiences. He has also worked closely with The US Military, The Boys and Girls Club of America and The National Congress of American Indians to deepen the role of resilience-building strategies in their programming.