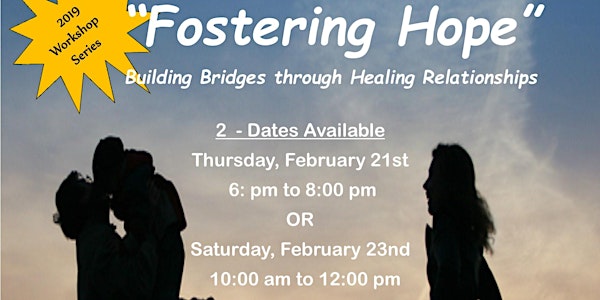 Fostering Hope: Building Bridges Through Healing Relationships (Introductio...
Location
James Mission - West Side Event Center (LSI)
4122 West 55th Place
Tulsa, OK 74107
Description
"Fostering Hope": Building Bridges through Healing Relationships
This workshop is an introduction to a series of work-groups, support groups and seminars designed to assist biological and fostering families who are engaged with the OKDHS foster care system. The 2-hour introduction overview will be filled with hands-on, fun and informative approaches to understanding the amazing opportunities available to grow and find healing through the family-to-family bridge of fostering. Fostering families can provide a safe space and the power of a positive relationship; while biological families can find the kindness and support they need to grow and regain family connectedness. Families do not have to feel "pulled apart" and "alone", as a community we can build bridges through healing relationships.
CERTIFICATES WITH CEU'S (2.0 HRS) WILL BE AVAILABLE TO FOSTER FAMILIES & PROFESSIONALS
This workshop overview will explore the following topics:
~ What does it mean to foster with HOPE?
~ Evaluating readiness for fostering / Creating a Community
~ Creating a safe & healing environment in your home
~ Creating support for natural parents (building bridges)
~ Navigating the Child Welfare System / Partnering with Your Specialist
~ When should you seek therapy services for children in your care?
~ How to make use of Therapeutic Consultations to assist with the fostering process
~ Information on the avalibility of Support Groups targeted to special family situations/needs
REGISTER TODAY FOR THIS EXCITING & INFORMATIVE EVENT
For more information or to register go to: www.lsi-ok.org/community events