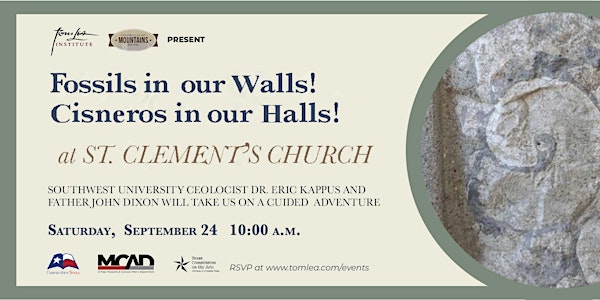 Fossils in our walls! At St. Clement's Church!
SOUTHWEST UNIVERSITY GEOLOGIST DR. ERIC KAPPUS & FATHER JOHN DIXON WILL TAKE US ON A GUIDED ADVENTURE!
When and where
Location
St Clement's Church 810 North Campbell Street El Paso, TX 79902
About this event
Did you know that El Paso's desert was once a beach for dinosaurs? Discover what's in the layers beneath our feet by looking at the stones of El Paso's historic Church of St. Clement. Also, explore the halls of St. Clement's Church with Fr. John Dixon and see Cisneros's unique leaded glass windows featuring his biblical designs.
Itinerary:
• 10 AM - Meet at the entrance of St. Clement's Church (810 N. Campbell St.). Tour will depart from the church entrance promptly at 10:15 AM.
• After the tour, attendees may have a no-host lunch with the group at Taconeta. (311 Montana Ave.)
• Questions? Please call us at 915-533-0048.
• Please wear comfortable shoes
RSVP list full? Please email collections@tomlea.net to be placed on a waiting list.
If you RSVP'd, are unable to make the event. Please, email marketing@tomlea.net.
The Tom Lea Institute will follow Covid safe guidelines for the event.
We love to share images from our events with our social media audience. By RSVPing and/or attending the event you consent for us to share photos that may be taken of you at the event.
The Tom Lea Institute and Celebration of our Mountains work hard to bring you FREE, fun, interesting and memorable experiences. Please consider donating: www.tom lea.com/donate www.celebmtns.org/donate