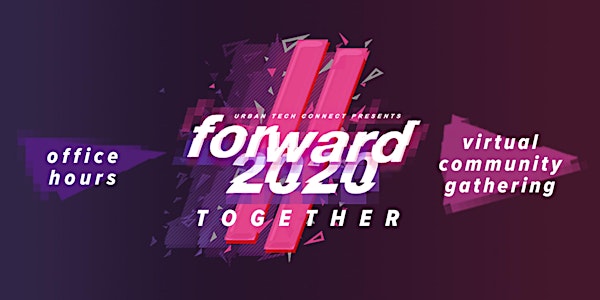 // Forward Together - Plug In South LA's Response to Covid-19
Description
Urban Tech Connect // Forward
Virtual Huddle & Community Gathering May 20-21
Covid-19 Update:

Urban Tech Connect Action Plan to Support South LA & Vulnerable Communities as a result of Covid-19

South Los Angeles and Communities like it will be negatively impacted by Covid-19 and the economic toll it's taken around the country. With this impact, Entrepreneurs, Investors, Business Owners, Job Seekers, Students, and Nonprofit Organizations will see a dramatic hit from a rapidly slowing economy.

Plug-In South LA & Urban Tech Connect is rallying business leaders, entrepreneurs, corporate partners, investors, and community organizations to share resources, tools, and strategies on ways to support South Los Angeles and the growing tech ecosystem. Let's move // Forward together. Please join us to network, learn and discuss the future as we work resiliently to ensure South LA's Tech Community and the business ecosystem continues to grow and thrive on all fronts. Let's come together to support the needs of the local community.



May 20 - Office Hours 9:00 am-12:00 pm
Day 1: Connection & Support

Condensed Office Hours for Entrepreneurs / Business Owners, Job Seekers in need of support amidst the Covid-19 crisis.
Connect with experts on business challenges & opportunities
Confirmed Office Hour Mentors & Advisors:
Summer Watson, Heir

Shane Kelly, Wolverine Angels | CrowdSmart

Carmen Palafox, Mila.vc

Jonathan Schieber, TechCrunch

Anna Barber, Techstars

Alexandra Levitt, Snap

Kevin Kearney, Elephant

Jessica Salinas, Statistical Zero

Jawhara Tariq, Moonshots Capital

Anthony Kelani, Quake Capital Partners

Miki Reynolds, Grid110

Mike Su, Yellow LA / Snap Inc

Eyana Carballo, BCG - Digital Ventures

DeMarcus Williams, Silicon Valley Bank

Bassanio Peters, Assist 2 Develop


May 20 @ 1:00 pm- 2:00 pm
"Intro to JavaScript Foundations" Workshop with free Online Class Included

*Open to Anyone that is interested in learning more about Coding*
People that attend the Free "Intro to JavaScript Foundations" Online Workshop will participate in an hour-long live coding workshop that goes over some of the key javascript concepts with Gregorio Rojas, Sabio's Head Instructor and Co-Founder.
At the end of the workshop all participants will receive free access to Sabio's JavaScript online class so that you can continue to develop your coding skills.
**Nice to Have (not required): If you are able to be at a computer during the workshop you can code along with us during the workshop. Download the latest VS Code from https://code.visualstudio.com/
May 21 - Community Gathering 2:00 pm -3:30 pm
Day 2: Virtual Community Gathering
Featured guests to engage in discussion on the impact Covid-19 is having on the small business community
Valuable Resources for Founders
Live Start Up Demos
Townhall Q&A
Confirmed Speakers:
Welcoming Remarks & Updates, Supervisor Mark Ridley-Thomas of LA County, District 2
Isa Watson, Founder of Squad to speak about Networking & Building Connections During Quarantine
Confirmed Panelists:
Karla Ballard, Founder of Ying

Travis Holoway, Founder of Solo Funds

Melissa Hanna, Founder of Mahmee

Jarrid Tingle, Managing Partner of Harlem Capital Partners

Moderator: Derek Smith, Founder of Plug In South LA
Don't Miss the Urban Tech Connect Conference on September 16-17.
Organizer: Plug In South Los Angeles
Registration, Partnership and Sponsorship Questions:
Please email info@pluginsouthla.com.