FORUM | The Suyama Project: No-Nos and Tule Lake Discussion + Project Archi...
Description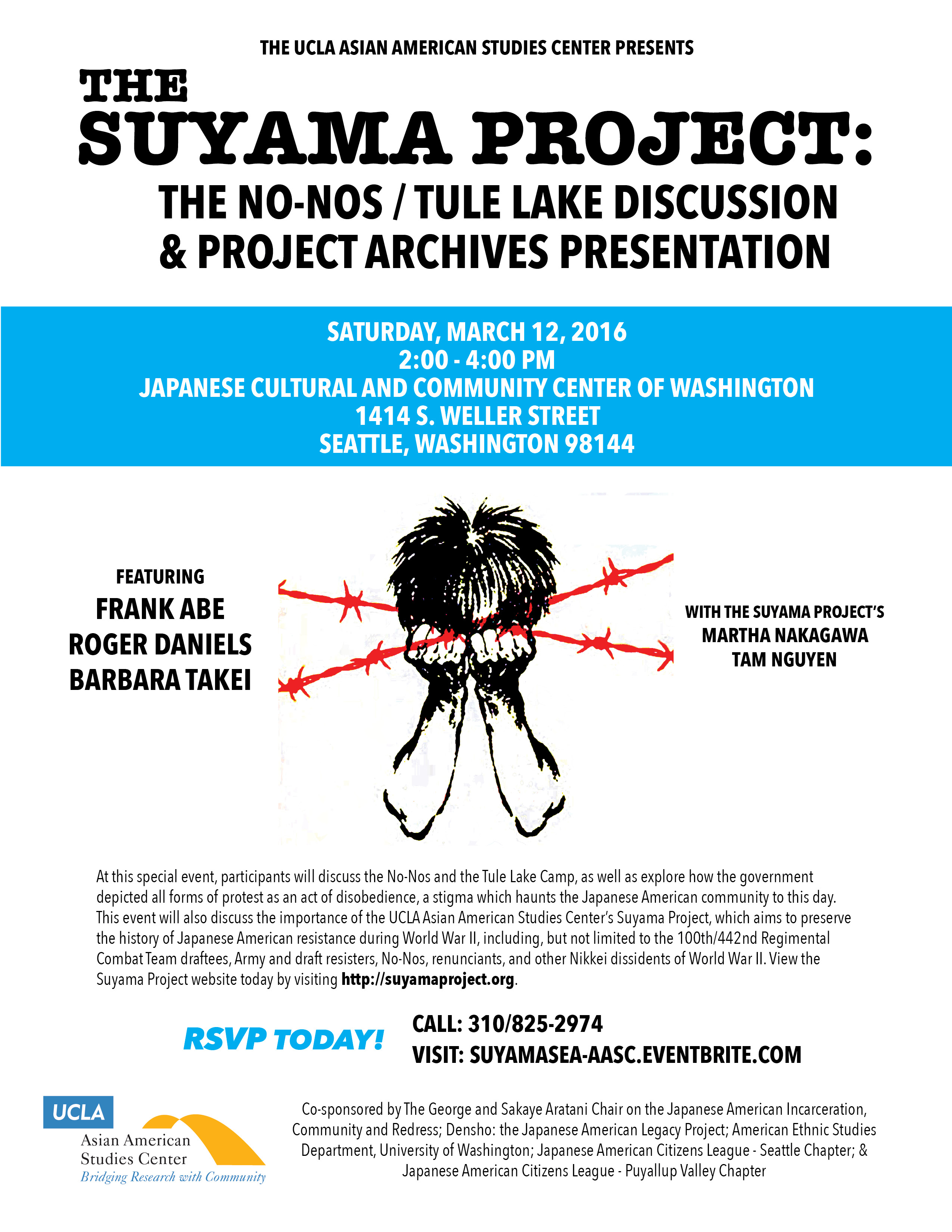 ---
THE UCLA ASIAN AMERICAN STUDIES CENTER
& THE EJI SUYAMA 100TH BATTALION/442ND DRAFTEES, NO-NOS, DRAFT RESISTERS, AND RENUNCIANTS ARCHIVAL COLLECTION ENDOWMENT
PRESENTS
The Suyama Project

No-No Boys/Tule Lake Discussion
& Project Archives Presentation
featuring
Frank Abe
Roger Daniels
Barbara Takei
with the Suyama Project's
Martha Nakagawa
Tam Nguyen
Saturday, March 12, 2016
2:00 PM to 4:00 PM
Japanese American Cultural and Community Center of Washington
1414 S. Weller Street Seattle, WA 98144

At this special event, participants will discuss the No-Nos and the Tule Lake Camp, as well as explore how the government depicted all forms of protest as an act of disobedience, a stigma which haunts the Japanese American community to this day. This event will also discuss the importance of the UCLA Asian American Studies Center's Suyama Project, which aims to preserve the history of Japanese American resistance during World War II, including, but not limited to the 100th/442nd Regimental Combat Team draftees, Army and draft resisters, No-Nos, renunciants, and other Nikkei dissidents of World War II. View the Suyama Project website today by visiting http://suyamaproject.org.
Co-sponsored by the George & Sakaye Aratani Chair on the Japanese American Internment, Redress, and Community; Densho: the Japanese American Legacy Project; American Ethnic Studies Department, University of Washington; Japanese American Citizens League - Seattle Chapter; Japanese American Citizens League - Puyallup Valley Chapter