Forum: Perjuangan Hak Asasi Manusia: Antara Agama Tanpa Kebebasan dan Kebebasan Tanpa Agama

Thursday, April 17, 2014 from 8:00 PM to 11:00 PM (Malaysia Time Malaysia (Kuala Lumpur) Time)
Event Details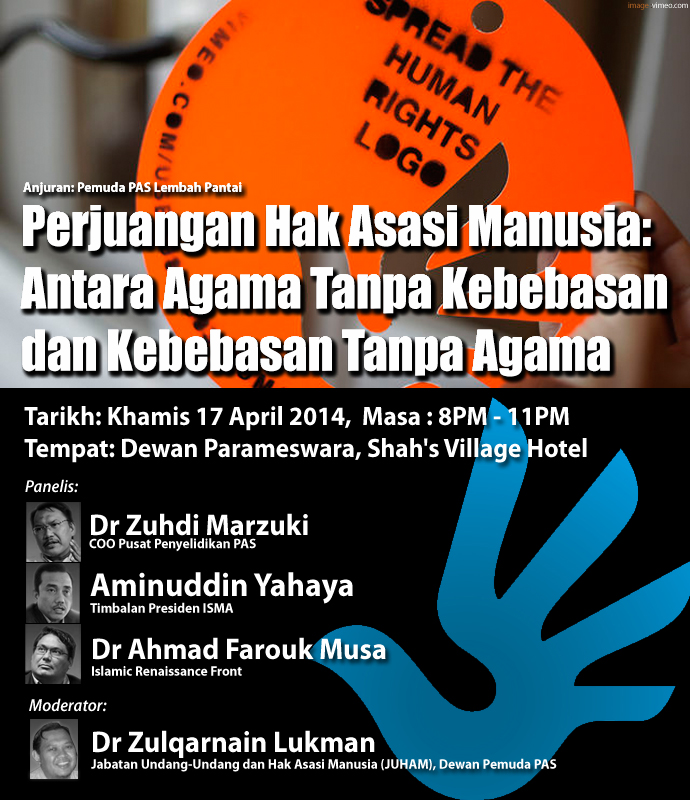 Forum: Perjuangan Hak Asasi Manusia: Antara Agama Tanpa Kebebasan dan Kebebasan Tanpa Agama
Anjuran: Pemuda PAS Lembah Pantai
Tarikh: Khamis, 17 April 2014
Masa: 800 - 1100 PM
Tempat: Dewan Parameswara, Shah's Village Hotel

Antara perkara utama yang menjadi pertelingkahan antara pelbagai gerakan Islam di Malaysia adalah isu Hak Asasi Manusia. Hak Asasi Manusia seringkali dikaitkan dengan agenda Barat yang mempunyai agenda anti-agama.
Forum ini akan bertujuan membawa hadirin untuk melihat huraian dan hujah oleh setiap panelis yang mewakili ideologi berbeza dalam memperdebatkan tentang hak asasi manusia dan hubungannya dengan permasalahan dalam agama.
Forum ini menampilkan tiga orang tokoh daripada tiga organisasi berbeza. PAS diwakili Dr Zuhdi Marzuki, Ketua Pegawai Operasi (COO) di Pusat Penyelidikan PAS Pusat, Tuan Haji Aminuddin Yahaya, Timbalan Presiden ISMA dan Dr Ahmad Farouk Musa, Direktor, Islamic Renaissance Front. Saudara Dr Zulqarnain Lukman dari Jabatan Undang-Undang dan Hak Asasi Manusia (JUHAM) Dewan Pemuda PAS akan bertindak sebagai moderator.

Program:
800-820PM: Pendaftaran
820-830PM: Ucapan alu-aluan moderator ( Dr Zulqarnain Lukman )
830-850PM: Ucapan oleh Dr Zuhdi Marzuki
850-910PM: Ucapan oleh Tuan Haji Aminuddin Yahaya
910-930PM: Ucapan oleh Dr Ahmad Farouk Musa
930-1100PM: Perbincangan
1100PM: Bersurai

Untuk sebarang pertanyaan sila hubungi:
Saudara Nik Abdul Razak : 011.3911.8794
Saudara Khalid Ismath: 010.275.9683
When & Where

shah's village hotel
3&5, Lorong Sultan,
petaling jaya, selangor 46200
Malaysia

Thursday, April 17, 2014 from 8:00 PM to 11:00 PM (Malaysia Time Malaysia (Kuala Lumpur) Time)
Add to my calendar
Organizer
IRF echoes the voice of reason and compassion, and is committed to liberating the Muslim mind from rigid orthodoxy and conservatism. IRF is also dedicated to the revival and reform of Islamic thought and appreciation in order to enable the Ummah to confront their present challenges more meaningfully towards the progress and happiness of all.