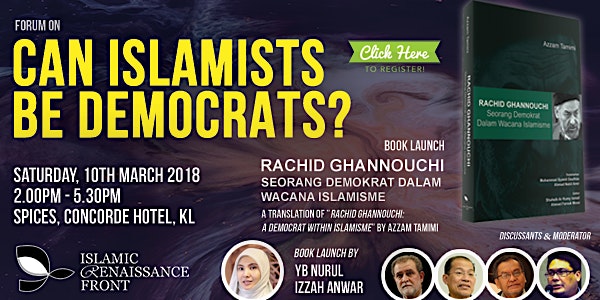 Forum On "Can Islamists Be Democrats?
When and where
Location
Concorde Hotel Kuala Lumpur 2 Jalan Sultan Ismail Kuala Lumpur, Wilayah Persekutuan Kuala Lumpur 50250 Malaysia
Description
Date: Saturday, 10th May 2018
Time: 2.00PM – 5.30PM
Venue: Spices, Concorde Hotel, KL
Speaker:
Dr Azzam Tamimi
Discussants:
YB Saari Sungib
Dr Dzulkefly Ahmad
Moderator:
Dato' Dr Ahmad Farouk Musa
Book Launch of: "Rachid Ghannouchi: Seorang Demokrat Dalam Wacana Islamisme" by YB Nurul Izzah Anwar. A translation of "Rachid Ghannouchi: A Democrat Within Islamism" by Azzam Tamimi
Organized by:
Islamic Renaissance Front (IRF)
Islamism or 'political Islam', refers to a wide variety of often competing movements that treat Islam as a central tenet of a political project. And an Islamist is a person who advocates a political agenda where the application of Sharia is central. Hence all Islamists are Muslims though not all Muslims are Islamists.
But the failure of the legalist approach of Egypt's Muslim Brotherhood has had a significant impact on the way a young generation, see institutions and political systems. For the Islamists among them, it seemed that despite their efforts to understand and play by the rules, they would never be accepted. The masses were still sceptical that they would turn democracy to become an autocracy.
It was not surprising then, Ghannouchi's Ennahda decided to separate politics from religion and proclaimed that there is no room left for 'political Islam' within the country's democratic constitution. Ghannouchi boldly says: 'We are Muslim Democrats; not Islamists!'
And here, the Muslim political rivalry in this country has also triggered the birth of a new group; the Muslim Democrats, from the womb of the Islamists. These two groups now are competing by using a different approach in getting the support of the people. While the Islamist group is continuing to champion its Islamic State agenda and the implementation of Sharia as a political ambition, the Muslim Democrats recognise democracy and freedom as the basis of their struggle.
Without doubt, this change from Islamist to that of Muslim Democrat - albeit by the formation of a new post-Islamist party - is an exciting development in this country for it somehow shows the maturity of the Islamists to embrace liberal democracy, multiculturalism, and pluralism to become Muslim democrats. This forum will address and discuss this phenomenon, of the changing trend and landscape in Muslim politics post-Arab Spring, within and without.
Programs:
2.00-2.30: Registration
2.30-2.40: Opening speech by Dr Julia Sveshnikova
2.40-3.00: Book Launch of "Rachid Ghannouchi: Seorang Demokrat Dalam Wacana Islamisme" by YB Nurul Izzah Anwar. A translation of "Rachid Ghannouchi: A Democrat Within Islamisme" by Azzam Tamimi
3.00-3.10: Speech by moderator, Dato' Dr. Ahmad Farouk Musa
3.10-3.50: Speech by Dr Azzam Tamimi
3.50-4.10: Speech by YB Saari Sungib
4.10-4.30: Speech by Dr Dzulkefly Ahmad
4.30-5.30: Discussion
5.30 : Tea
Speakers' Biographies:
Dr Azzam Tamimi is a British Palestinian academic and political activist. He currently is chairman and editor in chief of Ahiwar TV Channel. He is the director of Institute of Islamic Political Thought in London and appears regularly on al-Jazeera, Press TV and other Arabic and English language television stations, and frequently publishes opinion pieces in the Guardian. He is also a prominent member of the Muslim Association of Britain and the Stop the War Coalition. Dr Azam Tamimi has written several books on Middle Eastern and Islamic politics, including Rachid Ghannouchi: A Democrat within Islamism and Hamas: A History from Within. Dr. Azzam was born in 1955 and lived in Hebron in the Palestinian Territories until he was seven, when his family moved to Kuwait. After high school, Dr Azzam moved to London for college, receiving a B.S. in Combined Sciences in 1979 from the University of Sunderland. He received a Ph.D. in Political Theory from the University of Westminster, London in 1998.
YB Saari Sungib is the Selangor State Assembly Member of the 2013-2018 session for the N18 Hulu Kelang state constituency from the National Amanah Party (AMANAH). In the AMANAH party, he is the Chief of the AMANAH Gombak, the Deputy Chairman of Selangor State Government and the Head of the Da'wah Bureau of AMANAH since 2015. Before joined politics, he was a prominent da'wah figure and also a freedom fighter in Malaysia. He led Jamaah Islah Malaysia (JIM), a da'wah, social, and political movement, as president from 1990 to 1999. He was awarded a special award by Amnesty International in 2001 for his contribution in defending human rights. From 1986 to present, he has written over 30 books covering the issue of da'wah, societal reform and human rights.
Dr. Dzulkefly Ahmad is the Strategy Director of Parti Amanah Negara (AMANAH), an Islamist Democrat and former MP for Kuala Selangor. He was a trained Toxicologist from the Imperial College, UK. He has alos authored Striving For Change (The Blindspot Series) (2012) and Najibnomics: Rahmat Atau Malapetaka? (2016). Dr Dzulkefly was a former Director for PAS Research Center and an executive member for PAS. He is a prominent Islamist leader that promotes Islamist Democrat agenda even while in PAS before.
Dato' Dr Ahmad Farouk Musa is a Chairman and Director of the Islamic Renaissance Front, an intellectual movement and think-tank promoting reform and renewal in Islam, democracy, good governance and human rights. He is actively involved in civil society and the emerging discourse on post-Islamism. He is also involved in interfaith dialogues especially with regard to Christian-Muslim relations and intra-faith dialogues especially the Shi'i-Sunni discourse. He has presented papers at numerous international meetings including the latest at the Symposium on Islam and Contemporary Issues in Tehran, Iran, in March 2017. Professionally, he is an academic at the School of Medicine, Monash University Malaysia and a trained Cardiothoracic Surgeon. He is currently a Commissioner at the Commonwealth Initiative for the Freedom of Religion or Belief (CIFoRB) based in Westminster, London. He is also a Director at the Centre for Combating Corruption and Cronyism (C4) and was recently appointed as a Research Fellow at Sekolah Tinggi Filsafat Islam Sadra (STFI Sadra), Jakarta, Indonesia. He was a former Deputy-Chairperson of BERSIH 2.0, a strong civil movement working for a free and fair election.