Description
Are you looking to grow your influence and network with change makers in the Bay Area? Have you been curious about platforms to expand your voice while learning more about the fields of business and STEM? Would you like to get experts' advice on climbing the corporate ladder? - Join us on March 14th for a celebration of influence amongst empowered immigrants!
'Forum of Immigrant Influencers of Silicon Valley' is Femigrants Foundation's second anniversary event. This will be an evening of female and male immigrants coming together to share their inspirational stories of growth and change.
You will be educated by various guest panelists and one very special keynote speaker who are all leaders in their industries. Whether you looking to learn more in the technical or non-technical space, this is the place you can have both exposure to both.
This event is centered around influence, growth marketing, brand awareness, diversity and inclusion, climbing the corporate ladder, education, and professional networking and is the perfect environment to take your next steps towards expanding your own influence.
Panel (1) Topics to be discussed:
Career Development: Land a C-Level Position.
- Reinventing you: Create new opportunities for yourself and make your effectiveness in a management role
- Transition into a managerial role: Find a positive leadership style
- Advance your leadership skills: Develop situational awareness and optimize cross-team communication
- Toughest challenges and lessons learned: Expand problem solving skills and move forward, and more
Panel (2) Topics to be discussed:
- Growth marketing: Attract more engaged customers
- Brand awareness: Create user-generated content about brands
- Boost: Give voice to the voiceless
- Empowerment: Use voice to empower diverse immigrant women and lift up others
- Social Impact: Create scalable, positive impact through social entrepreneurship and more
AGENDA
6pm-6:30pm Registration & Networking
6:30pm-6:45pm Welcoming
6:45pm-7:15pm Keynote
7:15pm-7:45pm Panel (1) "Navigating Workplace Culture: Your path to becoming a corporate leader"
7:45pm-8:15pm Panel (2) "Social Media for Social Good: How to Boost Awareness for Positive Impact
8:15pm-8:45pm Networking
8:45pm-9pm Closing
Our confirmed speakers are influential immigrants from Fortune 500 companies such as Facebook and Microsoft, Google, etc. We also confirmed founders and social entrepreneurs from various industries.
SPONSORS
Special thanks to our main sponsors WeWork and First Republic Bank for sponsoring our event!
SPEAKERS & MODERATORS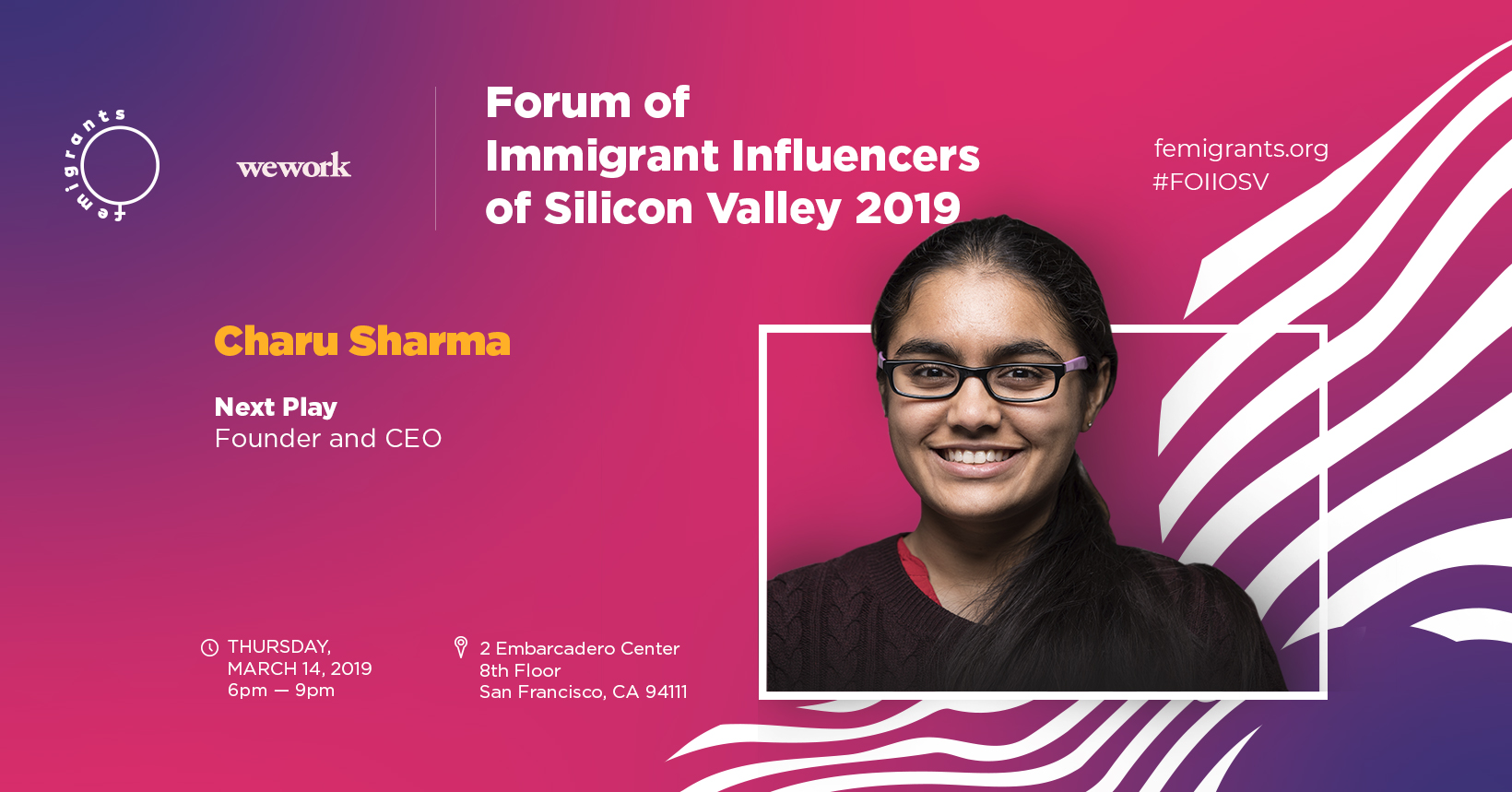 Panel Speaker: Charu Sharma, Femigrants from India. Charu is a 3rd time startup founder, author of 3 books, educator of 1M women to start their businesses & winner of 5 national awards. She was named a Power Woman alongside Oprah, stopped a train robbery in India when she was 9, and has been to all 7 continents.
Currently, she is a Founder and CEO of Next Play, an advanced AI app that facilitates internal mentorship matching for company employees at Lyft, Square, Gilead and Splunk to name a few.
The App is a chatbot that personalizes employee career and leadership development with the goal of attracting, developing, and retaining more diverse talent. Next Play works with users to identify goals and preferences, match mentees and mentors at scale, and guide employees to achieve their goals. Next Play works with users to identify goals and preferences, match mentees and mentors at scale, and guide employees to achieve their goals. HR directors gain insight into employee engagement data with Next Play's breakthrough AI Technology.
* * * * * * * * * * * * * * * * * * * * * * * *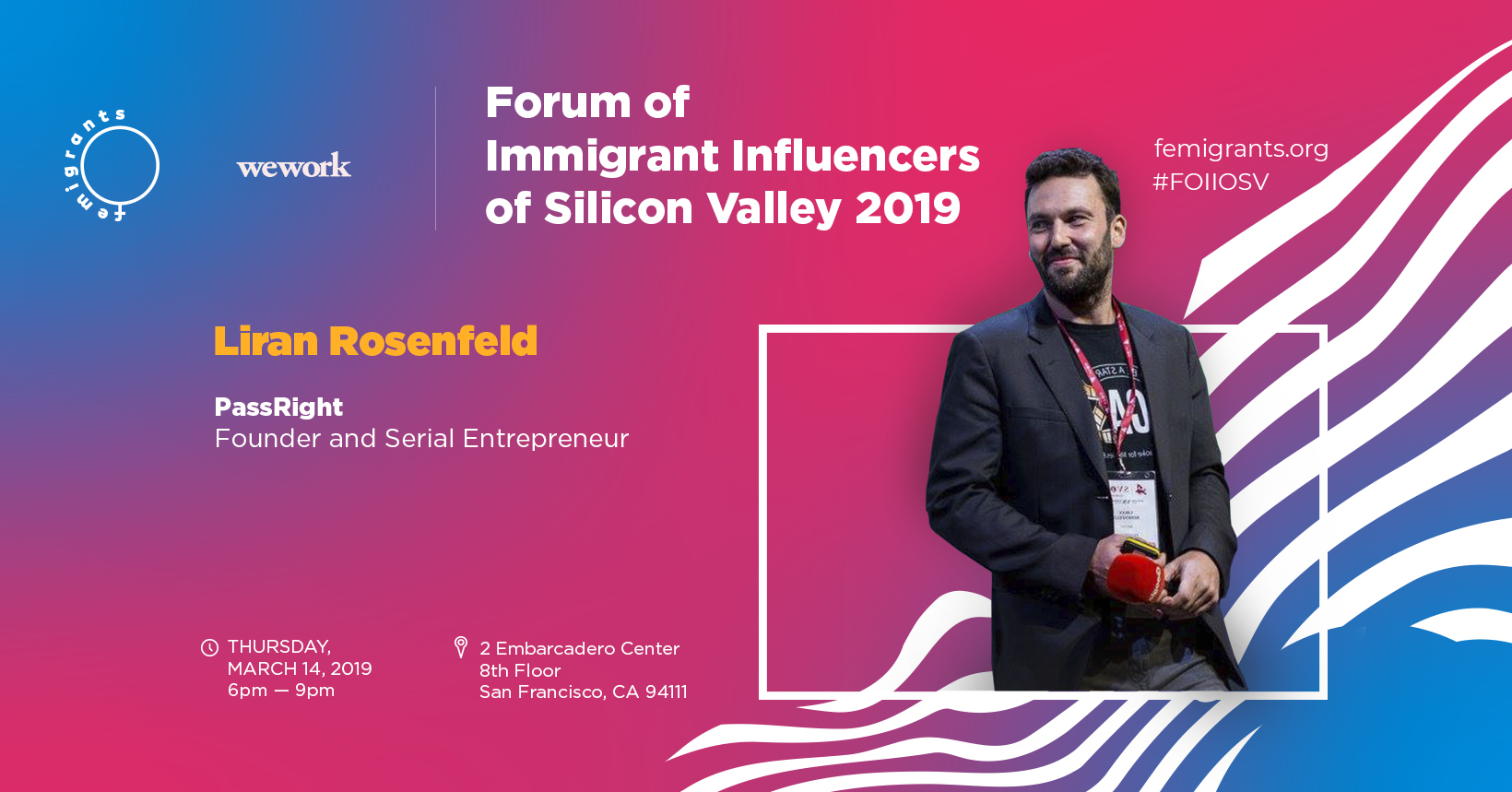 Panel speaker: Liran Jakob Rosenfeld, an Immigrant Changemaker from Israil, a Serial Entrepreneur & Founder of PassRight.
Liran lived most of his grownup life in Europe & Latin America and now in the US. After completing his mandatory military service as a paramedic, he spent the last 17 years going through immigration in different countries wherever he started companies.
Liran holds a Polish, Uruguayan and Israeli Passports as well as a green card in the United States and permanent residency in Argentina.
Thee years ago when Liran immigrated to the US, he started PassRight, a tech-enabled immigration platform operating four entities that are actively helping professional immigrants including an immigration law firm, a tech company, an agency that sponsors foreign talents and a fund that invests in the immigration costs of professional foreign female talents.
If you would like to learn more about on how to ...
- get sponsorship as a talented immigrant
- get funds to cover your immigration cost
- expand your career in the US
- get a professional service from PassRight to settle in America
- learn more about global citizenship and more...
don't miss an opportunity to meet Liran in person!
* * * * * * * * * * * * * * * * * * * * * * * *
Panel Speaker: Gina Malaver, Director, Microsof Cloud. Femigrants from Colombia.
Gina's professional journey began in her native city Bogota where she pursued a Bachelor's in Mechatronics (Mechanical, Computer and Electronics) Engineering. Then she moved to Miami, FL. to complete her bachelor's degree in Electrical Engineering and graduated with honors. After graduation, she worked as a Software Developer in a small company and then went on to work as an Electrical Engineer at Motorola.
A few years later, Gina wanted to have greater impact in her professional career. She had a passion for large-scale engineering problems and globalization. Thus, she completed a masters of Logistics Engineering and Supply Chain Management at MIT.
After graduating from MIT, Gina moved to Seattle. She worked at Amazon where, along with other roles, she owned the global inventory planning of Kindle accessories. Gina joined Microsoft 4 years ago. She currently leads a team responsible for delivering new business initiatives in the cloud. In her spare time, Gina follows her passion to support strategies that create a more diverse and inclusive culture.
Gina is traveling all the way from Seattle to support Femigrants Foundation's upcoming second anniversary event and empower diverse immigrant women. Thank you Gina for your incredible support!
* * * * * * * * * * * * * * * * * * * * * * * *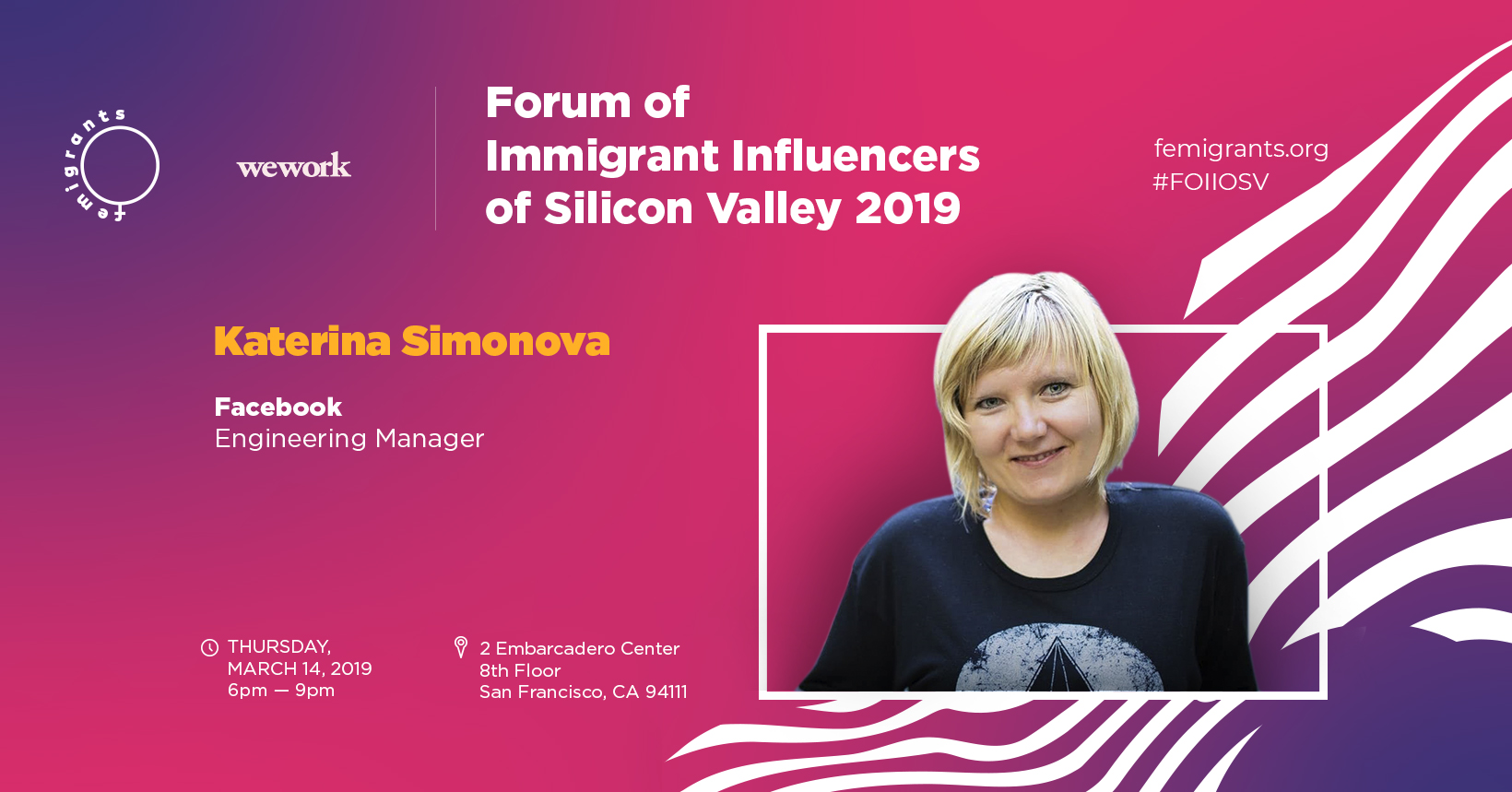 Panel Moderator: Katerina Simonova, Engineering Manager, Facebook. Femigrants from Russia.
Katerina moved to the United States in 2004. She received a grant from the University of Vermont to pursue Master's degree in Computer Science, and completed her thesis on security of wireless sensor networks.
After completing her Master's degree, she joined Microsoft as an engineer on SQL Server engine group. She worked as Program Manager and Technical Program Manager before joining Facebook.
She supports several Release engineering teams in Infrastructure as an Engineering Manager at Facebook. Katerina is a host of internal Facebook video series on leadership that she has started as a side project.
More speakers will be confirmed soon.
We sold 25% of our tickets. Mark your calendar and get your ticket fast!
-------------------------------------------------------------------------------------------------------------------------
SPONSORSHIP OPPORTUNITIES
Did you know that 49% of consumers depend on influencer recommendations?
Influencer marketing is the fastest-growing online customer-acquisition method. As a sponsor of this event, you will have exposure to over one hundred event attendees who will gain exposure to your business. In addition to the event attendees, you will also gain access to leading influencers in the industries of business and STEM. This is a great opportunity to expand your brand and social awareness.
How to sponsor our event
Provide catering for the event

Donate giveaway items

Provide news coverage of the event

Advertise the event

Provide printed material for the event



Reasons to sponsor our event
Gain exposure to an audience of 100+ event attendees

Get access to influencers and leading decision makers to generate new business leads

Engage one- on- one with people looking for relevant product solutions

Increase brand and social awareness via exposure to a relevant consumer community

Receive complimentary tickets to the event

Network with your community and increase your company profile and brand awareness

Positively impact the San Francisco Bay Area immigrant community
Interested in becoming a sponsor for this event? Please email contact@femigrants.org. We're looking forward to working with you!
#influentialimmigrants #immigrantinfluencers #immigranchangemakers #successfulimmigrants #successstoriesofimmigrants #femaleimmigrants #immigrantsinbusiness