Description
Are you looking to grow your influence and network with change makers in the Bay Area? Have you been curious about platforms to expand your voice while learning more about the fields of business and STEM? Would you like to get experts' advice on climbing the corporate ladder? - Join us on March 14th for a celebration of influence amongst empowered immigrants!
'Forum of Immigrant Influencers of Silicon Valley' is Femigrants Foundation's second anniversary event. Femigrants is an online platform of diverse immigrant influencers, entrepreneurs, changemakers and professional leaders in STEM. This will be an evening of female and male immigrants coming together to share their inspirational stories of growth and change.
You will be educated by various guest panelists and one very special keynote speaker who are all leaders in their industries. Whether you looking to learn more in the technical or non-technical space, this is the place you can have both exposure to both.
This event is centered around influence, growth marketing, brand awareness, diversity and inclusion, climbing the corporate ladder, education, and professional networking and is the perfect environment to take your next steps towards expanding your own influence.
This is NOT all! We have gifts from our sponsors! Book your ticket now to enjoy friendly environment with full of food and gifts!
PS: Special thanks to Anna Seslavinskaya for these nice flyers!
NOTE: Tickets are NON-refundable. However you can donate your ticket to the person who is interested in our event.
SPONSORS
Special thanks to our main sponsors WeWork , First Republic Bank , LaLe Sf Restaurant, Sajj Mediterranean and Mackin Consultancy for supporting our event!
* * * * * * * * * * * * * * * * * * * * * * * * * * * * * * * * * * * * * * * * * * * * * * * * * * * * *
Panel (1) Topics to be discussed:
Career Development: Land a C-Level Position.
- Reinventing you: Create new opportunities for yourself and make your effectiveness in a management role
- Transition into a managerial role: Find a positive leadership style
- Advance your leadership skills: Develop situational awareness and optimize cross-team communication
- Toughest challenges and lessons learned: Expand problem solving skills and move forward, and more
Panel (2) Topics to be discussed:
- Growth marketing: Attract more engaged customers
- Brand awareness: Create user-generated content about brands
- Boost: Give voice to the voiceless
- Empowerment: Use voice to empower diverse immigrant women and lift up others
- Social Impact: Create scalable, positive impact through social entrepreneurship and more
AGENDA
6pm-6:30pm Registration & Networking
6:30pm-6:45pm Welcoming
Remarks:
Ika Aliyeva. Founder of Femigrants Foundation

Jenny Lam. Education Advisor, City and County of San Francisco
6:45pm-7:15pm Keynote, Kwiri Yang
7:15pm-7:45pm Panel (1) "Navigating Workplace Culture: Your Path To Becoming a Corporate Leader"
7:45pm-8:15pm Panel (2) "Social Media for Social Good: How to Boost Awareness for Positive Impact"
8:15pm-8:45pm Networking
8:45pm-9pm Closing
Our confirmed speakers are influential immigrants from Fortune 500 companies such as Facebook and Microsoft, Oculus, etc. We also confirmed founders and social entrepreneurs from various industries.
-----------------------------------------------------------------------------
SPEAKERS & MODERATORS
REMARKS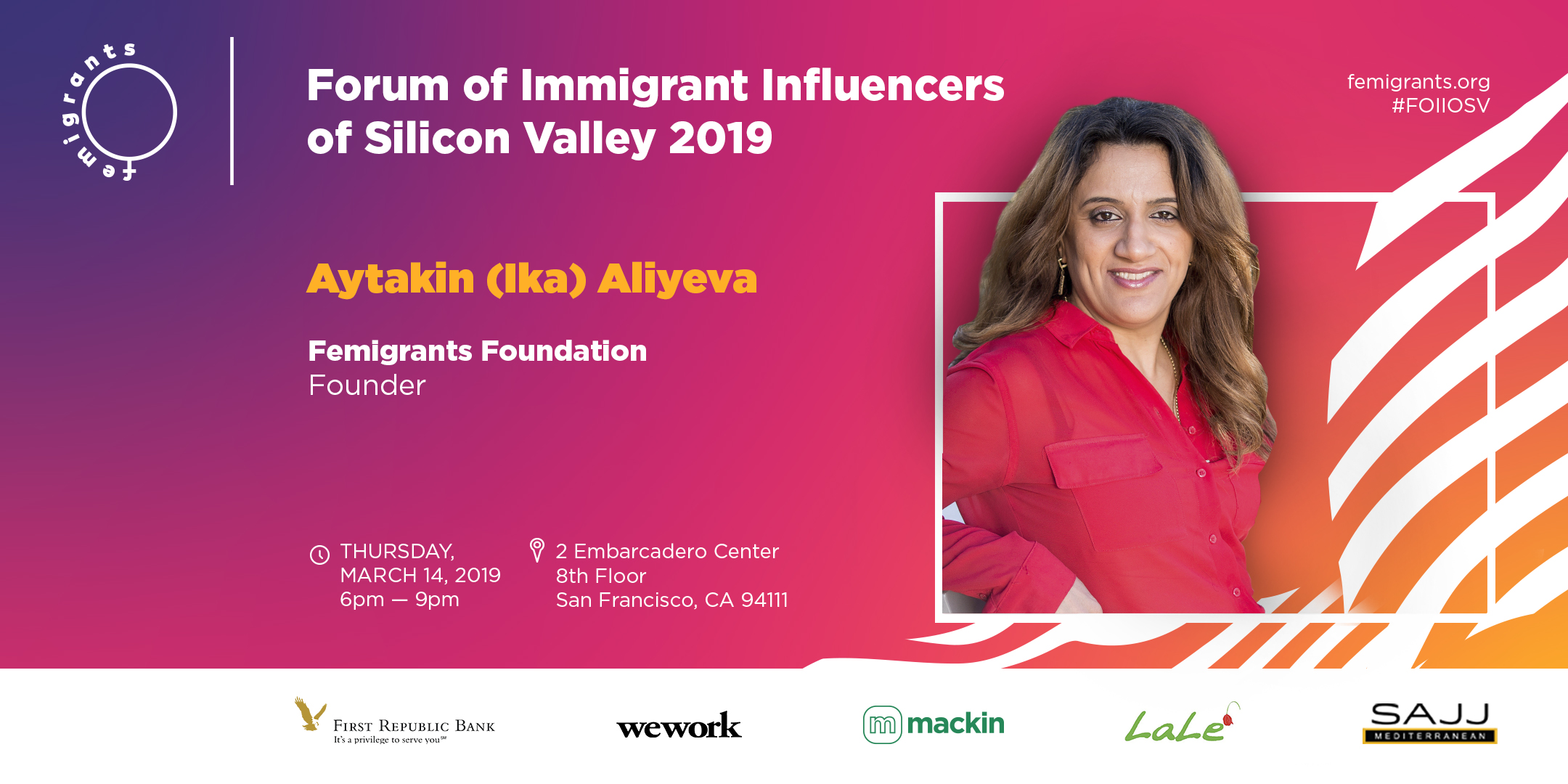 REMARK: Ika Aliyeva, Founder of Femigrants Foundation. Femigrants from Azerbaijan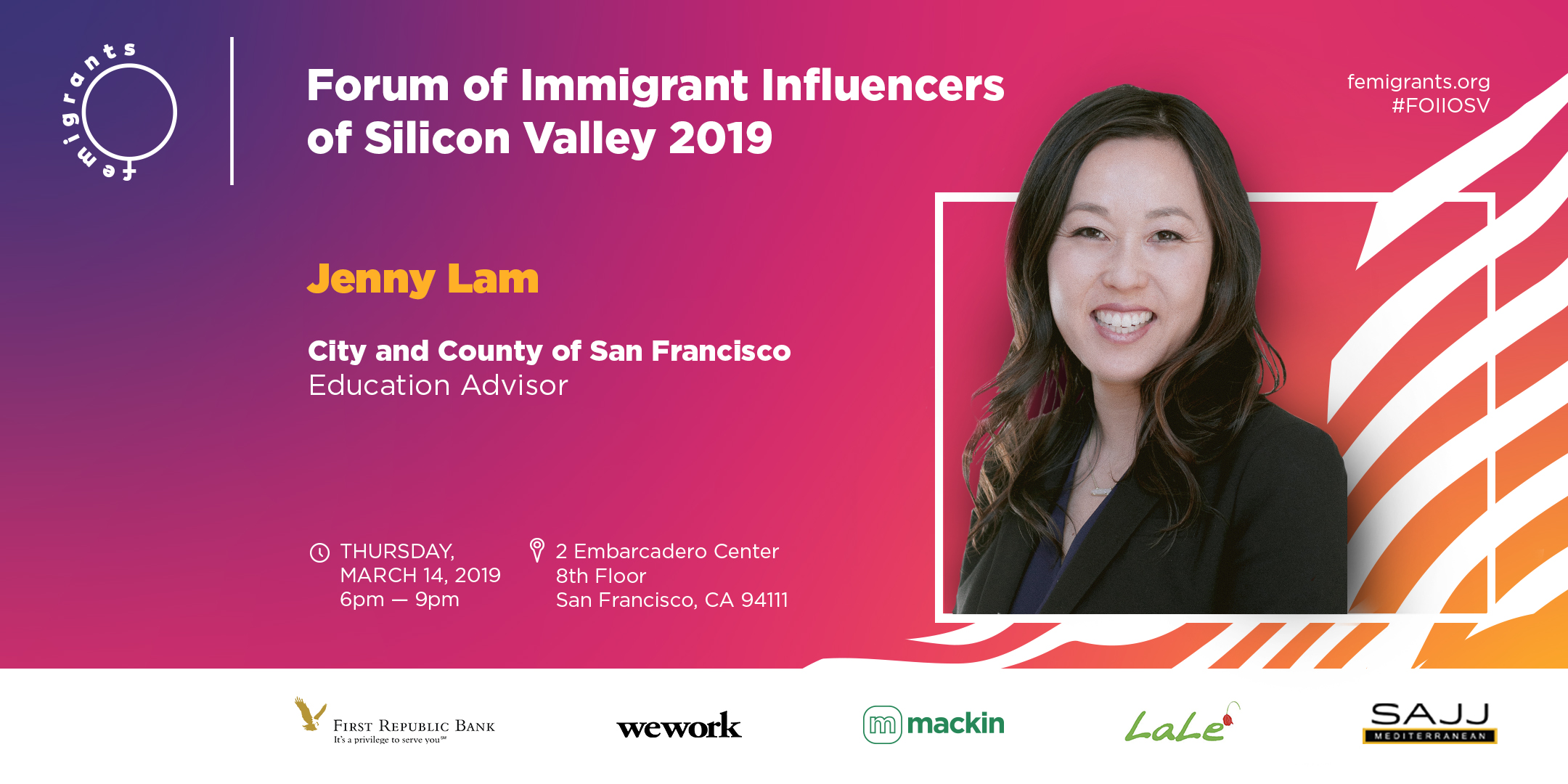 REMARK: Jenny Lam. Education Advisor, City and County of San Francisco.
A second-generation Chinese American and Bay Area local, Jenny has dedicated her career to public service and social change. Jenny is well-versed in legislative policy, advocacy campaigns, and strategic partnerships. She has served in a number of executive leadership positions with nonprofit organizations, including Chinese for Affirmative Action (CAA) in San Francisco.
Jenny was recently appointed by Mayor Breed to the San Francisco Board of Education in January 2019. The Board of Education is responsible for governance, policy and fiscal oversight of the San Francisco Unified School District. Further, the Board of Education appoints a superintendent of schools.
-----------------------------------------------------------------------------
KEYNOTE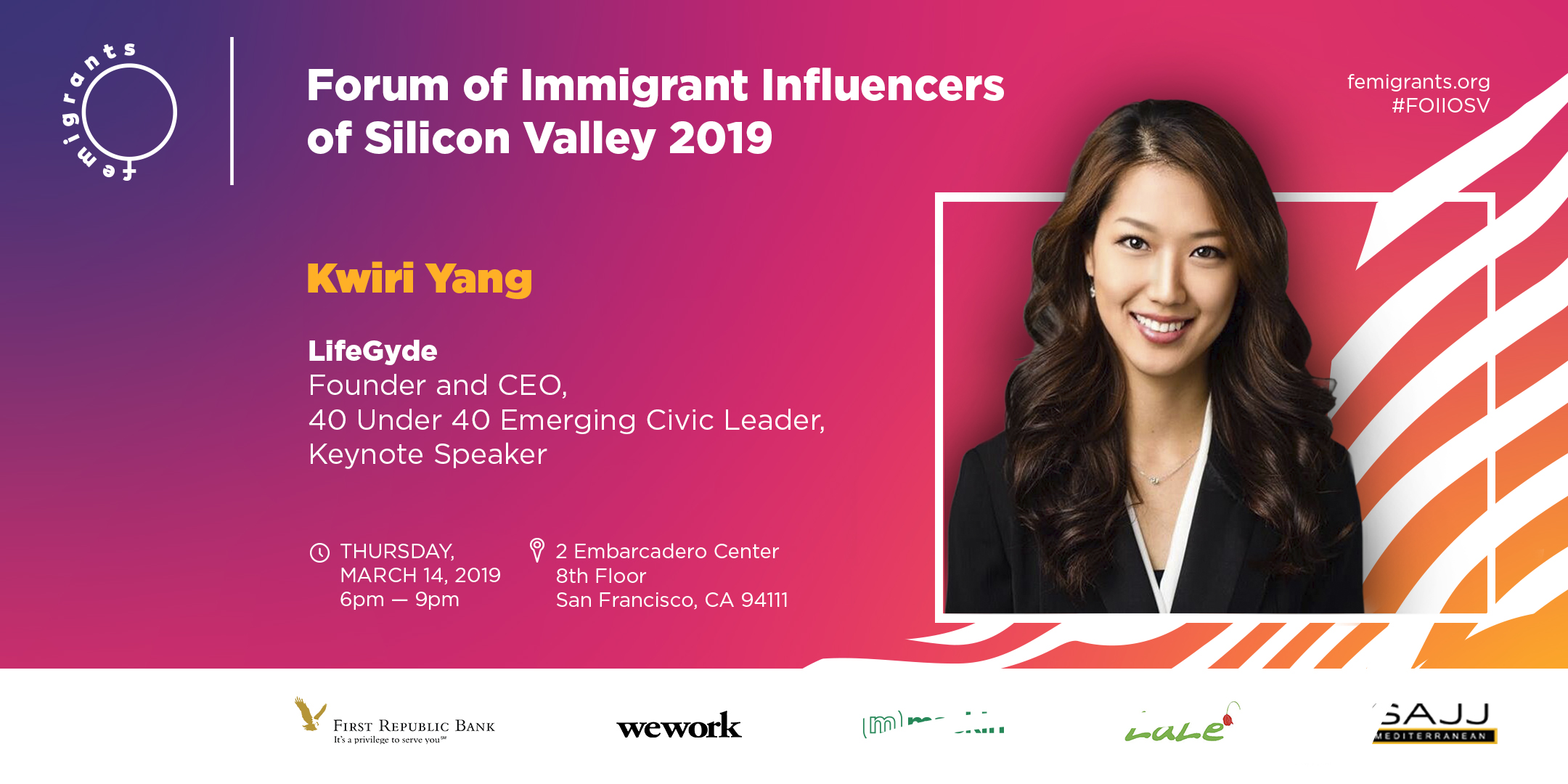 KEYNOTE SPEAKER: Kwiri Yang, Founder and CEO of LifeGyde. Femigrants from

Vanuatu.
Kwiri grew up in South Pacific called Vanuatu as the child of Korean immigrants. She moved with her family to United States 2 weeks before 9/11, leaving her in an immigration limbo for almost 10 years due to Homeland Security changes to the immigration process. During this time, she started her first business at the age of 16, reaching $3M in profit by the time she graduated from UCLA at age 19.
Her Company helped over 2,000 small and medium businesses primarily owned by immigrants. She built, scaled and sold 4 companies, including one to Inc. 500's #1 fastest growing company in the education technology space. She played a crucial role in getting the company to over $1bn in valuation with 4.4 million users and help created more than 500 jobs, dismantling the belief that immigrants take jobs away from citizens in America.
Kwiri is an entrepreneur and an activist who represents the voice of young immigrants in America, and was appointed as the delegate at the Annual Meeting of the World Economic Forum in Davos to speak on various panels.
Elected as youngest Board Director of the Los Angeles Area Chamber of Commerce, she represented more than 235,000 businesses in Southern California. Recognized as a 40 Under 40 Emerging Civic Leader, she commits her time to fostering the next generation of leaders in business, policy, and education, encouraging them to serve their communities and not be limited by a 9-digit social security number.
-----------------------------------------------------------------------------
Panel (1) "Navigating Workplace Culture: Your Path To Becoming a Corporate Leader"
Speaker: Gina Malaver, Director at Microsoft Cloud. Femigrants from Colombia.
Gina's professional journey began in her native city Bogota where she pursued a Bachelor's in Mechatronics (Mechanical, Computer and Electronics) Engineering. Then she moved to Miami, FL. to complete her bachelor's degree in Electrical Engineering and graduated with honors. After graduation, she worked as a Software Developer in a small company and then went on to work as an Electrical Engineer at Motorola.
A few years later, Gina wanted to have greater impact in her professional career. She had a passion for large-scale engineering problems and globalization. Thus, she completed a masters of Logistics Engineering and Supply Chain Management at MIT.
After graduating from MIT, Gina moved to Seattle. She worked at Amazon where, along with other roles, she owned the global inventory planning of Kindle accessories. Gina joined Microsoft 4 years ago. She currently leads a team responsible for delivering new business initiatives in the cloud. In her spare time, Gina follows her passion to support strategies that create a more diverse and inclusive culture.
Gina is traveling all the way from Seattle to support Femigrants Foundation's upcoming second anniversary event and empower diverse immigrant women. Thank you Gina for your incredible support!
* * * * * * * * * * * * * * * * * * * * * * * *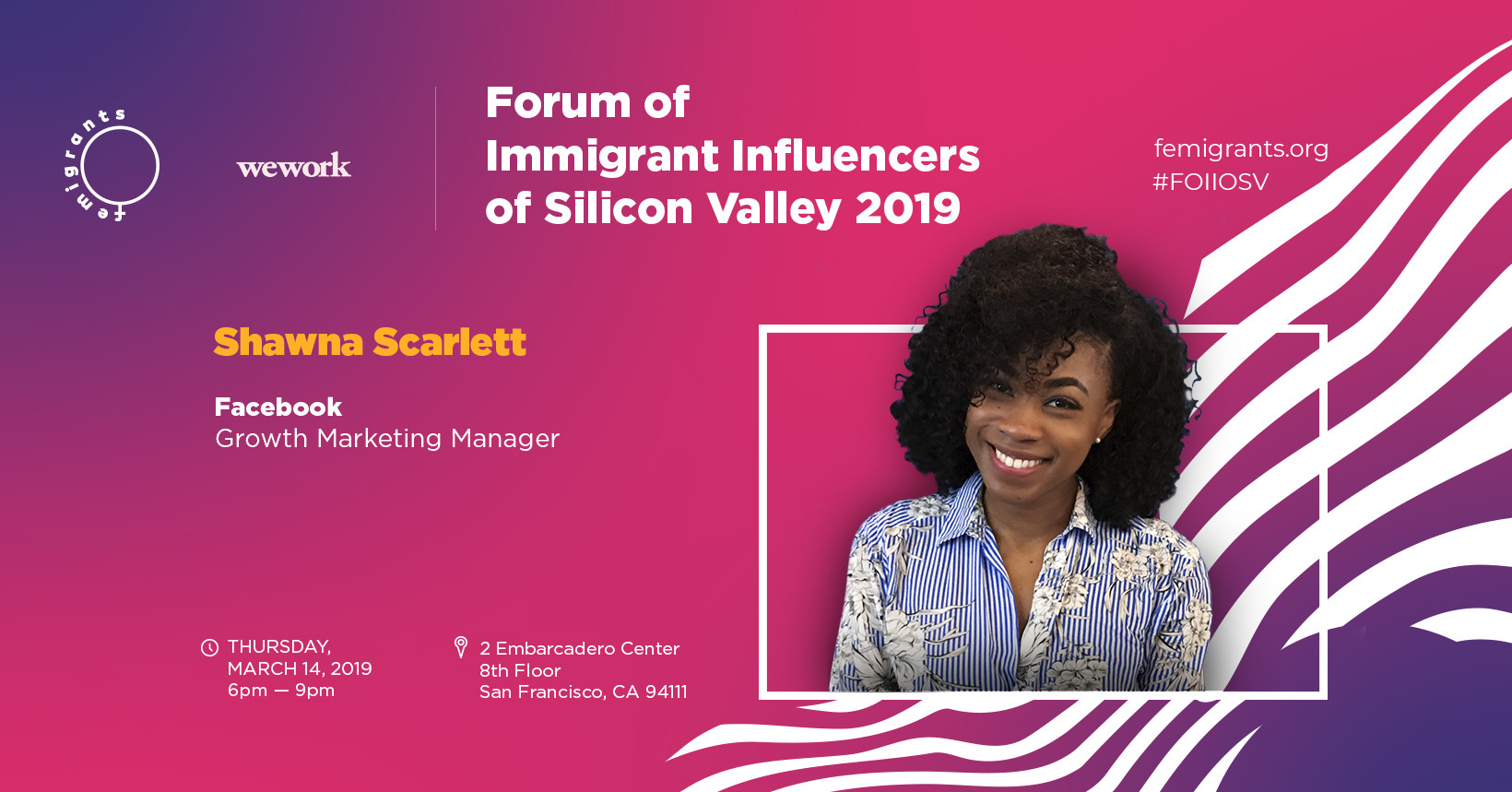 SPEAKER: Shawna Scarlett, Growth Marketing Manager at Facebook. Femigrants from Jamaica.
Shawna is a Growth Marketing Manager on the Scaled Growth Marketing Team within Facebook's Media Partnerships function. Femigrants from Jamaica. She drives global product adoption and retention at scale working alongside with a team of data scientists, engineers, product and program leads.
Prior to Facebook, Shawna worked at eBay and Uber. She led the E2E tactics across B2C clients such as Toys"R"Us, Babies"R"Us, Kate Spade, TUMI and NFL/MLB at eBay. She also led B2B/B2C programs for UberEats, Uber4Business.
Being born and raised on the island of Jamaica – she has an understanding of the complexities one faces in bringing their whole selves as an immigrant to the workplace, social interactions and relationships, and hopes her own story can help others navigating the same.
* * * * * * * * * * * * * * * * * * * * * * * *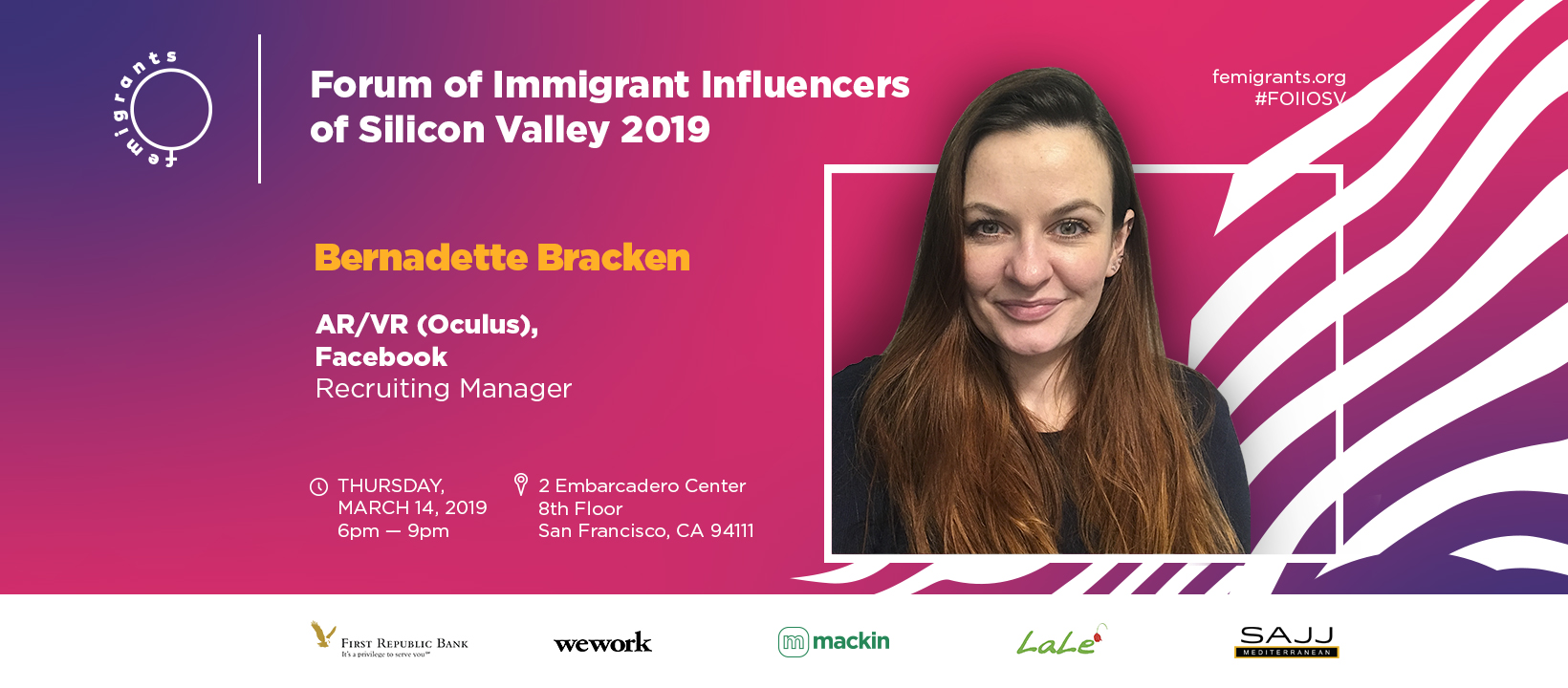 SPEAKER: Bernadette Bracker, Recruiting Manager at AR/VR (Oculus). Femigrants from Ireland.
Bernadette has been in the recruiting industry for thirteen years. Nine of those years have been in the tech industries like PayPal, Yahoo and Facebook. Bernadette is a native of Ireland and has lived in the Bay Area for the last four years.
She graduated B.A degree in Psychology & Archeology from NUIGalway, Ireland and a postgrad from Smurfit School of Business UCD, Ireland. Bernadette started her career in recruiting and has never looked back.
Been part of amazing tech companies has allowed her to gain global perspectives and indeed has allowed her to travel far and wide. Either you are looking for a new job opportunities and want to grow within the company, Bernadette is the right person to guide you in a right direction and answer to your questions.
* * * * * * * * * * * * * * * * * * * * * * * *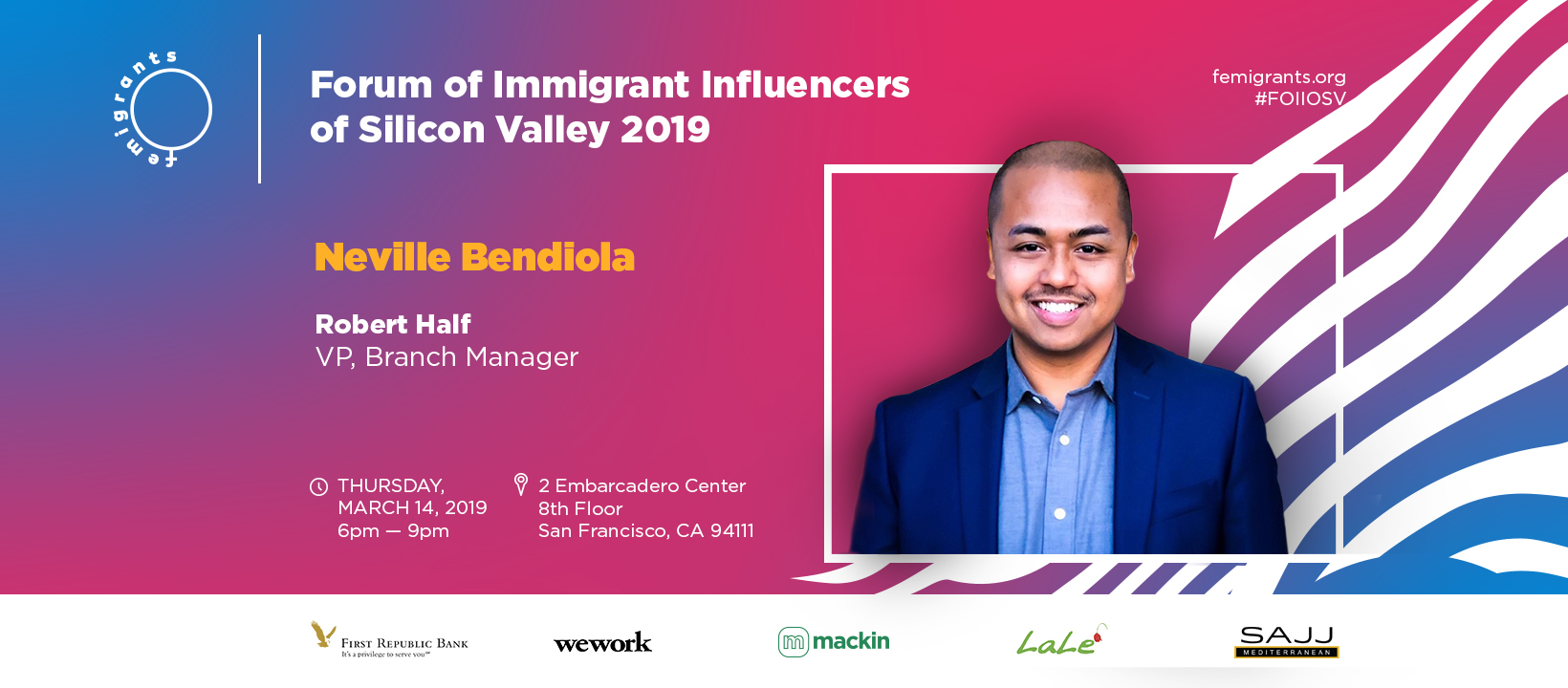 SPEAKER: Neville Bendiola, VP | Branch Manager at Robert Half. An immigrant from Philippines
Neville Bendiola is the Branch Manager for Robert Half, the world's first and largest specialized staffing firm. Neville oversees the accounting and administrative recruiting and staffing operations for the Accountemps and OfficeTeam divisions in the San Mateo branch.
Born in the Philippines, Neville immigrated with his family to San Francisco's Mission District at the age of one. His family relocated to Sacramento, where he earned his Associates Degree from Sacramento City College and then completed his Bachelor's Degree in Asian American Studies from San Francisco State University.
Neville joined Robert Half in 2004 as an Administrative Assistant and soon discovered his passion for helping job seekers find great job opportunities. In the past 15 years with Robert Half, he has held many leadership roles within the company has helped thousands of professionals find rewarding careers and companies the talent they need to be successful.
Neville has been recognized numerous times at Robert Half's annual awards event, Reach for the Stars for his outstanding leadership and growth of the business.
* * * * * * * * * * * * * * * * * * * * * * * *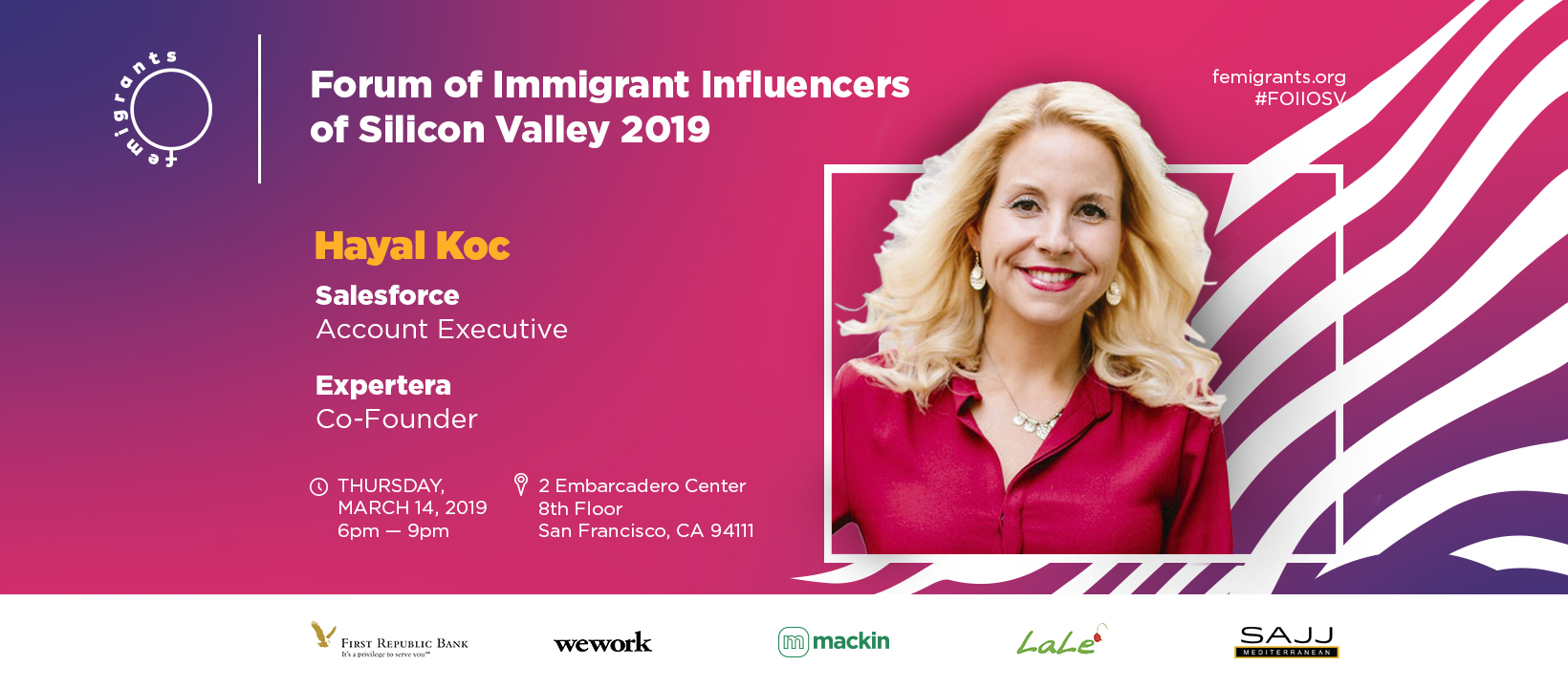 Moderator: Hayal Koc, Account Executive at Salesforce. Femigrants from Turkey.
Hayal is an Account Executive at Salesforce, where she helps companies grow and scale with best-in-class cloud technology.
Hayal is a global businesswoman who's lived in San Francisco, New York City, Madrid, and Istanbul, Turkey, where she's originally from. Prior to Salesforce, Hayal spent 6 years in Istanbul, Turkey where she co-founded and led the sales and business development of a start-up named Expertera. She remains a Board Member & Advisor today.
Previously, she spent several years in Strategy Consulting, where she advised global firms during M&A transactions and digital transformations. Hayal was selected as a top influencer on Twitter in 2018 and received an Entrepreneur Award from her undergraduate alma mater, Emory University, in 2017. She also has an MBA degree from NYU- Stern Business School. She loves modern art, photography and travel. She's been to 65+ countries, 44/50 states, and 6/7 continents thus far!
------------------------------------------
Panel (2) "Social Media for Social Good: How to Boost Awareness for Positive Impact"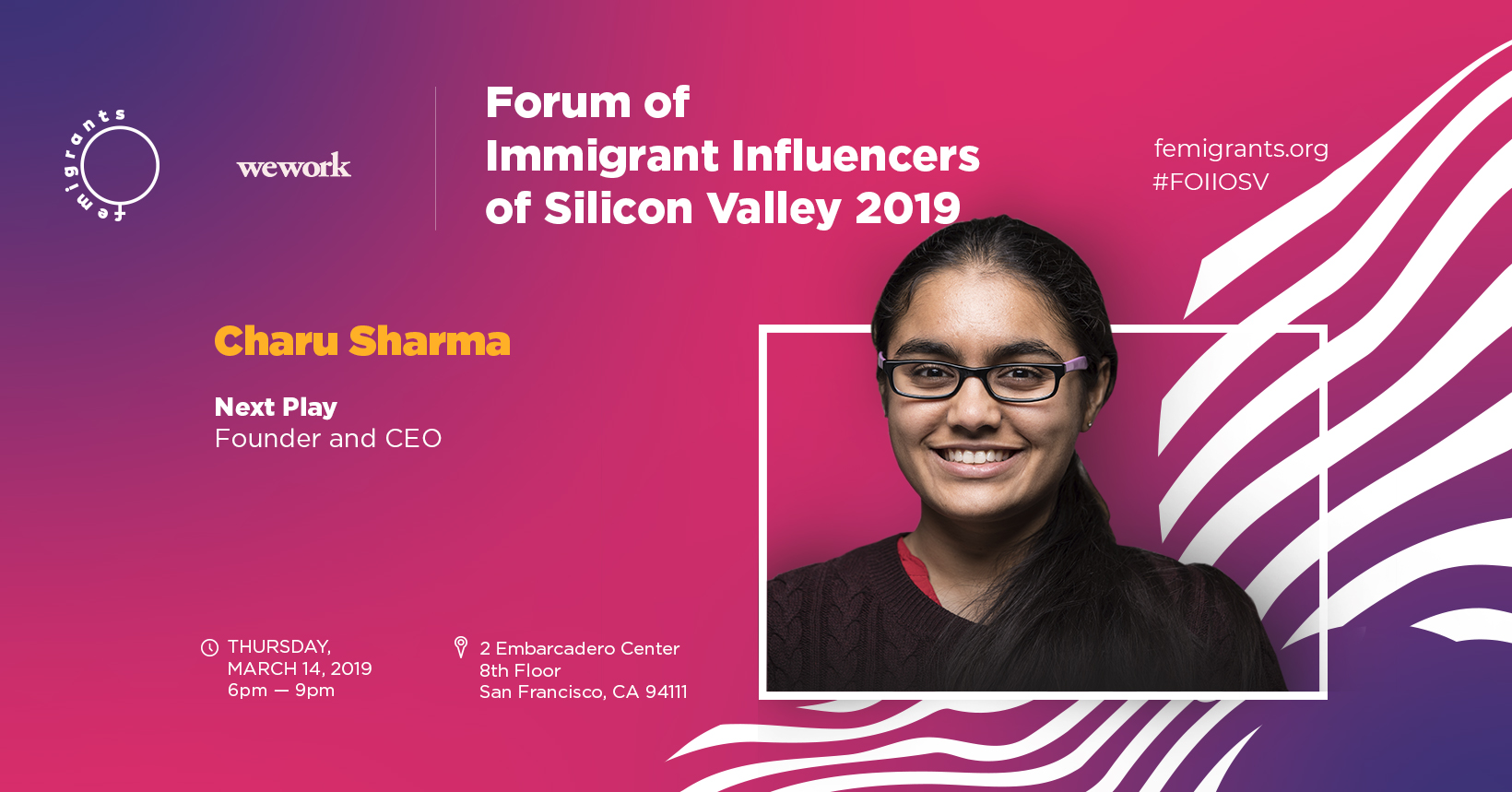 Speaker: Charu Sharma, Founder and CEO of Next Play. Femigrants from India.
Charu is a 3rd time startup founder, author of 3 books, educator of 1M women to start their businesses & winner of 5 national awards. She was named a Power Woman alongside Oprah, stopped a train robbery in India when she was 9, and has been to all 7 continents.
Currently, she is a Founder and CEO of Next Play, an advanced AI app that facilitates internal mentorship matching for company employees at Lyft, Square, Gilead and Splunk to name a few.
Next Play works with users to identify goals and preferences, match mentees and mentors at scale, and guide employees to achieve their goals. HR directors gain insight into employee engagement data with Next Play's breakthrough AI Technology.
* * * * * * * * * * * * * * * * * * * * * * * *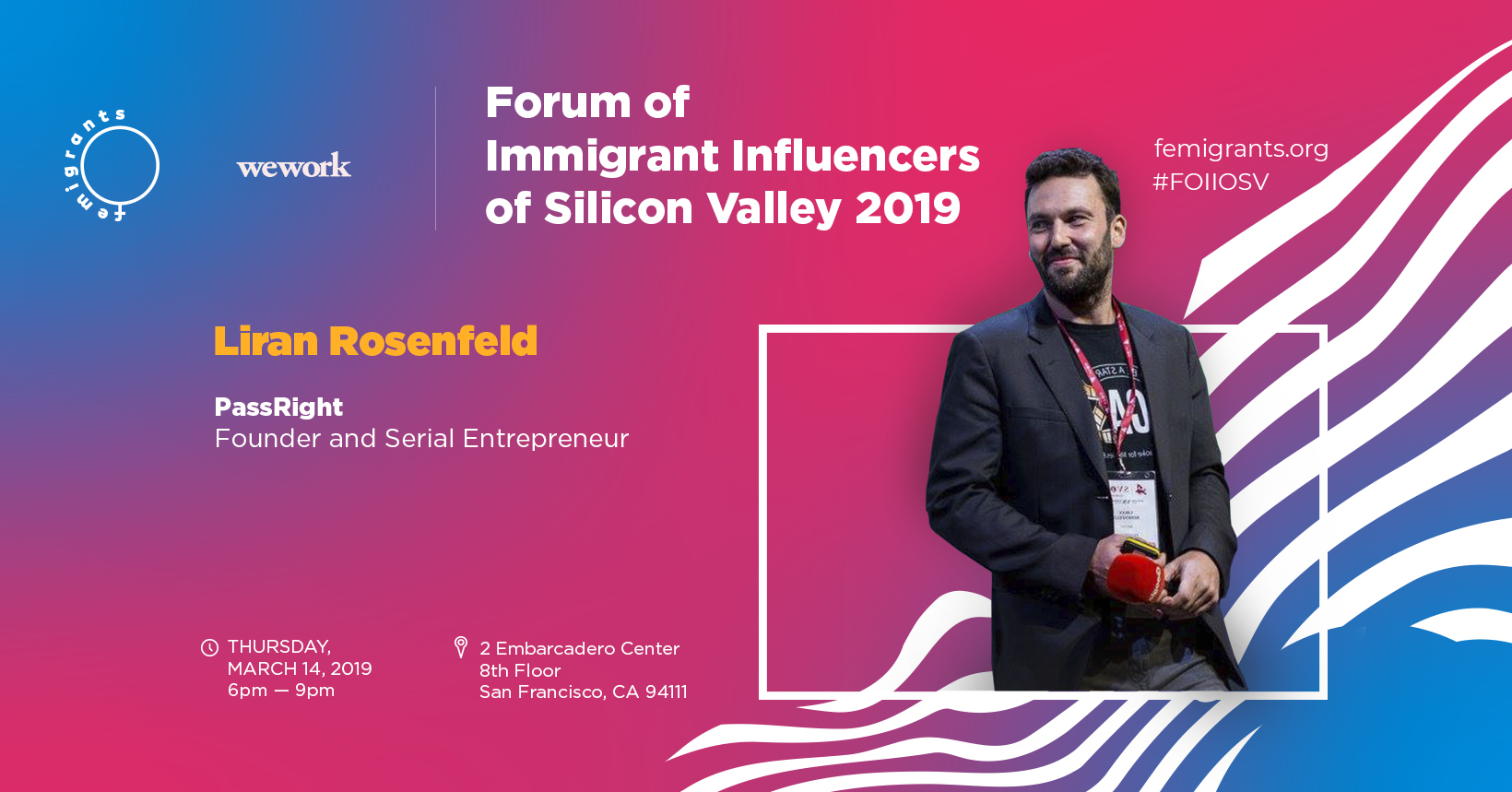 Speaker: Liran Jakob Rosenfeld, a Serial Entrepreneur & Founder of PassRight. An Immigrant from Israil.
Liran lived most of his grownup life in Europe & Latin America and now in the US. After completing his mandatory military service as a paramedic, he spent the last 17 years going through immigration in different countries wherever he started companies.
Liran holds a Polish, Uruguayan and Israeli Passports as well as a green card in the United States and permanent residency in Argentina.
Thee years ago when Liran immigrated to the US, he started PassRight, a tech-enabled immigration platform operating four entities that are actively helping professional immigrants including an immigration law firm, a tech company, an agency that sponsors foreign talents and a fund that invests in the immigration costs of professional foreign female talents.
If you would like to learn more about on how to ...
- get sponsorship as a talented immigrant
- get funds to cover your immigration cost
- expand your career in the US
- get a professional service from PassRight to settle in America
- learn more about global citizenship and more...
don't miss an opportunity to meet Liran in person!
* * * * * * * * * * * * * * * * * *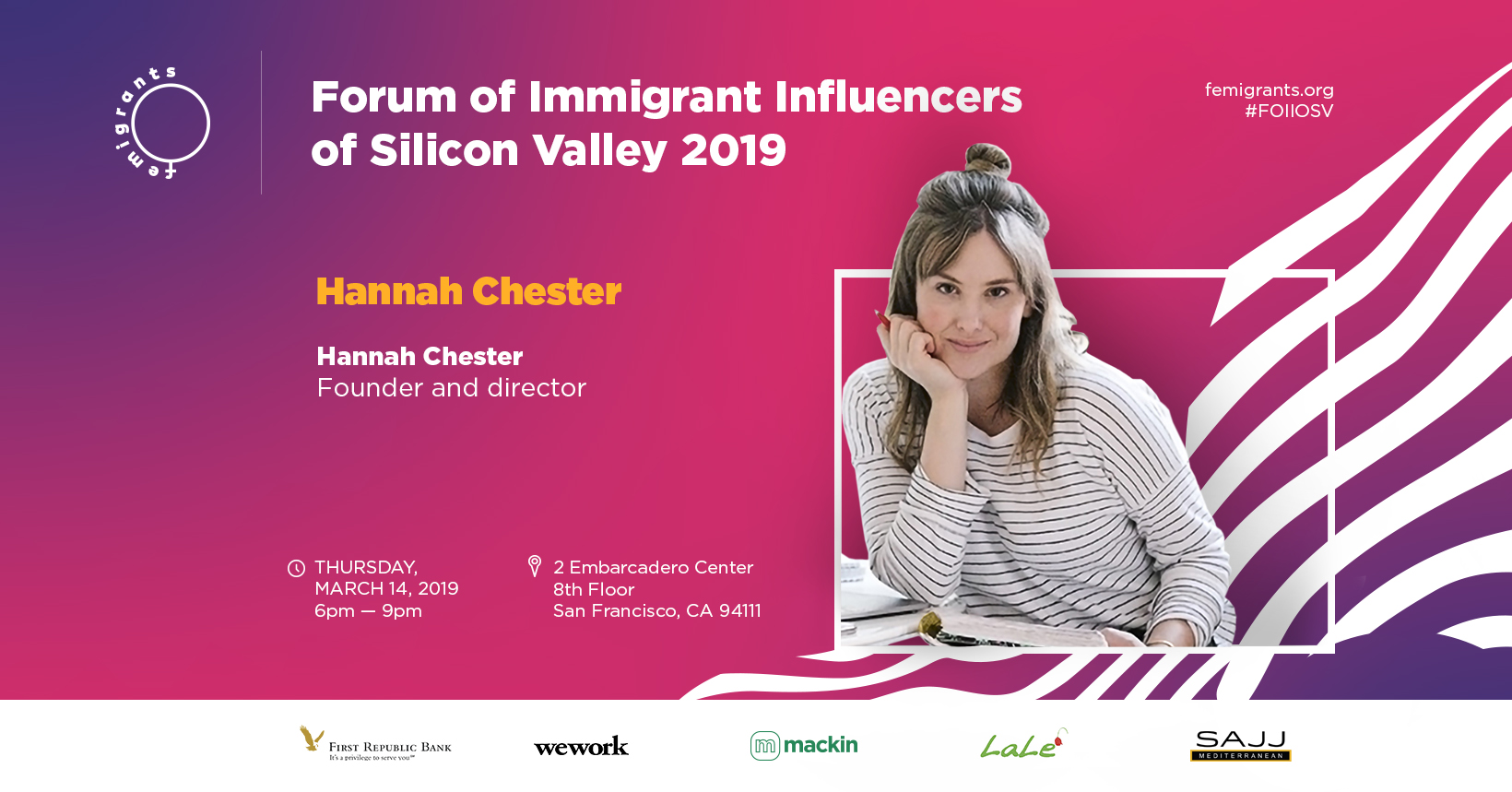 Speaker: Hannah Chester, Social Media Marketer and Content Strategist . Femigrants from Australia.
Hannah is a social media marketer and content strategist working with a range of clients in both the US and Australia in B2B and B2C spaces. With a 12-year history working with companies like Australian Labor Party, Random House Australia, Modern Weddings Australia, ShowPo as a marketer and freelance photographer, she is able to leverage her broad experience to help clients build their following, authority and influence online.
Arriving from Australia with her then-fiancee in 2012, Hannah is now a permanent resident juggling her husband, small daughter, two dogs, and expat life while building her network from the ground up to grow a thriving consultancy and agency.
She is looking forward to sharing insights on building connections and a career as a female immigrant in Silicon Valley.
* * * * * * * * * * * * * * * * * *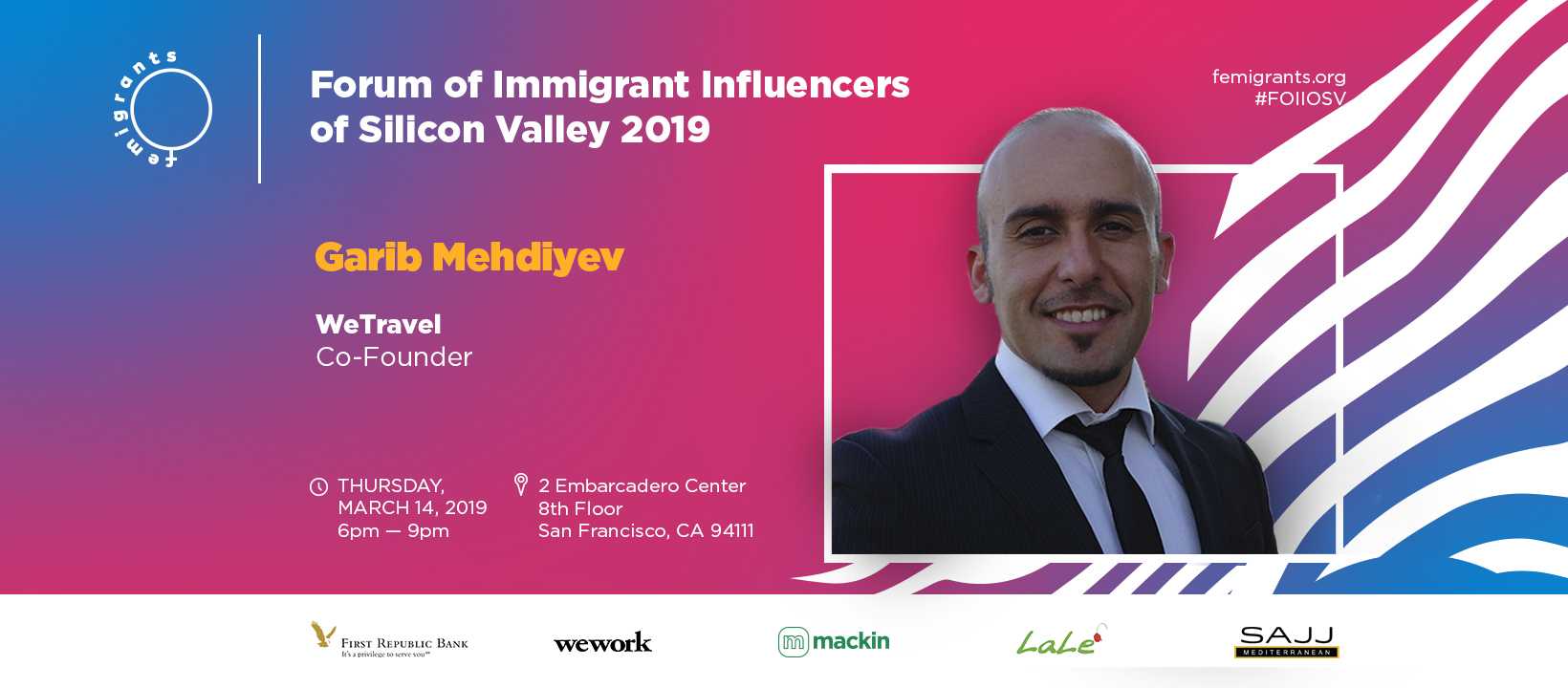 Garib Mehdiyev, Co-Founder of WeTravel Inc and TechAcademy (Immersive Coding bootcamp). An Immigrant from Azerbaijan
He started his first software business when he was 19, a control panel and billing system for ISP's and Hosting companies.
He moved to the US when he was 23. Upon arriving in the US in 2009, Garib founded and sold his first recycling business. His area of expertise is infrastructure technologies and fintech. Garib educates youngsters back in his country Azerbaijan to open a scalable startup to become a successful business owner.
Join Femigrants 2nd anniversary event on March 14 to Garib's success story and get the tips on launching a scalable startup.
* * * * * * * * * * * * * * * * * *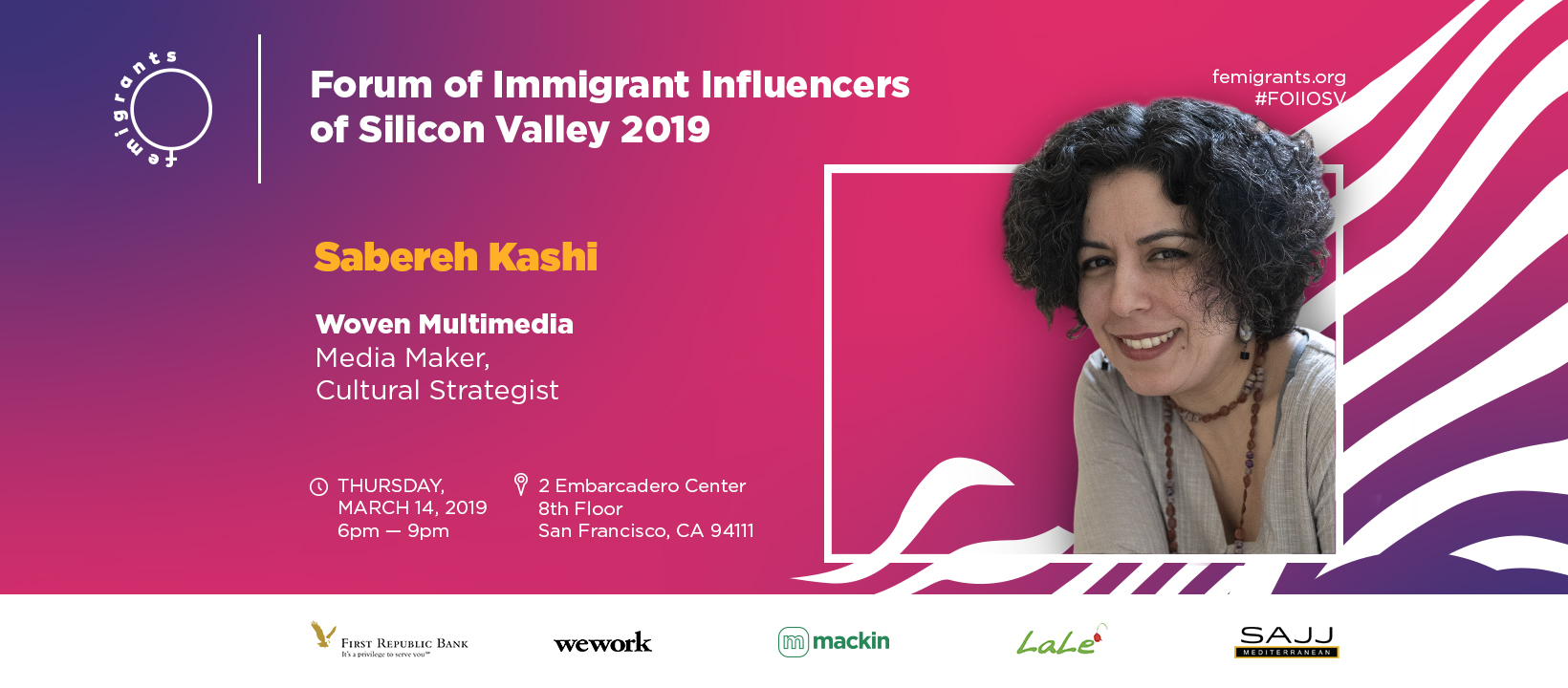 Moderator: Sabereh Kashi, Co-founder of Re-Present Media. Femigrants from Iran
Sabereh is a documentary
filmmaker and cultural strategist who is passionate about connecting people through storytelling. She has produced, directed, and edited
award-winning
films in the United States, Canada, and Iran. Her films
have screened in internationally recognized film festivals (IDFA, HotDocs, Fajr, UNAFF, Inside Out), and broadcasted on PBS, and European, Latin American, and Israeli national televisions.
Her current project is Home Yet Far Away, a personal documentary about her journeys between Iran and the U.S. to reconcile her two conflicted homelands. She was featured on BBC Persian's "Chamedan" (Suitcase) which was broadcast to over 120 million Persian speaking people. In 2017, she was selected as a Citizenship Fellow at Yerba Buena Center for the Arts. She was a filmmaker-in-residence of SF FilmHouse in 2018.
She has a PhD in Art Research from Tarbiat Modares University in Tehran.
She co-founded Re-Present Media, a non-profit that advocates for personal stories of underrepresented communities in documentary films and non-fiction media.
* * * * * * * * * * * * * * * * * *
Join our event, show your support and ship love!
We sold 90% of our tickets. Get your ticket while they last!
--------------------------------------------------------------------------
DEMO Tables:
New York Life Insurance Company by Sanjesh Kumar

Femigrants Foundation by Shams Alizada
--------------------------------------------------------------------------
READY TO ATTEND THE EVENT? GET THE RIGHT TICKET TO SAVE MONEY AND SUPPORT FEMIGRANTS!
Here is the detailed description.
1. Are you buying an individual or group ticket?
a. Individual – choose "Motivator" for $25. It gives admission to the event for one person.
b. Going with friends or colleagues– choose "Community Supporter" for $20 per person (min purchase 2 tickets).
2. Ready to contribute more to the amazing Femigrants Foundation?
a. Support Femigrants by choosing "Changemaker" for $45. It gives admission for one person, and we will acknowledge your help with a gift from our sponsors.
b. Be an outstanding contributor and choose "Influencer" for $55. It gives admission for one person, and we will acknowledge you with gifts from sponsors and Femigrants Foundation.
3. Are you a student or recent graduate?
Choose special discounted Students' ticket for $15. It gives admission for one person, registered with a school/university e-mail.
4. Would like to promote your company during the event?
a. Purchase a Demo-table for $180 and enjoy the possibility to distribute the flyers and spread the information about your services and/or products during the event. Includes a complimentary ticket for one person.
b. Purchase a Demo-table for $250 and profit the possibility to present your logo on the web-site of Femigrants and a blurb about your company on eventbrite, to distribute the flyers and spread the information about your services and/or products during the event. Includes 2 complimentary tickets and a special discount code for your staff.
----------------------------------------------------------------------------------------
SPONSORSHIP OPPORTUNITIES
Did you know that 49% of consumers depend on influencer recommendations?
Influencer marketing is the fastest-growing online customer-acquisition method. As a sponsor of this event, you will have exposure to over one hundred event attendees who will gain exposure to your business. In addition to the event attendees, you will also gain access to leading influencers in the industries of business and STEM. This is a great opportunity to expand your brand and social awareness.
How to sponsor our event
Provide catering for the event
Donate giveaway items
Provide news coverage of the event
Advertise the event
Provide printed material for the event
Reasons to sponsor our event
Gain exposure to an audience of 100+ event attendees
Get access to influencers and leading decision makers to generate new business leads
Engage one- on- one with people looking for relevant product solutions
Increase brand and social awareness via exposure to a relevant consumer community
Receive complimentary tickets to the event
Network with your community and increase your company profile and brand awareness
Positively impact the San Francisco Bay Area immigrant community
Interested in becoming a sponsor for this event? Please email contact@femigrants.org. We're looking forward to working with you!
#influentialimmigrants #immigrantinfluencers #immigranchangemakers #successfulimmigrants #successstoriesofimmigrants #femaleimmigrants #immigrantsinbusiness