Forum for the 4Ms: Age-Friendly Health Systems in Eastern Pennsylvania
Description
The Eastern Pennsylvania Geriatrics Society (EPGS), in conjunction with The College of Physicians of Philadelphia, invites you to attend an education session to learn more about the John A. Hartford Foundation (JAHF) and Institute for Healthcare Improvement (IHI) joint initiative for "Age-Friendly Health Systems".
Schedule:
5:30 p.m. to 6:30 p.m. – Tour the Mutter Museum (heavy hors d'oeuvres provided)
6:30 p.m. to 7:30 p.m. – Keynote presentation on the JAHF-IHI Age-Friendly Health Systems initiative (dessert and beverage provided)
Keynote Speaker: Leslie Pelton, Director of Creating Age-Friendly Health Systems Initiative, Institute for Healthcare Improvement
About the Forum: Leslie Pelton will discuss the Age-Friendly Health Systems Initiative and what the 4Ms mean, sharing experiences on how this has been implemented around the country.
We invite healthcare leaders and providers – executives, providers, practitioners, clinicians, educators, caregivers, and researchers – from all areas across the continuum of care to join us as we learn together about ways to better integrate and continually improve care and services that are mission-critical to serve older adults. This forum launches the EPGS' commitment to such a collaborative and far-reaching initiative.
What are the 4Ms? Medication, Mentation, Mobility, and (What) Matters

Online registration closes on Monday March 18 at 8am. Additional tickets may be available beyond that date.
For education and corporate sponsorship information, please contact Nancy Carpey at 610-812-1583 or Nancy@EPGeriatricsSociety.org
Presented by The Eastern Pennsylvania Geriatrics Society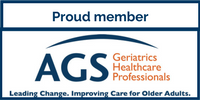 Sponsored by and held at The College of Physicians of Philadelphia, 19 S 22nd St, Philadelphia, PA 19103

Thank you to our Silver Sponsors