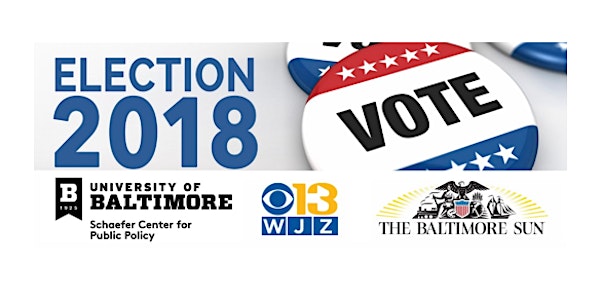 Forum Democratic and Republican Candidates for Baltimore County Executive
Event Information
Location
H. Mebane Turner Learning Commons, Town Hall
1415 Maryland Avenue
Baltimore, Maryland 21201
Description
The University of Baltimore is hosting a candidate forum for the 2018 Baltimore County Executive Democratic and Republican Candidates race. The forum is co-sponsored by The Baltimore Sun, WJZ-TV, and the University of Baltimore Schaefer Center for Public Policy.
This forum will be livestreamed on the Baltimore Sun's website.
The event is free and open to the public. However, seating is limited and tickets are required. Access to the auditorium for those with tickets is first-come, first-served.
If space in the main auditorium is filled up, people will be directed to an overflow viewing area. Attendees in the overflow viewing area will be able to watch the forum via live video feed. Registration for the event ends 06/04/2018.
FAQs
Prohibited Items
Campaign banners, signs, literature, handouts, buttons, T-shirts, and other campaign paraphernalia are NOT ALLOWED in the auditorium.
Start Time
10:00 Check-in begins
10:30 Doors open
10:50 Seating closes
Parking
Paid parking is available at the University of Baltimore Maryland Avenue garage located at 1111 Maryland Avenue, Baltimore, MD 21201
The hosting of this forum does not constitute or imply the endorsement, approval or recommendation by the University of Baltimore of any candidate for elected office.
Date and time
Location
H. Mebane Turner Learning Commons, Town Hall
1415 Maryland Avenue
Baltimore, Maryland 21201