Description
Combine your love for food, wine and passion for a good cause at Forum 35's Uncorked. All proceeds will benefit Girls on the Run, an organization dedicated to enhancing girls' social, psychological, and physical life skills and behaviors to successfully navigate life experiences. The program's intentional curriculum places an emphasis on developing competence, confidence, connection, character, caring, and contribution in young girls through lessons that incorporate running and other physical activities. The life skills curriculum is delivered by trained and caring coaches in a safe and inclusive environment. It is the combination of the research-based curriculum, trained coaches and a commitment to serve all girls that sets Girls on the Run apart from other after-school programs.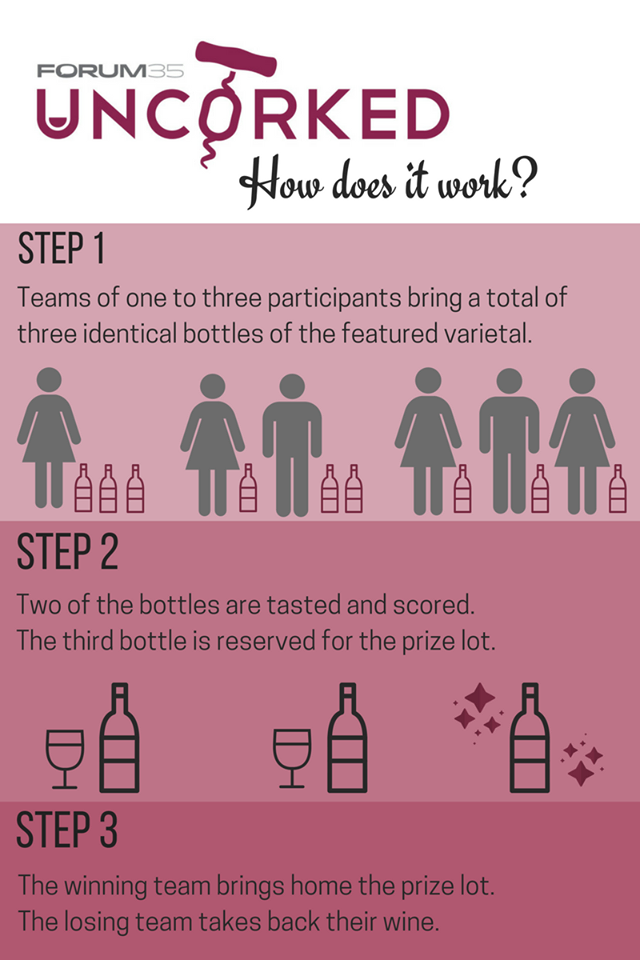 The varietal for the Fall 2017 event is Red Blends!
Attendees will form teams of 1, 2 or 3 people and bring 3 matching bottles of a Red Blend wine. Two of the bottles will be bagged and numbered for a blind wine tasting and one will be put into the winner's prize lot. At the conclusion of the festivities all scores are tallied, and the winners are recognized while the lowest scoring wine is returned to its rightful owner to take home.

Tickets are availble on this page and are $30 each. Tickets can also be purchased at the event for $35 on the day of the event. If you are unable to attend and would still like to support Girls on the Run, you can also donate through this page.
Teams can be registered here or at the door. Prize will be awarded to the best team name!
FAQs
Are there ID or minimum age requirements to enter the event?
Please be advised that all Uncorked events are strictly 21+ events.
What kind of wine does my team have to bring to the event?
The varietal for this event is red blend, so your team should bring three identical bottles of red blend wine. For example, if your favorite red blend is 19 Crimes, then bring three bottles of 19 Crimes. Be sure the bottles are all the same name, winery, and year!
Do I have to bring wine to participate?
Yes, it is required that you or you and your team (if you are part of a team), must collectively bring three bottles of wine to participate in the event. We currently do not offer "wine-free" tickets.