Actions and Detail Panel
Fortress Workshop: Building an Iconic Brand
Sat, February 25, 2017, 9:00 AM – 5:00 PM EST
Sales Have Ended
Registrations are closed
Great! We look forward to hosting you. You're invited to join the Fortress community for the latest happenings and to be eligible for giveaways at: facebook.com/fortressbusiness
Sales Have Ended
Registrations are closed
Great! We look forward to hosting you. You're invited to join the Fortress community for the latest happenings and to be eligible for giveaways at: facebook.com/fortressbusiness
Description
Managing Your Professional Image and Building an Iconic Brand
Presenter: Hanna Fitz
9:00a.m Registration
9:30 - 12:00 Why you need to take charge and brand yourself?
(Coffee break at 10:45a.m)
- Personal branding elements and key steps to building yours
- Assess and critique your own professional image
- Developing your personal brand with confidence and credibility
- Uncovering your own brand of magic

LUNCH
1:00 - 4:00 p.m Getting clear on your brand mission and values
(Coffee break at 2:45p.m)
- Why you need to craft your brand story The Napoleon Bonaparte way
- Branding Your Professional and Public Image
- How To Develop Your Brand Tagline
- Managing your online brand
- Tools for developing powerful in-person and electronic communication.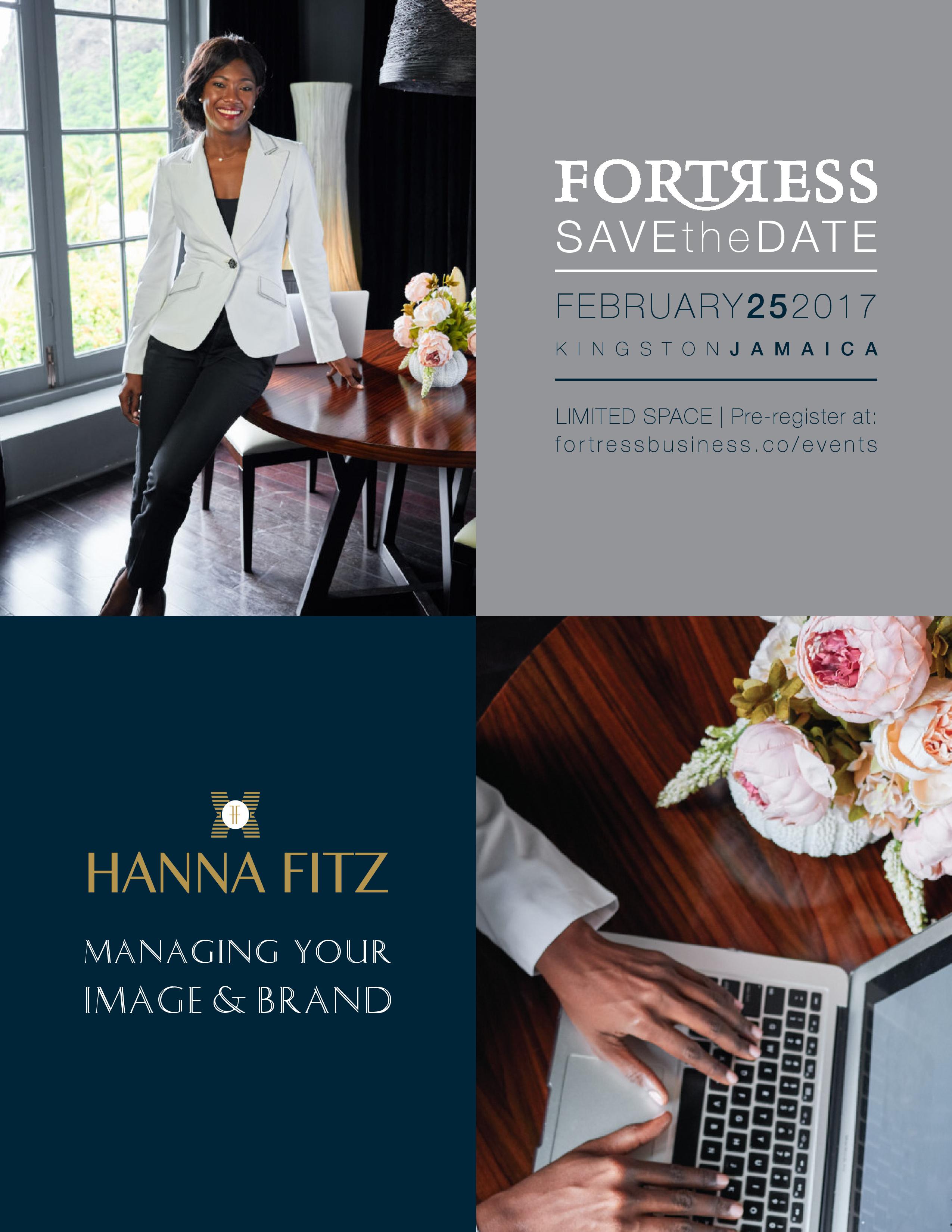 About Hanna

Hanna Fitz is an international brand strategist, business coach and author with over 10 years experience in new product and brand development. She is the author of I AM THE GATEKEEPER: 101 Daily Keys to Unlock Your Happiness, Overcome Adversity and Fulfill Your Purpose, a motivational daily guide on owning your personal power and living your best life now.
She started her career as the new product development and product management officer for a financial group of companies and after three and half years, left to start her own business. As a consultant of her own boutique marketing firm, she has worked with a number of award-winning companies in the Caribbean, North America and Europe and has helped high-end clients, business owners and corporations find solutions to their #1 problem "getting more high-end customers".
Hanna has a first class honours degree in Corporate Management from Anglia Ruskin University (UK), a LL.M in International Commercial Law from Northumbria University (UK), a Certificate in Managing Luxury brands, Life Coaching and is a Certified Project Manager (CPM). She speaks three languages; English, Italian and French.
Hanna Fitz has been featured on the Huffington Post, WhereMilan and YFS Magazine. Her passion is to inspire entrepreneurs, solopreneurs and home-based business owners by providing strategies, tips and ideas that can help them achieve their goals.
Come meet her on Feb 25, 2017 in Kingston, Jamaica!